Lamps, lights. Parking lights, running lights. Whatever you call them, Datsun 1200s have them.
Also see:
North America lights
Headlights
Both Koito and Ichiko (IKI) were original equipment.
NOTE: Large round headlights from *any* 
car will fit the Datsun 1200. 

B110, B210, and round-headlight B310 all use the same parts.

Rectangular Head Lamp
Square Headlights were IKI supplied. B122 starting in October 1989 uses square headlights.
NOTE: These appear to be same as B310 square headlights with buckets swapped left/right. But the adjuster screws and grommets are different.
North America
These are type 6012/6014 for a two-headlight system (a single large round headlight on each side of the car). These are "dual beam" lights (two-filament), encompassing both regular and high-beam in the same light.
Note that the original specification 6012 headlamp is only 50W/40W. You can substitute the brighter 6014 which is 60W/50W. Type 6015 is a longer-life bulb, but more expensive.
USA 1972 Owners manual (see page 36 for headlight specification):



Alternatively, and recommended, H6024 (65W/35W) is a halogen replacement. Halogen is a brighter light, and now available in shades of blue, gold, white. Street-legal in USA.
The brighter 6014 is as inexpensive as $3. See RockAuto headlights for Datsun 1200
| Type | Spec. | Comments |
| --- | --- | --- |
| 6012 | 50/40 watt | Original spec. |
| 6014 | 60/50 watt | replaces 6012 |
| H6014 | 60/50 watt | Halogen |
| 6015 | 60/50 watt | long-life |
| H6024 | 65/35 watt | Halogen |
| H6024 XV | 65/55 watt | Extra-bright, long life |
High-power Headlamps
H4 euro-type, Halogen, etc that require upgraded Headlight Wiring.


Halogen
Koito brand H4 headlamps, from original equipment supplier for Datsun 1200. Power Up - Wo!


H4 crystal headlight lenses with white LED insets.


Side Lamps
Side lamps come in two sizes: small and large
Side lamps are larger on North American models, also the fenders come with a larger hole to match. Euro/Asia guards/wings can be used on America 1200s, if the hole is enlarged.

USA - Large running lights (markers)

Other countries - Small turn signal lights (indicators)
See main article: Side Lamps
Front Lights
Rear Lights
Rear light lenses are either:
orange-red-white, white-red-orange
or
red-red-white, white-red-red

Orange & red: Australian market, while all-red in America, Japan and South Africa markets.
Sedan (USA)
Sedan (Australia)

Coupe: long and thin. Sedan: short but tall:

Coupe vs Sedan Comparo

Coupe:
Australia
America
Coupe closeup

Wagon and Sedan (Australia)

GL Sedan (Japan)

ute

Van (Australia)
Sedan (portugal)

Sedan (Europe) - orange blinkers
Sedan (USA) - red blinkers

Later GLs used a different taillight:
Possibly it was the same as Coupe or PB110, but with a different trim surround:
1972 PB110
Rear License Plate Lamp
For USA market, the rear number plate light changed in 1973 to meet higher government standards of illuminating the plate.

Early license plate lamp (on top of bumper):


Late license plate lamp (dual lamps on either side of plate):


Customized Lights
Driving Lights
side markers, front combination lamp, rear combination lamp
Fog Lamps
Fog Lights were an Option.
B110
H1012 Rectangular
H1014 Round 126mm diameter
H1018 Round 160mm diameter

B10 Fog Lamps

フォグ ランプ
Operation
Headlight Switch
See: Instrument and Controls#Switches
Turn Signal Switch
T/S switch
See: Instrument and Controls#Switches
Interior Lamps
The middle position operates from the door switches (if equipped).

interior "dome" light
USA 1972 Owners manual (see page 6 for Interior Lamp):




---

To switch the interior lamp "ON", and "OFF", turn the switch lever clockwise or counterclockwise.

---

int. lamp switch
alternative interior headliner light
Replacing Procedure
USA 1972 Owners manual (see pages 36-38 for replacing details):
headlights: front & rear:


license lamp & side lamps:

Dash Lamps
The instrument meter combination uses seven lamps which fit in the seven black holders with the white dots on them


Wedge Lock lamps - twist lock
Lamp Specifications
Japan
Front Combination Lamp - Early
26717-89920 BULB (12V-23/7W)
26261-89900 BULB (12V-3W)

Front Combination Lamp - Late
26717-89900 BULB (12V-23) [P21W]
26261-89920 BULB (12V-8/3.4W) [P21/5W???]
* or 26261-89925 BULB (12V-8/3.4W) 7804-

North America
Bulb Specifications (ref: 1973 USA service manual, page BE-10)
Spec.
SAE No.
Nissan^
Headlight unit
12V-50/40W
6012
see above
Direction and Parking
12V-23/8W
1034
26717-89920
Side marker
12V-8W
67
26715-89902
License plate
12V-7.5W
89
26715-89901
Rear combo. Light

---

Taillight
Stop (brake)
Turn signal
Back-up light

---

12V-23/8W
12V-23/8W
12V-23W
12V-23W

---

1034
1034
1073
1073

---

26717-89920

26717-89900

Meter illumination
12V-1.7W (round gauge)
161
26711-89900
Wiper Knob illumination (1973)
12V-3.4W
158
?
Heater control ill. (1973)
12V-3.4W
57
?
Ignition warning
12V-1.7W
161
26711-89900
Turn Signal indicator
12V-1.7W
161
26261-89902
Headlight beam ind.
12V-1.7W
161
26711-89900
Oil press. warning
12V-1.7W
161
26711-89900
Brake warning
12V-1.7W
161
26711-89900
Room light
12V-10W
n/a
26736-89902
^from USA catalog, all are ICHIKO brand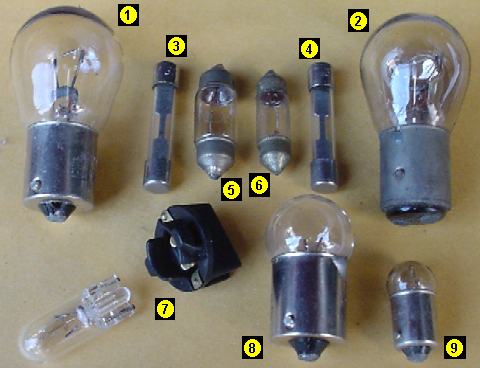 Exterior single element, one bottom contact

Rear T/S (turn signal)
23 watt (North America) Sylvania 1156 Wagner 1156
21 (other countries)

Exterior dual element, two bottom contacts

Front park & T/S, Rear Tail & Stop
23/8W (North America) Sylvania 1157 Wagner 1157
12/5 watt (other countries)

FUSE, 10-AMP (2 needed) 08941-11000
FUSE, 15-AMP (4 needed) 08941-11500
1972-1973 Seat belt light (on top of dash) Toshiba 12V 10W Type SV8.5 31mm long

26945-H4600 (not sure if this lamp only, or whole unit)

Dome lamp - 10 watt (room lamp) 26736-89902

Type SV7, ~29 mm long (pictured) seems to fit best, but are usually 3w or 5w
Parts stores specify the larger unit (see above Wagner 12100, Sylvania DE3175) which is readily available

Instrument Panel lamp with twist-lock holder (7 used in round dash)

26260-89900 Wedge Socket (7 total for round gauge) $3.28 USD each
USA 26261-89902 1.7 watt bulb (ROUND GAUGE)
JPN B110

26261-89900 BULB-12V, 1.5W SQUARE METER 7
26261-89902 BULB-12V, 1.7W ROUND METER 7

JPN B120

26261-89900 7510-7803 12V-3.4W 商B113 8
26261-89902 7804- 12V-2.7W 商B113 6
26711-89900 7804- 12V-1.7W 商B113 2
26711-89902 8910- 12V-2.7W 商B113 6
26711-89900 8910- 12V-1.7W 商B113 2

3.4 watt (Square Gauge) Type 158 14V
NOTE: Type 159 is identical looking, but only 1.0 watt 6.3V

Exterior Lamp

Side-marker lamp

8 watt (North America, non-flashing)

Wagner 97 Sylvania 97 (9.32 watt nominal)

6 watt (flashing, non-North America)

License lamp Sylvania 1895 Wagner 1895 (3.78 watt)

10 watt (Sedan, except North America)
7.5 watt Coupe, Van 26715-89901 Ichikho
7.5 watt Sedan USA

Reverse light - 10 watt

Instrument Panel Turn Signal indicator (2 needed)

26711-89900 1.7 watt (ROUND GAUGE) 3.4 watt (Square Gauge)
Portugal
Opticas 12V-50/40W
12V-21/5W Luz de mudança de direcção o de presença
12V-6W Luzes laterais de mudança de direcção
12V-7.5W Luz da chapa de matricula
Conjunto de luzes traseiras
 12V-5W luz de presença
 12V-21W luz de stop (travões)
 12V-21W luz de mudança de direcção
 12V-21W luz de marcha atrás
12V-3W Luz de iluminacão do painel de instrumentos
12V-3W Luz avisadora da ignicão
12V-3W Luz indicadora dos máximos
12V-3W Luz avisadora da pressao do óleo
12V-10W Luz interior

12V-3W Luz de iluminação do relogió