PB110 Sunny Excellent was fitted with L-series OHC engine L14. This L14 engine was the third L-series design after the L13 (Aug 1967), L20 (Nov 1967) & L16. At 1428 cc, it was essentially a de-stroked L16, having the same bore, but a new reduced crankshaft stroke, which was longer than the L13 but shorter than the L16.
Overview
PB110 was fitted with L14S (single carburetor engine).
GX models used L14T (twin carburetor engine).
photo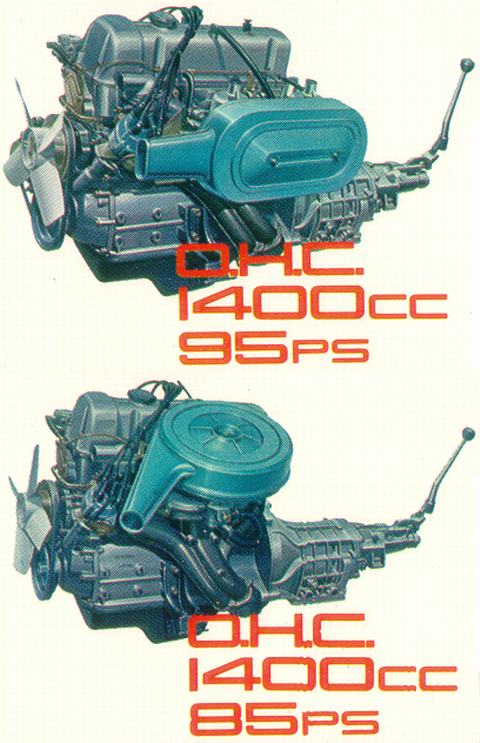 These were pulled from the Datsun Bluebird 510 parts bin, with some modifications.

Nissan Part Numbers Applied Model Codes:
Rocker Cover
'Datsun OHC'
13264-A4900 COVER ASS'Y-rocker L14S

Same as 510 L14, L16 except SSS [1970.8 catalog]
Same as later L13 cover
differs from early L13 cover
Cylinder Head
Single Carb
11041-H2510 HEAD ASS'Y-cylinder L14
11041-H2511 HEAD ASS'Y-cylinder (from '73-4) L14
11041-H2512 HEAD ASS'Y-cylinder (from '73-7) L14

Twin Carb A87 = H510TK
11041-21901 HEAD ASS'Y-cylinder L14T
11041-A8712 HEAD ASS'Y-cylinder (from E# L14-098246) L14T

Same as 510 L16 (from '72) which replaced all former L16 heads

11041-A8713 HEAD ASS'Y-cylinder (from '73-5) L14T
11041-A8714 HEAD ASS'Y-cylinder (from '73-7) L14T
Camshaft
13001-21000 CAMSHAFT L14S
13001-H2700 CAMSHAFT L14T

Same as all later 510 L16S single carb (except LPG) [1974.3 catalog]
Intake Manifold
Single Carb
14002-A8901 MANIFOLD ASS'Y-intake
14002-A8903 MANIFOLD ASS'Y-intake
14002-A8925 MANIFOLD ASS'Y-intake

Twin Carb
14002-22026 MANIFOLD ASS'Y-intake
14002-N0400 MANIFOLD ASS'Y-intake
Exhaust Manifold
Single Carb
14004-A3500 MANIFOLD-exhaust

Same as 510 L14
Same as later 510 L13 (from E#/L13-187492)
Same as later 510 L16 (from E#/L16-95967)
Twin Carb
14004-A3500 MANIFOLD-exhaust

Same as single carb engine
Carburetor
Single Carb
* 16010-A8900 CARBURETOR ASS'Y-auto choke (213282-211) L14S (M/T)
* 16010-A9200 CARBURETOR ASS'Y-auto choke (213282-231) L14S (A/T)



Twin Carb
16010-H2710 CARBURETOR ASS'Y-twin (HJL 38W-5) L14T
16554-H2710 JET-needle L14T
16346-12210 SPRING-suction L14T


Air Cleaner
Single Carb
16510-A0800 AIR CLEANER KIT
16500-A8901 AIR CLEANER ASS'Y
16500-H2306 AIR CLEANER ASS'Y
16500-H2500 AIR CLEANER ASS'Y (from '72-6)
Twin Carb