Dell'Orto carburetors from Italy their DLHA series were fitted to the Datsun 1200 SSS model. Dellorto made other types, but the DHLA fit the common Weber DCOE carburetor intake manifolds.
Also See
* Choosing A Carburetor

Overview
Dellorto DHLA are similar to the Weber DCOE carburetors, but have their own unique parts and some say a better design and look better.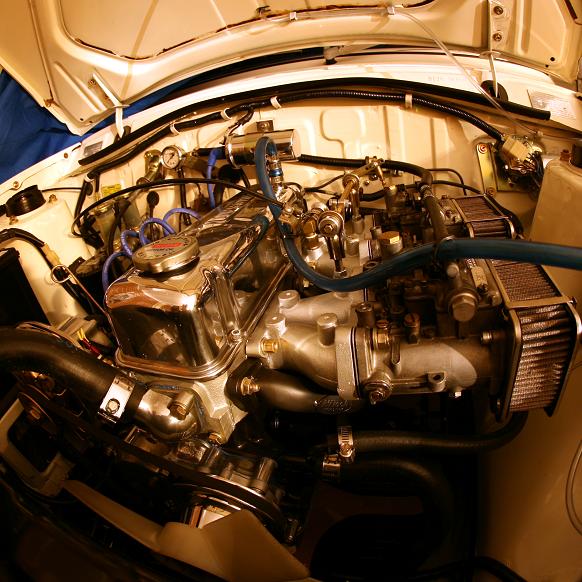 Album click to view
Album click to view
Album click to view
Album click to view
---

The DHLA & DRLA carburettors are widely believed to be the most sophisticated carburettors of their type, prompting David Vizzard to say in Auto Performance magazine, "Dell'Ortos produce truly excellent results...On engines where atomisation is a premium requirement, Dell'Ortos are superior to everything".

---
The last Dellortos were made for the Lotus Esprit Turbo. Production ceased in 1992 due to lowered demand for carburetors in the face of EFI.
The great thing about these carbs is that the jets are externally accessible, even when the air filter is on. This makes jet changes at the racetrack a snap.
Dellorto DHLA uses the same Intake Manifold as Weber DCOE carburetor, or Mikuni PHH.
Album click to view
Album click to view
See Also:
* Tuning Dellorto DHLA carburettors
* Selection and tuning of Dellorto DHLA carburettors - section "Setting the Idle and slow running"

DHLA idle mixture screws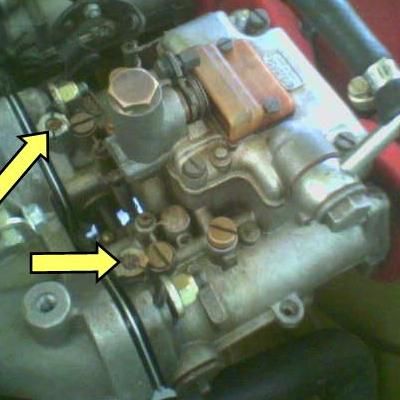 Album click to view
Album click to view
Album click to view
Album click to view
Singles
Single Dellorto DHLA

Album click to view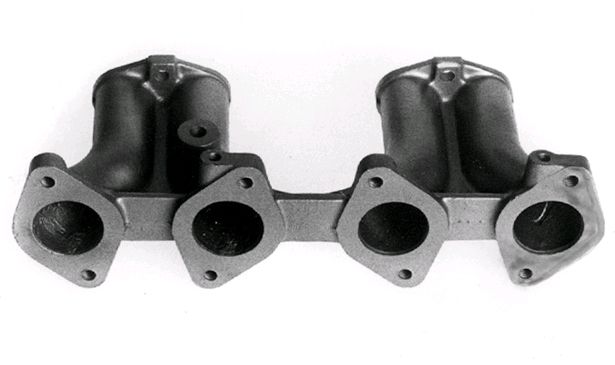 Single Or Twin
A twin setup has a huge advantage over the single: ITB (individual throttle bores). 2 sidedrafts = 4 throttles.
See Choosing A Carburetor: Single or Twin?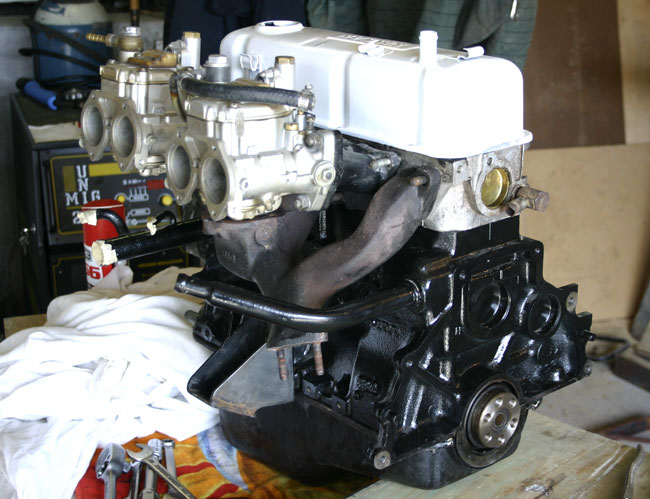 Album click to view
Album click to view
Intake Manifold
Weber DCOE, Dellorto DHLA and Mikuni/Solex PHH use the same manifolds. Single or Twin manifolds are available, for round-port or oval-port A-series engines.
See main article: Intake Manifold

Air Filter
Many use simple screens over the carburetor, which keep large objects out of the engine. This or no screen provides the fullest "awesome sidedraft sound", but at the expense of increased engine wear.
For filtering, the easiest thing is sock filters, but all sorts of regular and remote filter can be used.
See main article: Sidedraft Air Filters


LHD Fitment
Space for twin sidedrafts on LHD 1200s is limited because the brake master cylinder is on the carburetor side of the engine.
 See main article: LHD Sidedrafts

Heat Shield
Carb heat plate
Album click to view
キャブ ヒート プレート
Adjustment
Idle Speed and Mixture Adjustment
Warm engine fully
Adjust curb idle speed to 900 rpm
Slowly turn mixture screw out until the engine speeds up, then keep turning out until engine starts to slow down slightly (overly rich)
Screw in (clockwise) until engine slows down (lean). Turn back out til it runs fastest (Best Lean)
Repeat for second barrel of the carburetor
If a twin-carb setup, repeat for the second carburetor
To get a 'feel' for this adjustment, turn the screw by half turns clockwise and anticlockwise till you hear the engine speed up and slow down. Then fine turn with 1/4 turns. Do this repeatedly until you are confident of the results.
Linkage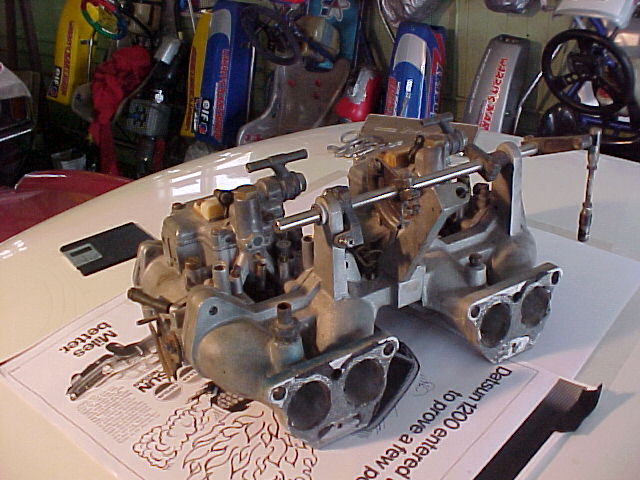 Album click to view
Album click to view
Linkage depends in part on the manifold you use. Does it have bolt-bosses for linkage? Or does it have built-in linkage bar?
Side Pull
Tomei manifold Side Pull. Nismo/Tomei manifold have built-in bar towers and use a large diameter cross bar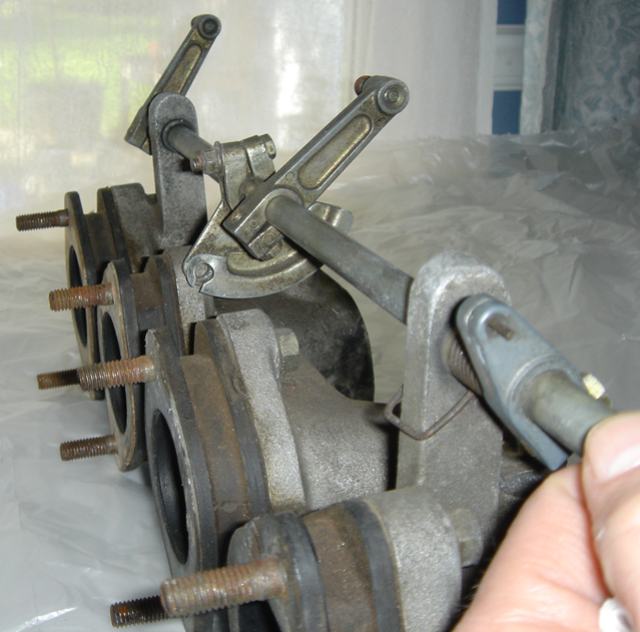 Album click to view
Center Pull
Center Pull - Need the floating lever for the carburetors. In essence, a single throttle lever, with its own balance screw

Center Pull needs only one carb-pull, eliminating the separate throttle adjustments. The center floating linka has its own balance screw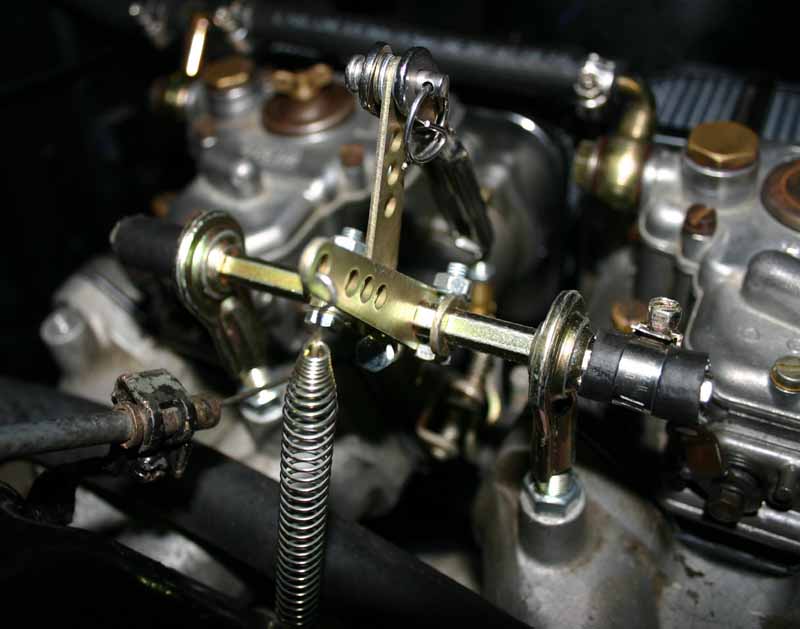 Album click to view
Album click to view
Single Carb Linkage
For bolt-style manifolds

Album click to view
Quadrant
Fan lever - Harada Shosho company

Album click to view
Nissan cable quadrant

Album click to view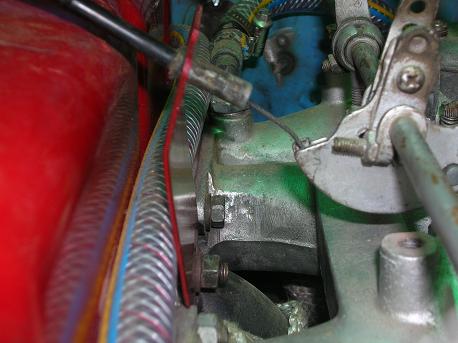 Album click to view
Album click to view
Generic cable bracket

Album click to view
Throttle Lever
Universal carby throttle lever

Album click to view
Source
Dellorto DHLA may be purchased from Eurocarb at http://www.dellorto.com
Also can be sourced by parting out Italian cars.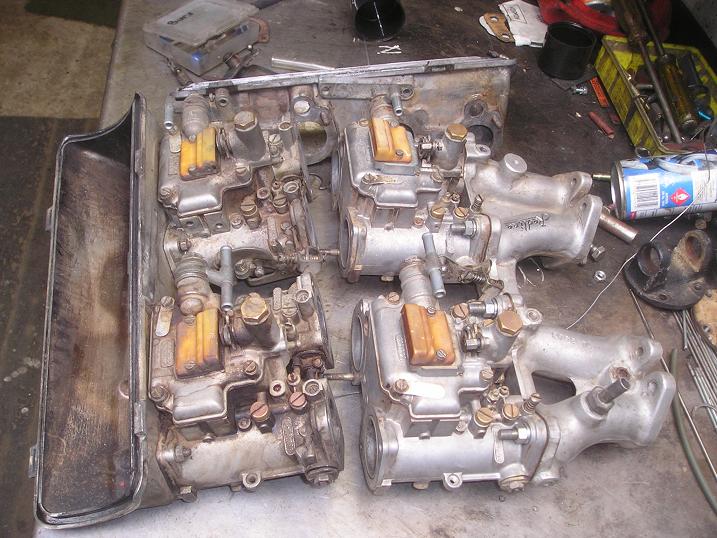 Album click to view
Selection & Sizing
As with any carburetor, the single most important specification is the venturi (choke) size -- not the barrell size. So a 40 or 45 is not the question. The question is which choke size should be used.
See main article: Carburetor Sizing

For a stock A12, 28 mm is the correct choke size. Which the DHLA series, you can use either 40s or 45s -- a wide variety of venturis are available for both.
Tuning
Tuning any carburetor is mythically difficult. However, DHLA is no more complicated than Weber or the Hitachis that come stock on Datsuns. They are tuned basically the same way.
SSS DHLA40 jetting specs
Venturi: 28mm
Main jet: 115
Needle and seat: 1.50
Float: .01
Starter jet: 70
Starter emulsion tube: .01
Idle jet holder: .01
Idle jet: 50
Air corrector: 200
Emulsion tube: .01
Aux venturi: .01
Pump jet: 33
Pump delivery: 7.5

To suit SSS A12 engine with mild rally cam (see specs in SSS section) and 4-2-1 tubular headers
Also see: http://www.gruntled.com/Dellorto/
NOTE: When removing and re-inserting the Pump Jet, be sure to line up the passages. See http://www.gruntled.com/Dellorto/PumpJet.html
Choose DHLA 40 for A-series engines

Or DHLA 45 for larger engines

Choose appropriate venturi size, perhaps 26mm is best for stock A12 engine

Available from 25 mm to 37 mm in increments of 1mm
Part number 8383.25 to 8383.37 at Eurocarb

Auxiliary venturi from size 1 to 4

DHLA Starter -- tuning for cold starting

starter jet sizes from 48 (3315.48) to 105 (3315.105)
starter emulsion tube 1 to 4 (7482.1 to 7482.4)

Accelerator Pump

Pump Jet sizes 33 to 60
Pump rod adjustment. Screwing the nut tighter increases fuel delivery, turning it anti-clockwise reduces delivery.

Combination of Jet and tightness works 1) Time, shoot for 1 second 2) volume. Probably twin carbs will be within 1/2 turn of each other to deliver the same volume. Test this by actual measurement using a CC vial.