Boring and stroking an engine is the way to increase the size of the engine. Boring means to bore the cylinders larger and fit oversized pistons, while stroking means modifying the crankshaft for a longer throw. For example, Nissan created the A15 by stroking the A14 engine -- the cylinder bore is the same, but the crankshaft throws are bigger.
Bored
When the cylinder bores are damaged, the block is normally bored the next size up overbore (73.5 for an A12) and oversize pistons fitted. This is a repair process that uses commonly available service pistons. It adds very little capacity to the engine, and is not a performance option. For example:
A12 +0.5 overbore: adds 17cc

When building a racing or performance engine, the bore may be taken out several millimeters. This increases displacment by a large amount, and may require custom pistons. For example A12 with stock 73mm bore (1171cc) becomes 1290cc with 76mm pistons.
A12 +3.0 overbore: adds 118cc

Of course with any piston change, the original piston & the new piston must be measured. If the difference is too much the engine must be re-balanced. The service overbore pistons are generally within spec of the original, but weigh them to be sure.
A13
The early "A13" works race engines, as well as the 1978-up A13 engine used a standard A12 crankshaft, but a slightly larger bore. All A12, A12A and A13 engines (except 1974 A13) used an interchangeable crankshaft.
Factory A13(1980): 
Works A13 TS-A cup racing: 

Service Overbore
Stock bore size
73mm: A10/A12/A13(1974)
75mm: A13(1980)
76mm: A14/A15

Pistons are available in 1/2 mm increments:
+0.5 overbore (about 0.020 inch) 
+1.0 overbore (about 0.040 inch)
+1.5 overbore (about 0.060 inch)

A12 70mm stroke
73 stock bore    1171 cc
   +0.5 overbore 1188 cc (+ 16 cc)
   +1.0 overbore 1204 cc (+ 22 cc)
   +1.5 overbore 1221 cc (+ 40 cc)

A14 77mm stroke
76 stock bore    1397 cc
   +0.5 overbore 1416 cc (+19 cc)
   +1.0 overbore 1434 cc (+37 cc)
   +1.5 overbore 1453 cc (+56 cc)

Performance Overbore
How far can you bore a block out to? The cores shift during casting, which leads to them being thinner on one side of the bore You need to find a block that did't shift much during the casting process.
A12 blocks can POST usually be bored out to 76mm. 77mm may be possible but the particular block should be sonic-tested to verify. A12A blocks an be bore out 2mm further - up to 79 mm.
A14/A15 blocks can usually be bored out to 79mm. 80mm may be possible but the particular block should be sonic-tested to verify.
75.5mm piston
A12 with 75.5 pistons: 1254 cc

76mm pistons
A12 with 76mm pistons: 1270 cc
A14 (stock pistons): 1397 cc
A15 (stock pistons): 1488 cc

77mm pistons
A12 1303.9
A14 1434.3
A15 1527.4

78mm pistons
A12 1338
A14 1471.8
A15 1567.3

78.5mm pistons
A14 stroke (77mm) with 78.5 mm pistons: 1490.7 cc
A15 stroke (82mm) with 78.5 mm pistons: 1587.5 cc

79mm pistons
A12 stroke (70mm) with 79mm pistons: 1372.5 cc
A14 stroke (77mm) with 79mm pistons: 1509.7 cc
A15 stroke (82mm) with 79mm pistons: 1607.8 cc

80mm pistons
A12 stroke with 80mm pistons: 1407.4 cc
A14 stroke with 80mm pistons: 1548.2 cc
A15 stroke with 80mm pistons: 1648.7 cc

80mm overbore A14 - 1548cc

Album click to view
Album click to view
With a cylinder liner, it *may be* possible to go up to 81mm sleeved before combustion chambers are off the mark from too much offset.
Piston dish is important. You want to end up with a near-same compression ratio. Or even better, with 10:1 compression and use premium fuel.
A12 Overbore
The 1971-1973 A12, the one with the front distributor, can usually be bored to 76mm. This is the same as a stock A14. There are probably some dud blocks around, but generally 76mm is fine. A12 pistons of 76.5 mm size and larger were offered through the Datsun competition department and others back in the 70's, so it's a factory approved bore size.
A14 pistons use a 19mm wrist pin while the A12 rods have a 17.45mm small end, so you have choices:
Bore the original rod to 19mm. This is most commonly done
Find a set of late A12 rods and bore to 19mm. There seems to have been a change in the later rods and these forgings look like they are the ones that were used for the A12A & A13 engines. [more on this later]. These rods have more 'meat' around the pin hole & would be stronger than a 1200 rod after the pin hole was bored to 19mm.
Find a set of A12A or 1980's A13 rods as these have the right length and the correct wrist pin hole for the A14 pins
73mm bore piston used the 17.5mm piston pin diameter:
* A10
* 1970-1973 A12 (1200)
* 1974-up A12 
* 1974 A13 (tall block engine)

A series pistons for engines with 75mm bore used a 19mm pin:
* A12A - USA & Asia only

76mm bore size also used the 19mm pin:
* A14 
* A15 

A12A and late A13s were just bored out A12s, so they had the shorter A12 length rods, but with the bigger pin size. The crankshaft is interchangeable between early A12, late A12, late A13 and A12A.
A12A piston
GA14 73.6mm 54.6TL 19mm x 43 pin
* 12010-87A61 4mm shallow dish
* 12010-73Y00 3.2mm wide dish

Nissan K15 forklift engine
75.5 bore, 32.5 compression height, short-skirt piston
pin bore is 20mm, instead of the 19mm of the A-series


A12 piston
J13 same except
* flat-top
* different skirt shape
* 67.5 total length (A12 67.4)

Mitsubishi 75.5 mm piston
* machined down .015"
* 18mm pins, so bore out your A12 rods


When using custom piston, the Compression Height plus the Rod length should be equal to stock (32.5 + 121.5 mm).
77 mm custom Pistons with custom Connecting Rods
Piston bore: 77mm (stock A12 is 73)
Compression Height: 22.5 mm (stock is 32.5)
Saenz Performance☁
Custom rods Length: 131.5 mm (stock A12 is 121.5)
Custom Piston Pin Bore diameter: 18mm (stock A12 is 17.45)
Weight: 436 gm (stock A14 is 513)

A14 Overbore
A14 standard bore is 76.0 mm
Other engines with same
* 76mm bore
* 32.5 compression height
* 19.0 pin bore
E15 with 10mm hemi dish 19x63 pin
K15+0.5 57.9 total length 20mm pin

RB20E 78mm bore slight dome with 5.5mm cutouts
* 12010-55S01


Mitsubishi 4G32B piston. 76.9mm, 33mm Comp ht and 19mm pin. With 0.5-0.75mm milled off the crown - really just the outer edge to get the comp height down.
Mitsubishi Saturn engine#4G32ᵂ 1977-1985 (4G32B)
MD008851
3mm dish
32.5 pin height
1450 cc 
19 x 63 pin
ACL Duralite 4KRY2705-0.50 oversize (77.4 mm)



A15 Overbore
A15 is generally safe to bore to 79mm (stock is 76mm). 80mm is possible in some cases with offset boring. As usual the block should be sonically measured to ensure success.
1607.8 cc is commonly gotten from A15 blocks by a combination of 79mm bore and standard 82 mm stroke. This will increase the low-speed HP more than a 2pt increase in compression ratio. However, top-end power is limited by how much the head ports and valves will allow. That's why an A15 bored to 1600cc will never be capable of producing the same power as an L16 is capable of. 84mm bore of L16 means room for bigger valves, and L-series heads have them.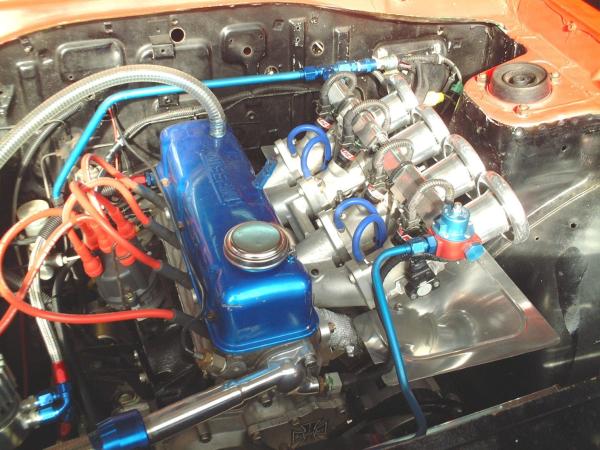 Album click to view
Discussion: POST Bored Out an A15?. Also, B120dat was working on this (see A14 engine2).
76mm Daihatsu HD engineᴳ pistons 13101-87106 + 020
* 30.2 compression height, 19mm x 58mm pin, 0.5 dome
Bore to 77mm for stock Mazda E5 pistongs Mazda_E_engine#E5ᵂ
* 28.6 compression height — mill the block deck height
* 20mm pin — bore out the rod ends
* Use high compression version (flattops) e.g. ACL piston 8048
Bore to 78mm for stock Mazda B6 pistons Mazda_B_engine#B6ᵂ
* 31.9 compression height, 20mm pin
POST A15 block

Mazda 626 pistons at 79 mm
POST Demojob
POST A15 FlatTops 

GM Ecotec (Opel/Vauxhall)
RB20 pistons are sometimes used in A15
RB20 78mm STD
32.03mm compression height (A15: 30 mm)
21mm pin diameter (A15: 19mm)

Stroked
Stroked engines have a crankshaft with larger throws to increase displacment. Stroking can be accomplished by using various factory crankshafts or by using a custom crankshaft. For example, the factory used a larger-throw crankshaft to create the A12, A14, and A15 engines.
A12
Datsun engineers created the A12 by stroking the A10 (and by making a lot of other improvements).
73mm bore A10: 998cc with 59mm stroke
73mm bore A12: 1171cc with 70mm stroke

A14
Datsun created the 1975 A13 by increasing the crank throw stroke from 70mm to 77mm. This same crankshaft was then used in the 1975 A14 engines albeit with larger pistons.
73mm bore A12: 1171cc with 70mm stroke
73mm bore A13: 1289cc with 77mm stroke

A15
Datsun finally created the A15 by fitting the late A14 block with a new crankshaft with a 5mm longer stroke.
76mm bore A14: 1397cc with 77mm stroke
76mm bore A15: 1488cc with 82mm stroke

A14 Crankshaft into A12 Block
Discussion: POST A14 crank into a12
You can not swap the A14 reciprocating parts (pistons, etc.) into an A12 block, but you can use the A14 crankshaft as part of an overall larger capacity rebuild.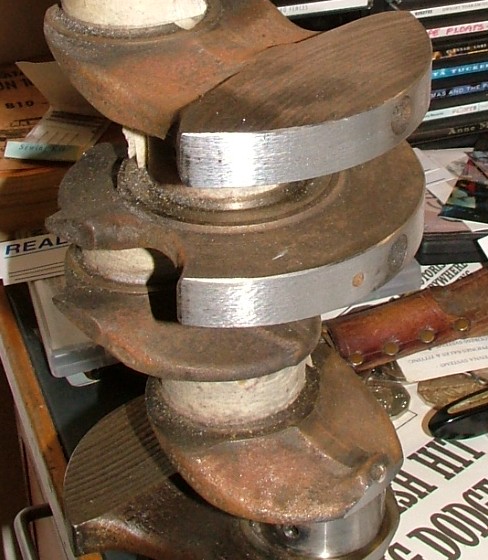 Album click to view
To do this you need:
A12 block
A14 crank
Honda ZC pistons, or optionally stock A15 pistons
Optionally, A12A rods, or new A13 (short stroke version) rods
You can use the A12 rods by boring the small end out to 19mm to take the larger wrist pins of the new pistons. Dodgeman chose to get the right rods from the US, as he didn't want to risk anything, but he bored out the 1200 rods in my 1200GX when he used the A14 pistons with the stock crank & they have been in service for about 300,000k without trouble.
The POST Honda 1.6 ZC pistons clear the crank, so only inexpensive piston pin fitting is required.
If using the stock A15 pistons, the crank needs to be reduced in overall diameter in a lathe by 'about 10mm' to prevent the counterweights from striking the pistons at BDC. The crank will need to be rebalanced after this is done.
Custom-Stroke Crankshaft
Offset-ground Crankshaft Journal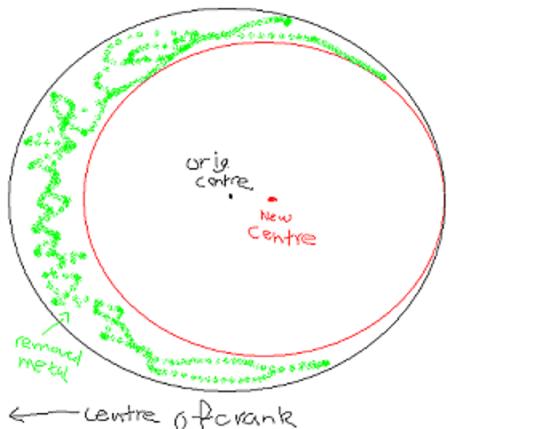 Album click to view
offset ground A15 crank to 86mm, crankpins to 40mm then use E15ET rods and custom pistons.
E16 Crank
A15 offset ground -3 mm will yield 1542cc. Use custom rods with a smaller big end, and a 1.5mm longer length.
* A15: 82 mm
* E15: 82 mm
* E16: 88 mm 

Or use an E16 crank and modify it to fit. Stroke: 88mm. yields 1597 cc.
POST 120ZZZ said: I have 2 e16 cranks,what is fitted to a-engine.Thous cranks was meid over 10 years ago to turboengine.That modifigeisen was very expensive,but that crank is very strong in turbouseing.The best time in 1/4mile was 11.78/181km:h. ps.Mazda e5(1.5l and bore 77mm) and b6(1.6 and bore 78mm) pistons and connecting rods is good and easy fit,whit that crank.I gone use opel 1.6 ecoteck pistons(79mm) and mazda connecting rods to my non-turbo engine.
With 79mm pistons it makes a 1725 cc A-series.
E16 partial Sources
1983-1986 N12 (Pulsar NX/Pulsar EXA)
1987-1988 Pulsar XE
1987-1988 B12 Sentra 

¤