Boring and stroking an engine is the way to increase the size of the engine. Boring means to bore the cylinders larger and fit oversized pistons, while stroking means modifying the crankshaft for a longer throw. For example, Nissan created the A15 by stroking the A14 engine -- the cylinder bore is the same, but the crankshaft throws are bigger.
Bored
When the cylinder bores are damaged, the block is normally bored the next size up overbore (73.5 for an A12) and oversize pistons fitted. This is a repair process that uses commonly available service pistons. It adds very little capacity to the engine, and is not a performance option. For example:
A12 +0.5 overbore: adds 17cc

When building a racing or performance engine, the bore may be taken out several millimeters. This increases displacment by a large amount, and may require custom pistons. For example A12 with stock 73mm bore (1171cc) becomes 1372cc with 79mm pistons.
A13
The early "A13" works race engines, as well as the 1978-up A13 engine used a standard A12 crankshaft, but a slightly larger bore. All A12, A12A and A13 engines (except 1974 A13) used an interchangeable crankshaft.
Factory A13(1980): 
Works A13 TS-A cup racing: 

Service Overbore
Stock bore size
73mm: A10/A12/A13(1974)
75mm: A13(1980)
76mm: A14/A15

Pistons are available in 1/2 mm increments:
+0.5 overbore (about 0.020 inch) 
+1.0 overbore (about 0.040 inch)
+1.5 overbore (about 0.060 inch)

A12 70mm stroke
73 stock bore    1171 cc
   +0.5 overbore 1188 cc (+ 16 cc)
   +1.0 overbore 1204 cc (+ 22 cc)
   +1.5 overbore 1221 cc (+ 40 cc)

A14 77mm stroke
76 stock bore    1397 cc
   +0.5 overbore 1416 cc (+19 cc)
   +1.0 overbore 1434 cc (+37 cc)
   +1.5 overbore 1453 cc (+56 cc)

Performance Overbore
A12 blocks can usually be bored out to 79mm. 80mm may be possible but the particular block should be sonic-tested to verify.
75.5mm piston
A12 with 75.5 pistons: 1254 cc

76mm pistons
A12 with 76mm pistons: 1270 cc
A14 (stock pistons): 1397 cc
A15 (stock pistons): 1488 cc

77mm pistons
A12 1303.9
A14 1434.3
A15 1527.4

78mm pistons
A12 1338
A14 1471.8
A15 1567.3

79mm pistons
A12 stroke (70mm) with 79mm pistons: 1372.5 cc
A14 stroke (77mm) with 79mm pistons: 1509.7 cc
A15 stroke (82mm) with 79mm pistons: 1607.8 cc

80mm pistons
A12 stroke with 80mm pistons: 1407.4 cc
A14 stroke with 80mm pistons: 1548.2 cc
A15 stroke with 80mm pistons: 1648.7 cc

With a cylinder liner, it *may be* possible to go up to 81mm sleeved before combustion chambers are off the mark from too much offset.
A12 Overbore
When using custom piston, the Compression Height plus the Rod length should be equal to stock (32.5 + 121.5 mm).

77 mm Piston with custom Connecting Rods
Piston bore: 77mm (stock A12 is 73)
Compression Height: 22.5 mm (stock is 32.5)

Saenz Performance custom rods
Length: 131.5 mm (stock A12 is 121.5)
Pin Bore diameter: 18mm (stock A12 is 17.45)
Weight: 436 gm (stock A14 is 513)

A15 Overbore
1607.8 cc is commonly gotten from A15 blocks by a combination of 79mm bore and std 82 mm stroke
Discussion: Bored Out an A15?. Also, B120dat was working on this. See A14 engine2

RB20 pistons are sometimes used in A15
RB20 78mm STD
32.03mm compression height (A15: 30 mm)
21mm pin diameter (A15: 19mm)

Stroked
Stroked engines have a crankshaft with larger throws to increase displacment. Stroking can be accomplished by using various factory crankshafts or by using a custom crankshaft. For example, the factory used a larger-throw crankshaft to create the A12, A14, and A15 engines.
A12
Datsun engineers created the A12 by stroking the A10 (and by making a lot of other improvements).
73mm bore A10: 998cc with 59mm stroke
73mm bore A12: 1171cc with 70mm stroke

A14
Datsun created the 1975 A13 by increasing the crank throw stroke from 70mm to 77mm. This same crankshaft was then used in the 1975 A14 engines albeit with larger pistons.
73mm bore A12: 1171cc with 70mm stroke
73mm bore A13: 1289cc with 77mm stroke

A15
Datsun finally created the A15 by fitting the late A14 block with a new crankshaft with a 5mm longer stroke.
76mm bore A14: 1397cc with 77mm stroke
76mm bore A15: 1488cc with 82mm stroke

A14 Crankshaft into A12 Block
Discussion: A14 crank into a12
You can not swap the A14 reciprocating parts (pistons, etc) into an A12 block, but you can use the A14 crankshaft as part of an overall larger capacity rebuild.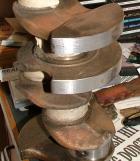 To do this you need:
A12 block
A14 crank
A15 pistons
Optionally, A12A rods, or new A13 (short stroke version) rods
You can use the A12 rods by boring the small end out to 19mm to take the larger wrist pins of the new pistons. Dodgeman chose to get the right rods from the US, as he didn't want to risk anything, but he bored out the 1200 rods in my 1200GX when he used the A14 pistons with the stock crank & they have been in service for about 300,000k without trouble.
The crank needs to be reduced in overall diameter in a lathe by a small amount to prevent the counterweights from striking the pistons at BDC.
Custom-Stroke Crankshaft

Offset-ground Crankshaft Journal
offset ground A15 crank to 86mm, crankpins to 40mm then use E15ET rods and custom pistons.
E16 Crank
A15 offset ground -3 mm will yield 1542cc. Use custom rods with a smaller big end, and a 1.5mm longer length.

Or use an E16 crank and modify it to fit. Stroke: 88mm. yields 1597 cc.
---

120ZZZ said: I have 2 e16 cranks,what is fitted to a-engine.Thous cranks was meid over 10 years ago to turboengine.That modifigeisen was very expensive,but that crank is very strong in turbouseing.The best time in 1/4mile was 11.78/181km:h. ps.Mazda e5(1.5l and bore 77mm) and b6(1.6 and bore 78mm) pistons and connecting rods is good and easy fit,whit that crank.I gone use opel 1.6 ecoteck pistons(79mm) and mazda connecting rods to my non-turbo engine.

---
With 79mm pistons, that makes a 1725 cc A-series.