The Datsun 1200 was offered in a limited number of colors. Available colors varied by market. The same color number may have different names in different markets. The color number is printed on a small plate in the engine compartment on top of the radiator core support.
Overview
Please look at your 1200's ID tag, and if you are sure yours is an original car, add it to the appropriate market section below (if not already listed).
Also see: COLOR IDEAS/color paint gallery
Paint Types
The orginal 1200 paint was acrylic enamel, which is tough, durable and shiny. It's a good choice. Enamel won't dull if waxed. All new cars have used enamel since the 1960s. The older type is acrylic lacquer and requires intial buffing and is not as durable as enamel, but can be layered and buffed for a superior shine.
Acrylic Enamel dries shiny, needs no buffing, but takes a little longer to dry than 2-pak Acrylic Enamel. And is inexpensive. A lot of old guys recommend acrylic laquer, but that needs buffing and rubbing.
Single package coatings (1-pak) are less expensive and provide good results, but take longer to dry.
Two package coatings (2-pak) seal/harden/gloss the paint and dry quickly. Classic two package epoxies or polyurethanes fall into this category.
Newer cars use a base coat and clear-coat. The results can be better (or worse) than single-coat Acrylic Enamel.
1K: (single-pack) a coating that does not require a hardener, catalyst or activator. A "single-component" paints. Not the same as a "single stage" paint.
2K: (two-pack) an epoxy type coating that needs to be mixed with a hardener, catalyst or activator. A "two-component" paint, include Two Pack Acrylic Enamel, and urethane paints. 2K paint requires a full respirator to shoot, althought a mask is always recommended.
CLEAR COAT
Single-Stage: a coating that does not require a clear top coat. A single-stage coating may or may not require a catalyst, hardener or activator.
Two-Stage: a coating system that requires both base and clear coats. This is more commonly referred to as "basecoat/clearcoat" or "BC/CC". The coats of base and clear may or may not require a catalyst, hardener or activator.
A clear top coat even when not required may be added for enhanced durability or depth.
Easy to paint: Regular is easier than Metallic
Easy to maintain: Do not use lacquer paint. Use either Acrylic Enamel (as per original Datsun paint) -- or -- the newer 2-part expoxy paints with a clearcoat finish.
Safer to paint: Acrylic Enamel won't kill you, as can spraying epoxy paint without a full-mask.
Prices
A standard acrylic enamel non-metallic paint job (door closed) starts at $450 in USA to paint the entire car.
A typical budget paint job is more like $1500 USD which includes small amounts of minor bodywork.
A 'show car' metallic paint job starts at $5000 USD. But if you want to win the car show, $15,000 is not out of line.
Double these prices for Australia.
Engine Color
1971-1973 Datsun 1200 engines were painted turquois, a medium blue-green. The block and Rocker cover are painted the same. Earlier and later engines may be painted a different shade of blue such as "Nissan Blue", "Datsun Red" (e.g. Datsun 1000) or black (late model A12s).
factory brochure
The air cleaner and its brackets is a light blue, about the same color as a new Kangaroo Bag.
Nissan Blue (not an original 1200 color)

One Datsun fan reported this for engine turquois:
Dupont mix guide             mix size
806J  HS BLACK                177.2
801J  HS WHITE                290.0
828J  HS FAST BLUE            373.8
830J  HS FAST GREEN           444.4
702OG  BINDER                 844.0
7030G  BALANCER               960.4

Japan Market Colors
1970 Colors
B110 Colors at Introduction (JDM)

Source: Datsun Sunny 1200 Salesman Business Instructions, Page 23, Nissan 1970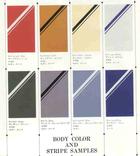 1970 color sheet
645 Sun-light Blue (coupe)
924 Sun-ray White (sedan, coupe)
925 Sun-color Yellow (sedan, coupe)
928 Sun-lit Gray (metallic) (sedan, coupe)
929 Sun-power Blue (metallic) (sedan)
930 Sundew Green (sedan, coupe)
931 Sunflower Gold (sedan, coupe)
932 Sun-bright Red (sedan, coupe)

821 White
665 Sunkist Yellow
004? Sungrow Green?
931? Sunflower Gold?
005 Sunfast Blue
006 Orange


Seat material
G seat cloth (GL models)
D Black Vinyl (DX models)
K Yellow Vinyl (DX with green exterior)

1972 Colors
1972 JDM catalog lists the following color Cowl Top Grille vents.
Coupe:
| | | | |
| --- | --- | --- | --- |
| 930 Green | 931 Gold | 932 Red | 821 White |
| 665 Yellow | 004 Metalic Green | 005 Turkois | 117 Gray |
Sedan GX:
| | | | |
| --- | --- | --- | --- |
| 930 Green | 931 Gold | 932 Red | 821 White |
| 665 Yellow | 004 Metalic Green | 005 Turkois | 117 Gray |
| 929 Blue | 554 Light Green | | |
B310 Colors
Source: Parts Catalog C403
7910-8010
603 ワイン レッド wine red metallic 
630 ページュ [puce?]
663 シルベー silver metallic 
715 ブルー blue metallic
804 イエロー yellow
805 ホワイト white
807 レッド red
810 ブラワン brown metallic
811 ゴールド gold metallic
815 ライト ブルー light blue metallic
816 グリーン green metallic
818 ライト グリーン light green metallic

8011-
663 same as above 
804 same as above
805 same as above
807 same as above
817 ダーク ブラウン dark brown metallic
842 ブラウン brown metallic
924 ブルー blue metallic 
926 ワイト レッド light red metallic
928 ページュ [puce?]

Sunny Truck
1971 - 1978
1979 - 1989
Trim code: C (Brown)
B121 colors from Dec 1979 Catalog:
216 white

688 blue (medium robin's egg)

617 brown (light)
All with brown interior, as all 1978-1988 pickups.

1989-
Source: Parts Catalog C415
Interior: K グレー gray

Body Color
002 ホワイト White

EH3 ダーク イエロー Dark Yellow

544 ブルー Blue
 
BG9 グレイニッシュ ブルー Greenish Blue metallic (Grayish Blue?)
?

Sunny Excellent 1400
These colors were offered for Excellent 1400 PB110 (model year unknown):
009 サンスポットオレンジ(メタリック) Sunspot Orange (metallic) 
005 サンファーストブルー (メタリック) Sunfast Blue (metallic) 
008 サンダウンパープル (メタリック) Sundown Purple (metallic) 
004 サングロウグリーン (メタリック) Sunglow Green (metallic) 
931 サンフラワーゴールド Sunflower Gold 
821 サンシャインホワイト Sunshine White 
930 サンデュグリーン Sundew Green 
665 サンキストイエロー Sunkist Yellow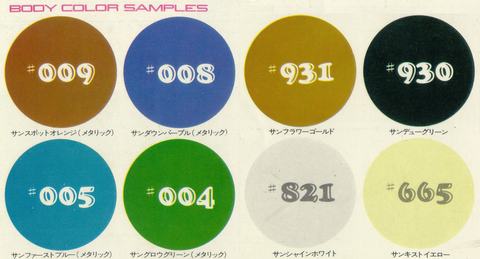 NOTE: color sheet appears to have faded somewhat. Source: composite of graphics from original Nissan brochure (year unknown).
North American Market
In the United States and Canada, these are some of the colors offered (please add to the list if your car has a different number):
(source: List in catalog for touch-up paint)
#003 Dark Green
#006 Sunbird Orange
#554 Light Green
#567 Blue
#645 Blue
#665 Yellow [pale yellow, also used by Datsun Roadster]

#703 Green
#820 Red
#821 White
#931 Gold
#932 Red

(source: List in catalog for coupe cowl vent colors)
#924 White
#926 Yellow
#928 Gray (Gray rather than Grey is the spelling in the factory parts manual)
#930 Green
#940 Green

1971 Colors
Source: "Introduction of Datsun 1200 2-door Sedan Model LB110TRU"
Black interior except where noted
703 Green
820 Red (interior: Gray)
821 White
665 Yellow
567 Blue
645 Blue (interior: Gray)
554 Light Green
932 Red

1973 Colors
1973 USA colors at introduction
821 White, blue interior
665 Yellow, blue interior 
567 Blue, blue interior (Sedan only)
645 Blue, blue interior
554 Light Green, blue interior (Sedan only)
932 Red, blue interior
931 Gold, blue interior
006 Orange, blue interior, optional yellow interior 
003 Green, blue interior
940 Yellow Green, blue interior, optional yellow interior 
Source: Service Bulletin No. 169 Introduction of Datsun 1200 1973 Model Year Nissan, 1972

B210
B310
source: parts catalog
208 yellow -1279
216 white -1179
305 light blue metallic -1279
601 lime green metallic
603 red metallic
609 dark brown metallic -1279
630 beige
663 silver metallic
647 brown -1279
677 olive green metallic -1279
678 dark blue
804 yellow 1279-
805 white 1279-
807 red 1279-
809 sky blue 1279-
810 brown metallic 1279-
815 blue metallic 1279-
816 green metallic 1279-
824 brown 0879-
824 brown 1279-
905 red -1279

Part Numbers
USA
B110: See Paint Part Numbers touch-up paint
B210
The USA B210 Parts Catalog lists these colors of touch-up paint
216 White
932 Red
905 Red
224 Yellow Green
931 Gold
940 Green
225 Blue
226 Dark Blue
352 Dark Blue
227 Orange
217 Yellow
109 Yellow
211 Dark Green metallic
212 Blue metallic
214 Brown metallic

1977 Colors (B210)
At introduction. Interior colors listed as Seat/door Headliner Carpet
019 Yellow (USA Honey Bee only), black beige black
211 Dark Green metallic, beige beige brown
212 Blue metallic, blue beige brown
214 Brown metallic, beige beige brown
216 White
224 Yellow Green
225 Blue
227 Orange
352 Dark Blue
905 Red
931 Gold
940 Green (USA only)

Source: Service Bulletin Vol. 258
Australia Market
Japan-built 1200s use the typical codes, but have a localized name. For example:
821 Pale Grey

In Japan, color 821 is called "Sunshine White", while in USA color 821 is simply listed as "White"
Aussie-built 1200s have an Australia ID plate affixed in the usual spot:

P/Colour: 15465 [light green]
P/Colour: S-4253 [orange]

Portugal
Datsun 1200 S1 Black
New Zealand Market
Late Ute Colors:
Cream
White
Yellow
Red
Blue

Paint Chips
PPG paint chips, all Datsun colors for the specific year including 1200
Datsun 1971
 
502 Ivory
904 B879 White
903 14239 Blue Poly
920 23576 Gold Poly
931 23577 Mustard
901 32910 Light Gray Poly
907 44403 Green
240 44432 Green
918 60636 Orange
905 71899 Red
932 71917 Red
919 81908 Yellow

Datsun 1972
 
821 8889 White
018 8895 White
012 8935 Silver Poly
568 14274 Blue
072 14466 Blue Poly
115 14467 Blue Poly
103 14514 Bright Blue
170/562 19924 Turquoise (Asian Blue)
938 23615 Sahari Gold Poly
074 23749 Bronze Poly
114 23750 Bronze Poly
536 23756 Brown
125 23817 Beige
641 32941 Dark Gray
930 4483 Green
003 44485 Green
021 44679 Green
006 60647 Orange

Datsun 1973


Color Documentation
Interior Color
Standard and Deluxe Vinyl:

Australian-assembled Sedan:

PB110 Cloth:
Identification
The color number is printed on a small plate in the engine compartment on top of the radiator core support.


Over the years these numbers tend to get worn off, so don't be surprised if you cannot read yours.