Ernie "datsa73", who lives in the Seattle area, has a nice Datsun 1200 2-dr sedan with a unique custom-built twin-Weber downdraft intake system.
Overview
Ernie says:
---

I have been wanting this car to go faster so I rebuilt the motor years ago. It wasn't fast enough so I put the dual Webers on it. It went faster but not fast enough. So I installed Nitrous. It went faster but not enough. You can see where this is going...I wanted it to still go faster so I supercharged it. Well, it's faster!!

---

8,000 RPM A15 engine:

Features
1973 Datsun 1200 2-door Sedan
Datsun A15 Engine

Oversized deep dished forged pistons
Balanced
Ported A15 head with dual heavy springs (for 8,000 RPM capability)
Delta Cam
Dual Weber Downdrafts,
50hp Shot of Wet Nitrous Oxide
Weekend Warrior: street licensed, but only put 4000 miles on it in the last 8 years
Twin Downdraft Webers
Datsa73 welds up aluminum plate to make the manifolds using the original A14/A15 manifold.

At the 1/8 mile drags, Evergreen Speedway in Monroe, WA USA:
1/8th mile track @ 9 second (equivalent to a 15.7 second 1/4)
Nitrous oxide, approximately 35 HP boost
Stock Datsun 1200 rear axle (H145 differential) -- never broken
Stock 4-speed
FIAT tachometer
Stock 1/4" fuel line
278 duration camshaft
---

I run one NOS and one Fuel nozzle right into the intake between the two carbs.

I have only ran the car on an 1/8th mile track at 9 second... I am running a electric fuel pump that pushes 8-10 pounds of pressure which seems to work fine. The blower is a screw type and it does look like an eaton. Not sure if it really is. You can google them on ebay. They run about $450. It is clutch drive so I installed a switch on the dash.

It seems to run fine. I am still able to run my RPM's up to 8000 on full boost with NOS. The A15 motor is really holding out.

---

Weber 36/36 carburetors

Jetting: 120 on all bores

Ernie rebuilt the A15 "with only 6k miles on it" during the winter of 2008/2009 "about 10 years since it's last rebuild".
---

After taking it apart I found out that it really didn't need a rebuild. The head was worn out so I rebuilt that. No new parts on the lower end. I ended up putting all the bearings back in as well as my Total Seal Piston Rings. So really my block was only dunked and dingle balled. That was it. The hatch marks in the cylinders were still there from my original build. The machinest told me to just put the thing back together.

---
---

A set of stock wheels and tires (pizza cutters) and I can leave 2 patches of tread for over 60 feet and that's without the Nitrous!

---

The unlocked H145 survived years. The locked H150 didn't have a chance:
Now Supercharged
March 2009. As if a 50-HP Nitrous system is not enough, Ernie has added a Mercedes CLK Kompressor (supercharger) to the A15. The blower is driven off a Ford 5.0 pulley bolted to the crank in front of the existing A15 pulley. With this power boost, Ernie upgraded to an H165 rear axle from Datsun 411.

---

I finally got this project done and it only took me a couple of weeks.

---
Discussion: Supercharged 1200

Super B110

Videos

Features
Mercedes SLK 2.3 Kompressor (twin-screw design)
locked (welded) H165 differential
Rear axle from Datsun 411
Homebuilt traction bars
Tires Rear: Yokohama A048 R ADVAN 205/60R13
Tires Front: Federal 185/60R13
10 psi blow-through boost
No intercooler, no water injection
50 HP Nitrous shot
Stock 1/4" fuel line, 5/16" fuel hoses
MSD StreetFire Ignition Box and MSD tachometer adapter

Weber 36/36 carburetors

Jetting: 140 on all bores (up from 120 pre-supercharged)
KA Power
Ernie converted to KA24DE DOHC power! Estimated 390 HP
Super Bee KA24DR Mod

Twin Cam (156hp stock from Nissan S14)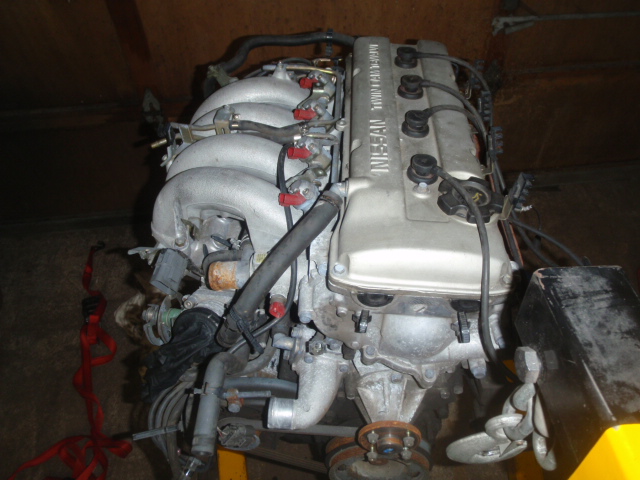 album
Ernie changed to Twin Carbs, Supercharger and Nitrous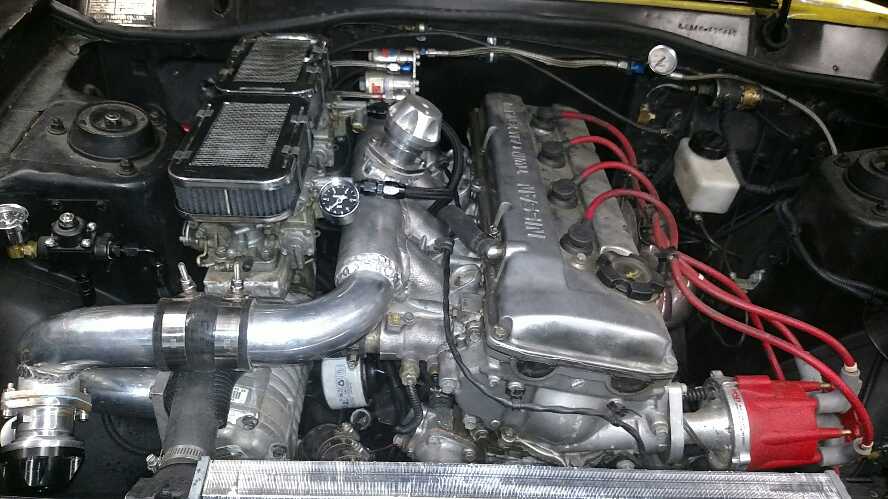 post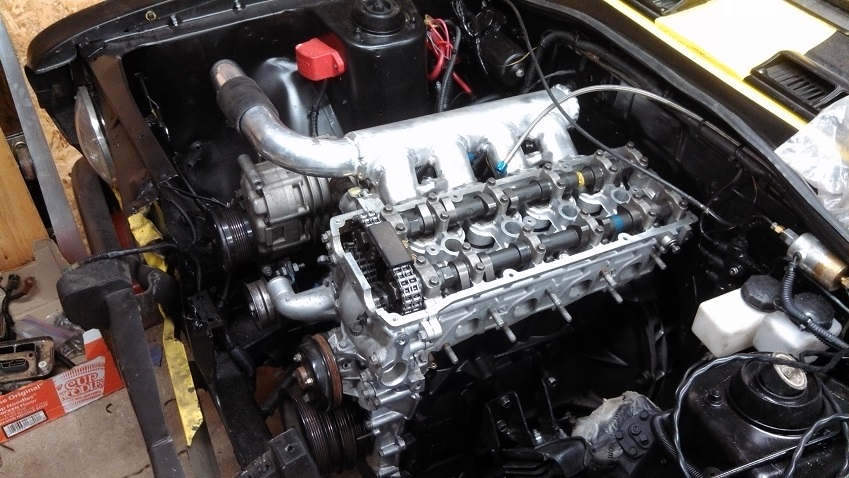 post
S14 Front Sump oil pan

post
The motor sits low so the oil pan interferes with the cross member. New motor mounts have to be made.
KA24DE is an inch shorter than the Z24, and uses similar motor mounts. Ernie used modified engine mount brackets so it would fit the A12 crossmember horns. He shortened the S14 engine mount brackets 1".

post
See L/Z/KA/SR_Crossmember#A-series_Crossmember

Ernie notched the 1200 crossmember so the KA front sump oil pan would fit low-down

post
Photo Index