The Datsun 1200 used a leaf-sprung live axle. The complete assembly (housing, differential, etc.) is known as the Rear Axle Assembly.
Terminology
H145 Rear Axle Assembly is the complete assembly (housing, differential, etc.)

Album click to view
Differential
: The word "diff" refers to the small gears in the rear end that control the left-to-right wheel speeds
38100 SET-HYPOID GEAR & PINION



open type with differential gears visible

Datsun 1200 uses H145 type differential
By popular usage "diff" is also used to refer to these parts:
the Gear Carrier Assembly (pumpkin or "center section" or "diff head"), including Ring and Pinion and the carrier these bolt to

or, the entire Rear Axle Assembly including the housing, gears, axles etc.
Axle Housing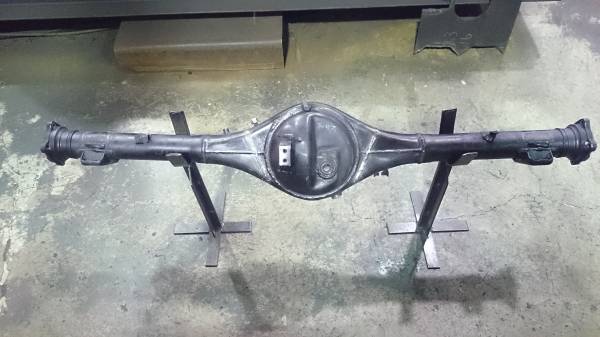 Axle aka axle shaft (includes wheel bearing)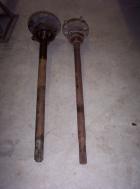 Gear Carrier aka "center" (not to be confused with "center section")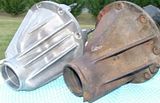 Ring and Pinion
(R&P) are the large final-drive gears e.g. the "ratio" gears. Known as "
Crown Wheel and Pinion
" (CWP) in British English.
| | | |
| --- | --- | --- |
| | 38100 SET-HYPOID GEAR & PINION | |
Spider gears
: The smaller side gears are known as the "spider gears". These are the ones that actually allow a differential speed.
38423 SIDE GEARS
38427 PINION SHAFT
38425 PINION GEARS

LSD: Limited-slip differential. Most designs use a spring-loaded clutch to prevent one wheel from spinning by itself. Instead, the LSD resists spinning but when traction is overcome, both wheels will spin.

Overview
1200 cars use an H145 differential in the axle housing. This is a Hitachi design with 145mm ring gear (5.71 inch). It is a lightweight unit suitable to handle the torque from an A12 engine. Light weight is good, remember that heavy parts take more horsepower to accelerate.
Album click to view
B10 H145 uses a hand brake cross Rod -- a solid rod (B110 uses hand brake cables)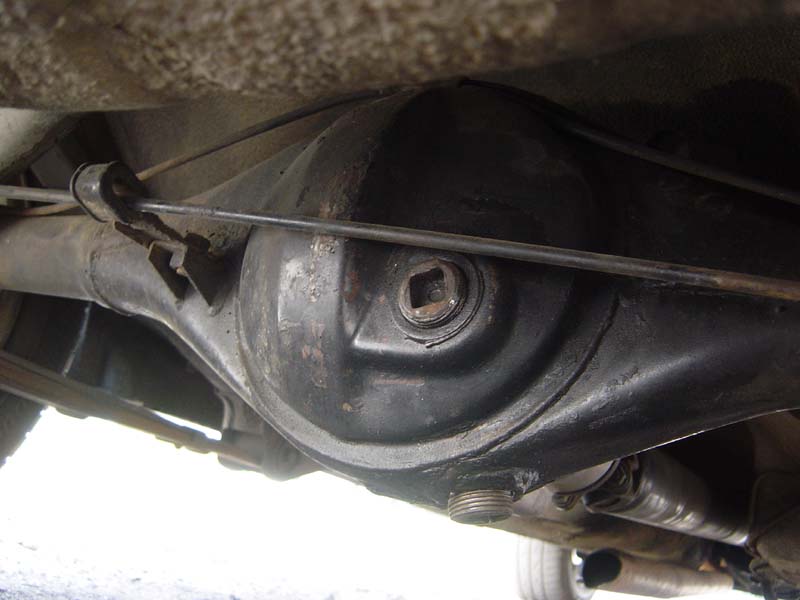 Album click to view
B110 H145 uses hand brake Cables (no rods)

Album click to view
All Datsun 1200 utes (trucks) used the stronger and bigger rear axle assembly. The housing is beefier as is the H165 differential. The axle tube are larger diameter, but the overall assembly is the same width.
H145 vs H165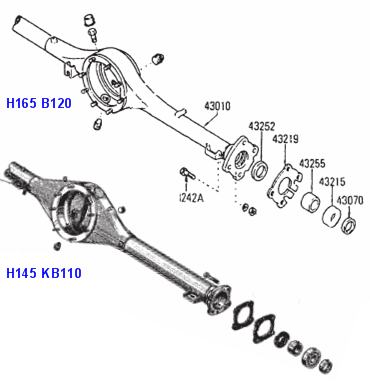 Album click to view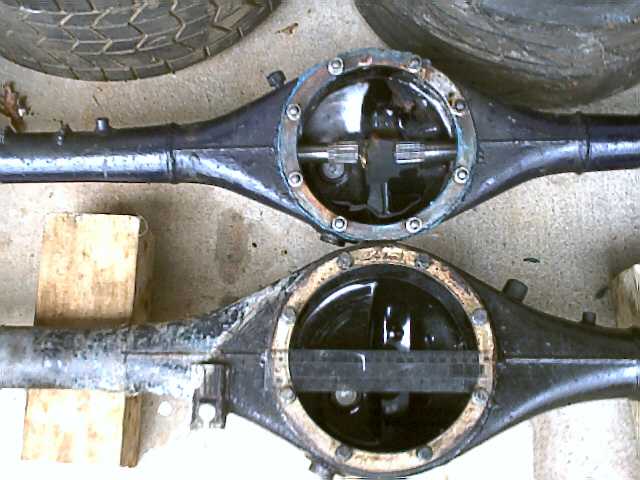 Album click to view
Sedan vs Coupe: sedans have a shock bracket welded to the axle housing, which coupe housings lack: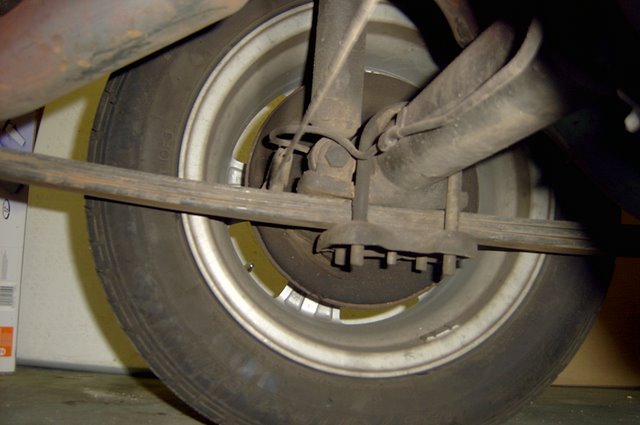 Album click to view
Borg Warner Model 60
Australian-assembled B110 sedans used a Borg Warner Model 60 rear axle, starting in Late 1971.
See main article: Borg Warner Differential

Borg Warner rear axle has an octagonal rear cover. H145 has no rear cover.

Album click to view
Identification
See Main Article: Diff ID

Differential
The Differential is the part in the center of the Rear Axle assembly. Also known as the "Gear carrier assembly", "pumpkin", "center" or "diff head". It has two purposes: 1) reduce the speed ("rear gearing") and 2) equalize power distribution to left and right wheels even when turning corners (differential).
See main articles: H145 | H165

The gear reduction is accomplished by the Ring & Pinion gearset a.k.a. (Crown Ring and Pinion (CRP). The differential action is enabled by the spider gears.
Differential (normal "open" type)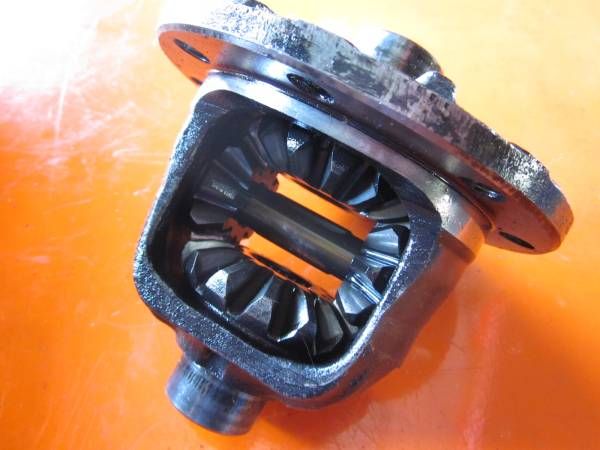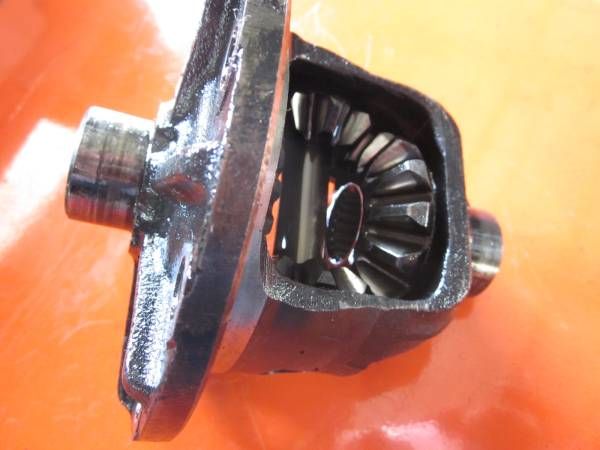 Specifications
Also see: Rear Suspension Specifications
* 3.90:1 ratio - sedans and coupes
* 4.11:1 ratio - VB110 wagons with aluminum gear case
* 4.11:1 ratio - B120 Truck H165
* Ring gear diameter: 145mm (5.71 inch)
* Torque Rating: about 100 lb. ft.
* Axle assembly width: 1305 mm drum-to-drum

Weight
gear carrier (diff head/pumpkin) with gears & diff
* H145 12kg
* H150 14kg
* H165 18kg

rear axle assembly (housing, brakes, etc)
* H145: 42kg
* H165: 52kg
* H190: 60kg
* BW78: 64kg

Strength
See main article: Strength of Differential

Best Ratio
1200 sedans and coupe come with 3.90 ratio. This is the best all-around ratio for the stock-diameter tires, balancing enough torque for take-off with increased fuel-economy. Top speed is 90 mph with the 3.90 ratio and is HP limited. Fitting a higher gear (such as 3.70) will lower top speed as the engine won't be able to reach peak power. However, 3.70 will return increased fuel economy.
The Datsun 1200 truck comes with a 4.11 ratio for extra torque taking off and pulling loads up hills. This is excellent for acceleration, but lower fuel economy. It doesn't make the engine rev too high -- rest assured, the A12 engine can run at 110 kph all day long even with the 4.11 gears. Top speed is 85 mph with the 4.11 ratio.
Or you can change the gears. Read this discussion: I was just gonna ask about the diff ratio. The Datsun 1200 Ute/Pickup uses the H165 diff with 4.11 gearset. See H165 for more information about available ratios and the donor cars you'll find them in.
              4.11     3.90    3.70
Acceleration: Quicker  Normal  Slowest
Fuel Economy: Worse    Better  Best
Noise:        Noisier  Noisy   Less Noisy
Top Speed:    lower    highest lower

QUESTION: won't lower gear (e.g. 4.11) make you have to shift sooner than with a higher gear like 3.9?
ANSWER: Yes, that's the point - it accelerates faster, so shifts can be done sooner. 4.1 will take off quicker, pull hills from a stop more easily, and haul heavy loads with less engine strain. But it comes with downsides on the top end (3.9 = 90mph, 4.11 = 80 mph).
For the 90% of us that want more leisurely driving, some middling gear ratio is more comfortable. Stay longer in each gear. It's all a tradeoff - quicker but noisier? Quieter but slower? More top speed but slow acceleration? More acceleration but lower top speed? With the 4.1 gearing it will top out about 80 mph with the stock 12" tire diameter.

QUESTION: What gearing is best for racing?
ANSWER: It depends on what kind of racing. For a detailed consideration of types and conditions, see jmac's comprehensive answer
Maintenance
The stock Datsun 1200 differential is a reliable, long lasting part behind an A12 or A13 engine. The ute version is strong enough for 1.8 liter engines.
As long as it doesn't run dry on gear lube it will usually last forever. So check it every few months for signs of leaking.
The only common maintenance is to pack the rear wheel bearings every two years or so. This will also keep the bearings quiet and reduce gear lube leakage into the brake area.
Troubleshooting
See Differential Service

Differential Lubricant
Since the differential is a typical hypoid-gear unit, you can use any lubricant designed for such:
* the traditional "90 weight" gear oil
* Better: 75W-90 multiweight
* Best: the newer 75W-140 or 85W-140 multi-weight gear oil

For maximum fuel economy, use a modern multi-weight gear oil. Otherwise use this Nissan chart to select a single-weight oil: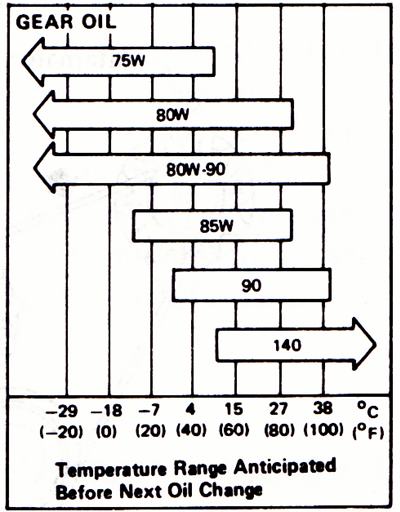 Album click to view
1972 Nissan Specification
* API GL-4 
* MIL-L-2105 

Such as:
* Chevron Multiservice Gear Lub. 75,80,90,140
* Esso Gear Oil GP 80,90,140
* Mobil Mobilube EP or GX 80-90,90,140
* Shell Spirax 75EP,80EP,90EP,140EP
* Sunoco Multipurpose Gear Lub. GL-4 80,90,140
* Texaco Universal Gear Lub. EP 80,90,140

GL-4 vs GL-5
The differential can use a GL-4 oil, same as the transmission lube.
GL-5 is now recommmended for the differential, but should not be used in the gearbox. ONLY GL-4 is used in the gearbox. If the fluid is marked both GL-4 AND GL-5 compatible, it is not to be used in Nissan gearboxes.
Nissan 1981 Specification
* API GL-5

LSD
For differentials equipped with a Limited Slip unit, use only gear lubricant designed for LSD. Specifically, that is APL-GL5 gear oil.
Leaf Spring Mounting
Sedan, Coupe, Wagon and Ute (Truck) all have different mounting points. See Leaf Springs
Swapping
Datsun 1200 Coupe, sedan, van, and ute housing are all just slightly different: discussion in main forum
For information about swapping non-1200 diffs, see Rear Axle Swaps

Sedan axle housing has no welded-on leaf perches. The others do. Plus other small differences.
Ute has larger diameter axle housings, requiring larger u-bolts and spring plates
Brake line splitter differences
Hand Brake
Length varies
* Ute long body
* Ute standard body
* Car vs ute?
* rhd vs lhd?

ute

Album click to view
Brake Line Split
Brake line splitter is on right side of RHD coupe & sedan
Brake line splitter is on left side of RHD ute
Brake line splitter is near center of LHD coupe & sedan
Flexible Hose (from chassis to rear axle) is the same RHD/LHD. Splitter is the same.
If needed, rearrange the brake lines on the diff. The left and right tubes are different lengths, so source the opposite arrangement from the old axle.
Weld a bracket to hold the splitter bolt in the appropriate location. Or using a large hose clamp, clamp a bit of steel stock in the appropriate location. Thread the stock to accept the splitter bolt.
Ute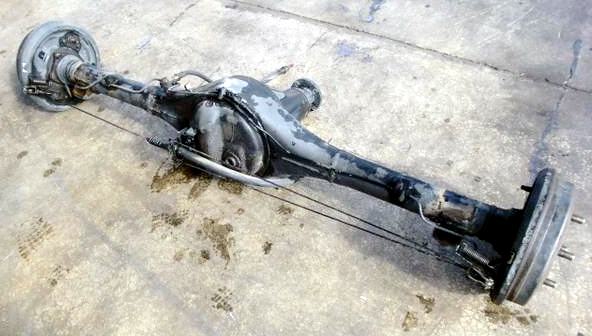 Album click to view
Album click to view
Album click to view
RHD car
46313-18000 CONNECTOR-3 way brake tube
46290-H1000 ASS'Y-TUBE, rear brake (R.H.) Sedan <> 46290-H5001
46290-H1401 ASS'Y-TUBE, rear brake (R.H.) Van, Coupe > 46290-H1400 (to '73-3)
46201-89918 ASS'Y-HOSE, brake rear (l=330)

LHD car
46313-18000 CONNECTOR-3WAY REAR
02463-13200 CONNECTOR-3WAY REAR 46313-18000
 46290-H5501 ASSY-TUBE REAR BRAKE RH COUPE 0673- 5 46290-H1001
 46290-H7301 ASSY-TUBE REAR BRAKE RH COUPE 0673- 5 46290-H5501
 46290-H1000 ASSY-TUBE REAR BRAKE RH SEDAN COUPE <> 46290-H1001
 46290-H5001 ASSY-TUBE REAR BRAKE RH SEDAN 0673-0473 5 46290-H1001
 46290-H7201 ASSY-TUBE REAR BRAKE RH SEDAN 0673-0473 5 46290-H5001
46310-H5501 ASSY-TUBE REAR BRAKE LH COUPE 0673- 5 46310-H1001
46310-H5001 ASSY-TUBE REAR BRAKE LH SEDAN 0673-0672 5 46290-H1001
46310-H1000 ASSY-TUBE REAR BRAKE LH SEDAN COUPE -473
46310-H1001 ASSY-TUBE REAR BRAKE LH SEDAN COUPE 0573- <> 46310-H1000
46201-89918 ASSY-HOSE BRAKE REAR L=330 <> 46201-H7200

Pinion Snubber
The Torque Arrester (pinion snubber) is a rubber bumper that prevents the differential from rotating too much under torque input.
Album click to view
Album click to view
Only used by Sedan and Coupe.
55350-H1000 APRESTER-TORQUE REAR SPRING

Upload click to view
Album click to view
Bump Stop
Album click to view
See main article: Shock absorbers

Sedan has Bump Stops on the Shock absorbers:

Album click to view
Coupe, wagon and pickup have bump stops on the top of the axle tube.

Album click to view
Axles
Datsun 1200 -- both car H145 and truck H165 -- uses 23-spline axles. The truck axles are a larger diameter and so they do not interchange.
See Main Article: Axle Shaft

Part Numbers
See the various related articles such as:
* Axle Shaft
* H145
* Leaf Springs
* Rear Suspension
* Category: Rear Axle And Rear Suspension

Limited Slip
Datsun 1200 was not offered with a limited-slip differential, however Datsun Competition sold an LSD for the H145. This part is NLA, however it may be found occasionally in specialty shops or on eBay.
See Main Article: Limited Slip

Rear Axle Removal
To remove the rear axle assembly from the vehicle:
Disengage from tail shaft
Disengage hand brake cable from the adjustment block near the front of the diff
Drain the diff oil
Disengage the brake line which is in front of the diff
Remove drums
Remove the handbrake cable by taking out the pins at the ends
Remove the U-bolts that hold the axle main body to the springs
Take out the whole thing and clean it up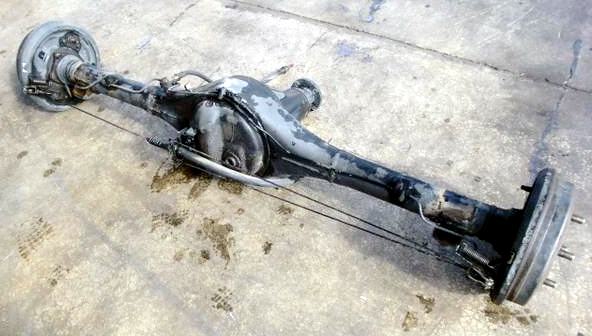 Album click to view
Axle Shaft Removal
See main article: Axle Shaft

Axle Bearing Removal
See main article: Axle Shaft

Axle Bearing Installation
See main article: Axle Shaft

Axle Shaft Installation
See main article: Axle Shaft 

¤