Instead of a water pump-driven fan, some factory A-series Datsuns used an electric fan for a slight increase in fuel economy. It turns off/on via a thermostatic switch, thus some call it a "thermo fan".
Overview
Thermo fans do not increase the cooling of the engine (the stock engine-driven fan works perfectly for that). Thermo fans - either electric or clutch type fan - save a few HP and so increase the fuel economy slightly.
Fan Comparison
B310 standard fan: 310 mm
B310 electric fan: 330 mm (for fuel economy)
B310 clutch fan: 350 mm (for Aircon)

Album click to view
Be sure to fit the thermo switch in either lower hose or bottom of radiator. Remember, the water coming from the head is always around 82C/180F due to the engine thermostat. But the water coming from the bottom of the radiator is water that has already been cooled - so when it's not cooled enough, the thermo switch will switch the fan on. When it's cooled enough, the fan will turn off.
With Davies Craig electric water pump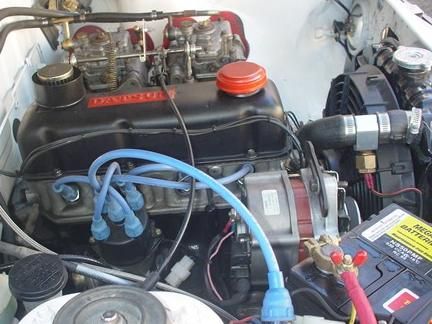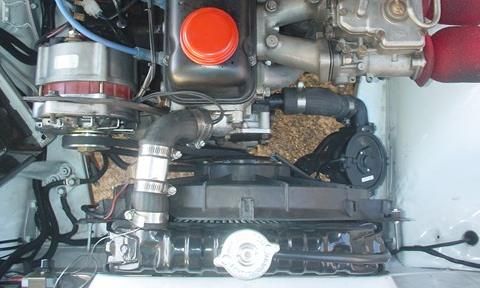 N10
You can fit the Nissan N10 (Pulsar/310) fan into a 1200:

Album click to view
Album click to view
B310
The Datsun 210 (B310) "MPG" model featured an electric fan. MPG models had Manual transmission, chassis RSFU, RFN, from Sep 1980 with A14 engine w/o AC:
HLB310RSFU 
"R" 2-dr sedan
"S" Standard model
"F" Five-speed
"U" USA Federal (non-California)

HLB310RFN
"R" 2-dr sedan, "F" Five-speed, "N" Canada
HL means: "H" A14 engine, "L" Left-hand-drive

Album click to view
Like other B310s it used a 13 psi radiator cap.
From Sep 1980 North America MANUAL(RSFU,RFN)
21590-H9000 MOTOR ASSY-W/SHROUD [fan]
* fan: 320mm diameter with 5 blades
21503-H9900 HOSE-RAD,LWR A
21504-H9900 HOSE-RAD,LWR B
08723-13800 CLAMP-HOSE 2
21595-M0206 SWITCH-THERMO
* 05412-1600P GASKET-B
* 21596-M3000 ADAPT-THERMO SWITCH

Inline adapter fits in engine inlet hose (lower hose)

Album click to view
Homemade adapter for Datsun-Nissan thermostat

Album click to view
Aftermarket
The standard engine fan is 310mm (12.2 inch), so be sure to get an electric fan that is comparable. 12" electric fans can have anything from 750-2450 cfm with most of the cheap ones only being available in the 750-1250 cfm range - some 12" fans simply fail to move enough air for effective cooling at low vehicle speeds.
Spal brand fans come highly recommended: POST Discussion
Electric fans come with instructions and mounting hardware. Often they mount directly to the radiator core with zip-tie-like plastic fittings.
It is very effective to mount a electric fan on the inside of the engine bay so that it pulls air through the radiator. But due to the thick radiator swaps or engine swap there may not enough space between engine and radiator to fit it on the inside. In this case a "pusher" fan can be fitted in front of the radiator.
electric fan

Album click to view
Spal fan on stock radiator
POST topic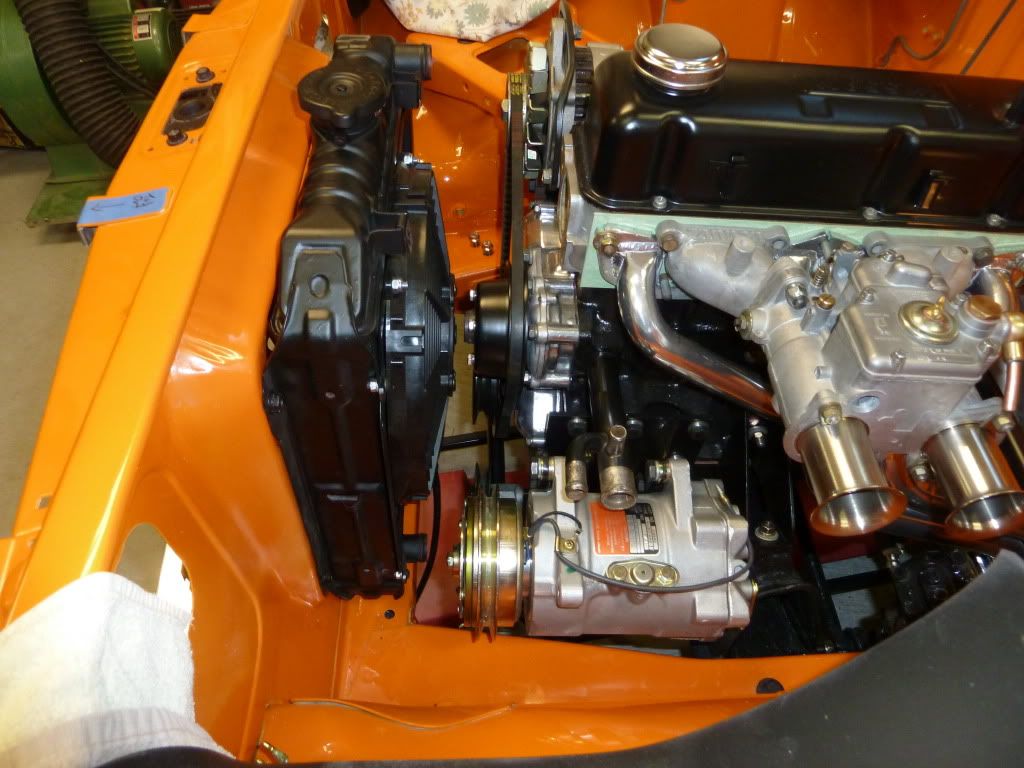 Dual 10" fans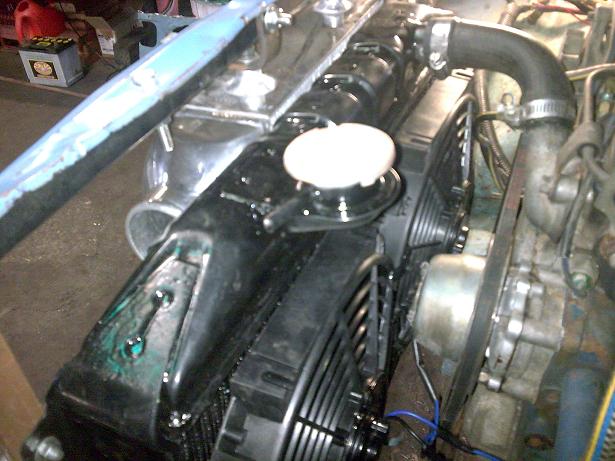 Album click to view
small electric fan on large radiator

Album click to view
N14 pulsar fan, blades and polarity swapped around to push air from the front of the car thru the radiator (CA16 pulsar radiator)

Album click to view
Twin 12" electric "pusher" fans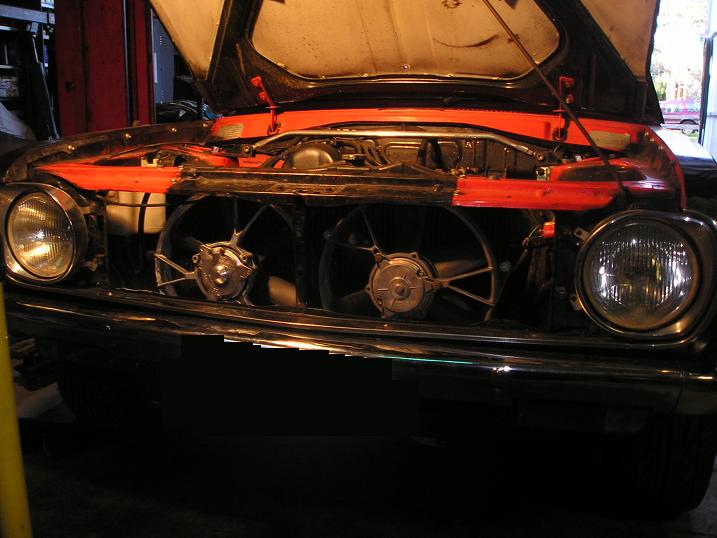 Album click to view
Single electric fan with custom radiator

Album click to view
B11 Sunny
B11 (1983-1986 Nissan Sunny) - factory electric fan Radiator with built-in thermo switch. Core is 16" wide (brackets are a few inches wider), height with tanks is 16".
Note that the stock A15 fan provides better cooling:
12.2" diameter (larger than B11)
always on
But the B11 fan will cool OK, it was used on 1.5 liter E15 engine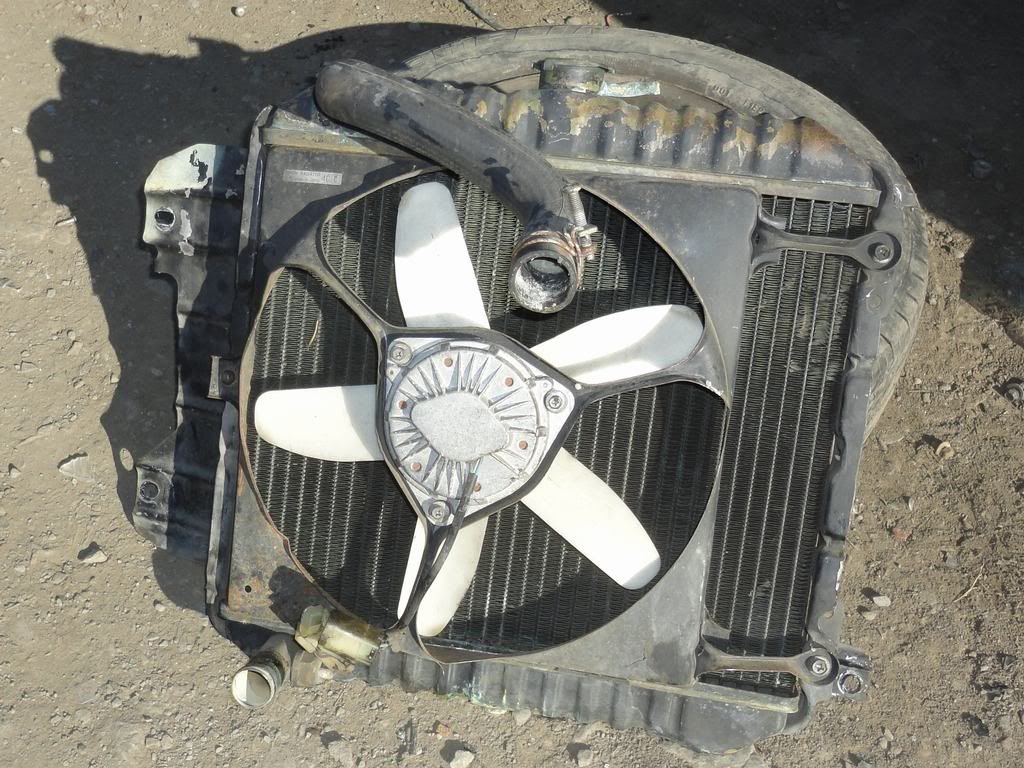 Thermo Switch
The thermo switch should come on at or below the engine thermostat temperature (normally 84C/180F). Remember, the thermo switch doesn't conrol the engine temp - the engine thermostat does. The radiator should run colder than the engine so it can be effective.
Jaycar generic bolt-on/tape-on thermo switch

Album click to view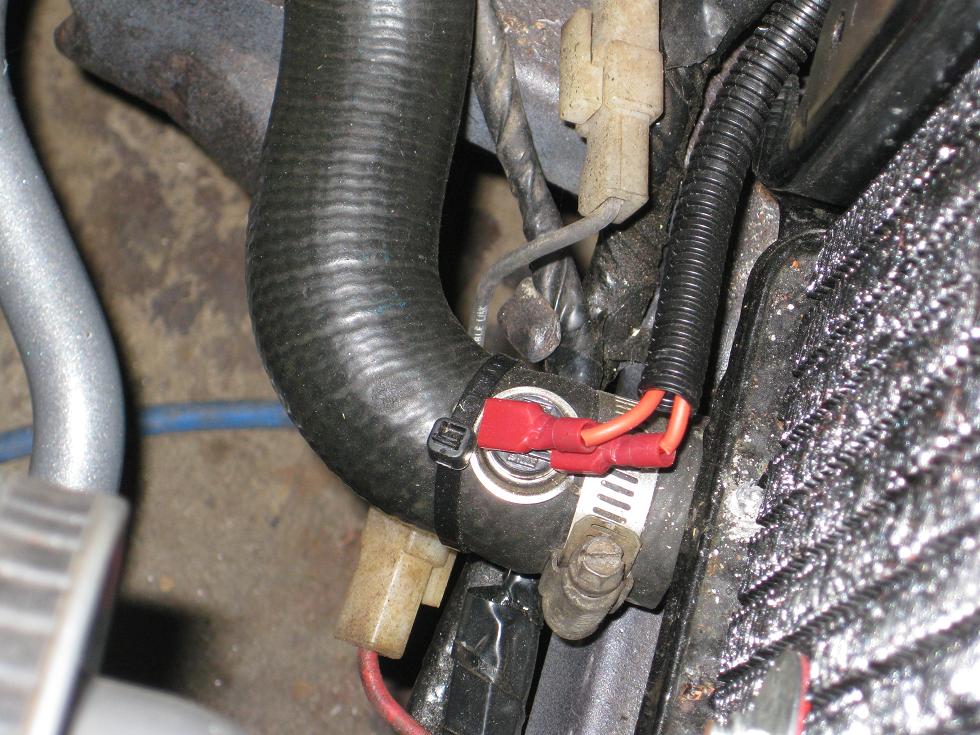 Album click to view
Thermo switch at the bottom of the radiator

Wiring
Relay wiring diagram
POST Thermo Fan power supply
POST ELECTRIC FAN ON A15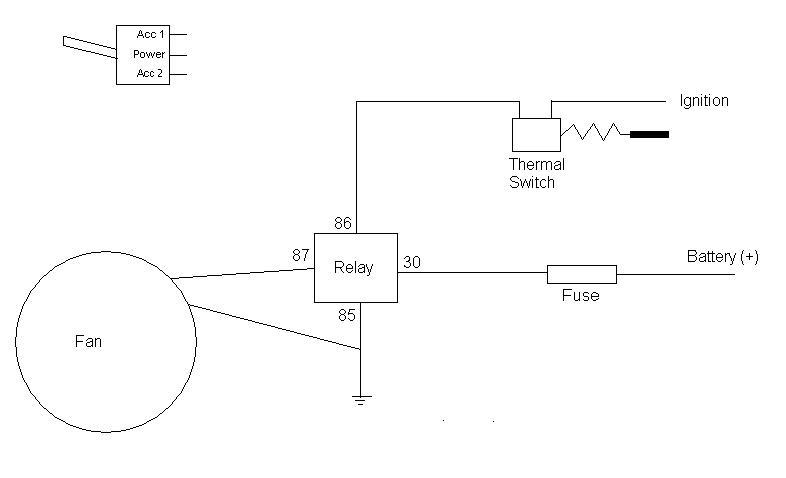 Post click for topic
Wire marked IGN can be connected to any wire in the Ignition system. I recommend the Coil + wire (or the 12V + side of the Ballast Resistor) -- because its a handy engine compartment location. The relay steals almost no power from the coil so it's OK to do it.
Part Numbers
The thermo switch is in the lower radiator hose
Hose Adapter
21596-M3000 N10 EUR ADAPTER-THERMOMETER SWITCH A10/A12/A14
21596-M4960 N10 USA ADAPTER-THERMOMETER SWITCH A14S+A15S 0878-0781
* for use with 1" hoses
NOTE: N10 E-series use a long right-angle hose adapter
* 21596-M6460 N10 USA ADAPTER-THERMOMETER SWITCH E15S.MT 0881-
* 21596-M6465 N10 USA ADAPTER-THERMOMETER SWITCH E15S.AT 1181-

Your choice of temps:
21596-M7960 N10 EUR ENGINE COOLANT TEMPERATURE SWITCH A12/A14
21595-M0206 N10 USA SWITCH-THERMOMETER ON 85-90C
21595-M4961 N10 USA SWITCH-THERMOMETER ON 72-75C

21595-M0205, 21595-M0206
* 2 bullet terminals
* M16 x 1.5 threads


21595-M4961, 21595-M4961
* 2 spade terminals


Sources
21595-M0206 ON 85-90C
* N10 USA 0878-0781 A14S + A15S
* N10 USA 0881-     E15S
21595-M4961 ON 72-75C
* N10 USA 0878-0781 A14S + A15S
* N10 USA 0881 E15S

Presumably the lower temp switch is used with the standard 82C engine thermostat and with A14/A15 OPTIONAL 76.5 engine thermostat "For Tropical Zones" (76.5 was not used with E15S).
And the higher switch was used with standard 82C or 88C "For Frigid Zones" (A14/A15/E15).
The stock Datsun B310 fan Thermo switch specifications:
* Part Number 21595-M0206
* Nominal ON: 85-90C 
* Spec ON: 83-87° C (181-189 F)
* Spec OFF: 78-81° C (172-178 F)
* used with 82C thermostat (88C optional)


Note that the thermo switch needs to go in the lower radiator hose. Do not use a switch in the cylinder head as the temp will never vary after the engine warms up (remember, the head is on the regulated side of the engine thermostat). Switch in head (or on head side of thermostat housing) will be ALWAYS ON when engine is warm. To get the benefit of electric fan cycling ON/OFF as needed, put the switch in the radiator hose.
Others
These are radiator-mounted switches. Instead of the extended-sensor type for use with a hose adapter they are low-profile type. The end only needs to touch the coolant whichever way you go.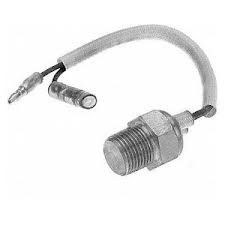 B11, N12 fitted the temp switch directly into the lowest part of the radiator, using the same threads M16 x 1.5 as the A-series type.
85-90C ON
21595-36A00 Holden, Daewoo, Nissan
21595-01E00 <> 21595-36A00
21595-36A00, 21595-D3000
* 2-pin square connector
* M16 x 1.5 threads


21595-01A00, 21595-04A00
* 2-pin oval connector
* 85-90C ON
* M16 x 1.5 theads
* 22mm hex


B11 USA
 21595-01A00 0282-0983 E15S+E16S+CD17
 21595-36A00 0983-0588 E15S+E16S+CD17

N12 USA
 21595-01A00 0882-0684 E16S
 21595-01A00 0883-0983 E15ET
 21595-36A00 0983-0784 E15ET
 21595-36A00 0784-     E16S

21595-01E00 90C
* USA T12 CA20E
* USA U11 VG30E

21595-D3000
* USA T11 CA20S+CA20E 

¤