Production stopped at the end of 2007 in the Rosslyn factory. As of March 2008, Nissan South Africa was still selling brand new B140 trucks. Previously they sold the Datsun 1200 pickup (B120), but in 1980 started selling a upgraded model with 1400cc engine -- the B140. It still has a carburetor and 12" tires. But now features a 5-speed transmission. In 2002 Februrary it had a minor remodel and then again 2005 January. The last updated features an oval Nissan grille emblem.
Overview
Also see: 
* 2008 Bakkie
* B140 Model Changes
* B140 Colours
* B140 Review

Nissan Champ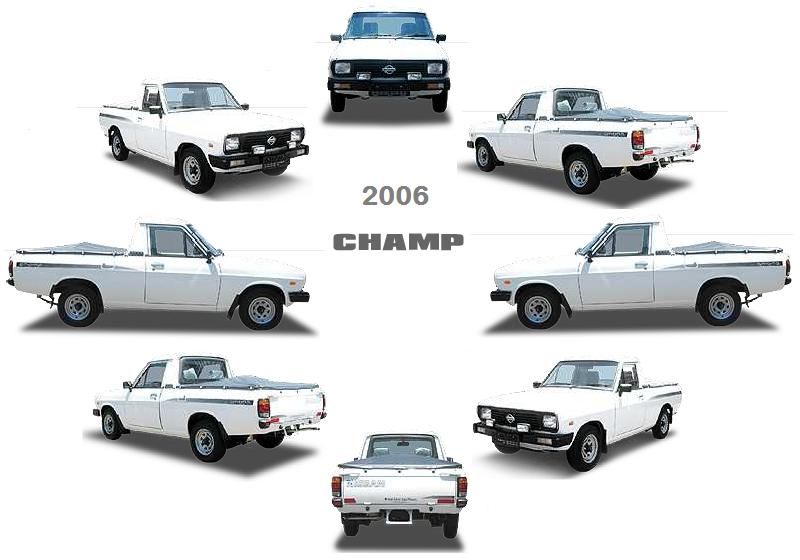 The last one ever built - November 2007: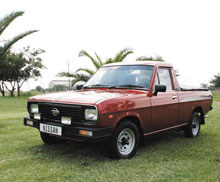 power assisted front discs...

The replacement model is reported to be a bakkie variant of the Romanian-designed Dacia, a front-wheel-drive vehicle.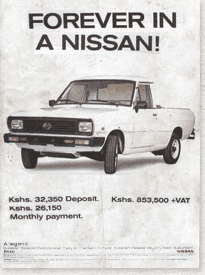 Nissan 1400 Bakkie Memories on Facebook
a bench seat for an extra passenger...

Question: since production of the 1400 bakkie has ceased, what does Nissan SA intend doing to ensure it has a strong contender in the half-ton/three-quarter ton segment?
Answer: Production ceased on this model due to new homologation regulations that came into effect in January 2008. However, there is sufficient stock to carry us until the replacement model - so if you are part of the many die-hard fans & customers for this legendary rear wheel drive workhorse, you still have a chance to get one...That in itself answered the question: Yes, we will have a replacement for this model and we believe our contender will be competitive. Our competitors are also reading these replies, so enough said for now...
Acceleration 16.22 sec (0-100 km/h)

Max Speed 146 (km/h) 

About 285,000 units had been assembled at the Roslyn factory (Sowetan 30 Jan 2008).
Smaller rear window than B120s:

The Nissan LDV Bakkie
LDV 1400

The Bakkie, as the ute or pickup truck is known in South Africa, is the last of the Datsun 1200s. "Bakkie" is a term applied to any brand pickup, although we like to think that the Nissan 1400 LDV is the best of the small bakkies. Sometimes it is called a 'van'. Built in Rosslyn.
In South Africa, June 1971 as the Datsun 1200 pickup launch price was R1295.
vintage photo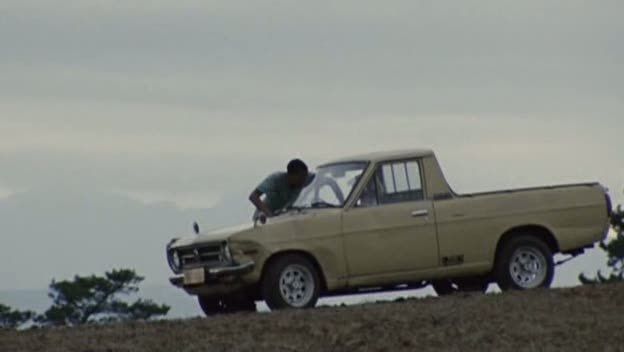 Note the white reflectors on the grille of South Africa-built Datsun 1200/Datsun 120Y.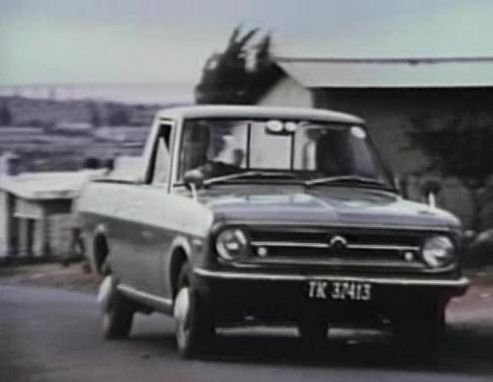 According to the article Nissan's 'Champ of Africa' tops 250 000 units (June 4, 2003) from motoring.co.za, the Datsun 1200 Bakkie was first produced in 1971, it changed to the Datsun 1400 bakkie in 1980, and became the Nissan 1400 in 1982.
In late 1985 the cab roof was raised by about 75mm.
How tough are these bakkie? Well, you can put them in a deep lake, winch it out, drain the engine and drive off. Article: Kiss of life for sunken Nissan 1400 bakkie (July 30, 2000) motoring.co.za:
---

"It started first time, and ran perfectly. "There's definitely no stopping this engine. You can't even drown it. I want to congratulate Nissan on manufacturing, in my opinion, the best vehicle available in South Africa today," Kruger said.

---
And:
---

Chris [Snyders] says that the Datsun 1200 ute (called a 'bakkie' in South Africa) were produced in South Africa from 1971 onwards. The name was changed to 120Y in 1976, and they had a slight facelift in 1982, with the engine being swapped for an A14. reference: Martybug's Web site

---
Earlier bakkies were A12-powered models.
quote:

---

Little bit of history from SA. the 1200 ute or bakkie like we call them were replaced with the 1400 from 1981 onward - same shape, the cab roof was extended +/- 3 inches from late '85 until now. The 1400 ute/bakkie still uses most of the same parts, Nissan SA changed the interior color a bit -it is grey now and the grill a lot squarer

---
1400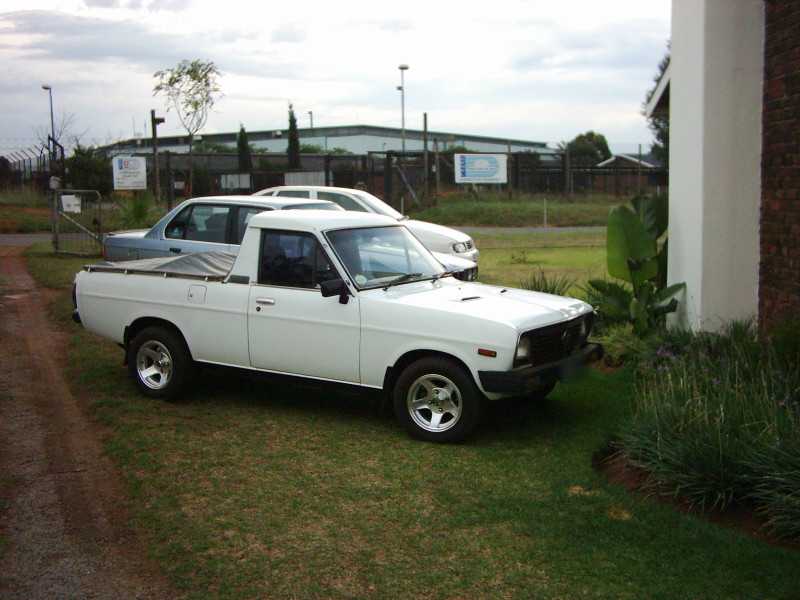 Notice how the front part is the same as the Datsun 1200 -- same doors,fenders, hood, etc. Mainly the roof is different.
Features of 1400 LDV
Nissan 1400 LDV

* Square headlights
* raised roof
* plastic bumpers
* boosted brakes
* Tyres 155SR12  
* Wheels Size/Type 4Jx12/Steel  
* Net Load Capacity 591 kg 
* (Champ) rev counter, bucket seats, spotlights
* optional air conditioning
* Sporty white-spoke wheels
* A14 engine
* Hitachi carburetor
* 5-speed overdrive transmission (FS5W60B)

The base model came with a bench seat - "sport" or "champ" model comes with nice little buckets and a fat little steering wheel
2007 Specs:
Base Price R 74,990.00 (incl VAT) * 
Cyl/capacity 4/1397 cm3 
Maximum Power 47 @ 6000 kW at r/min 
Maximum Torque 97 @ 2500 Nm at r/min 
Power To Mass Ratio 60.88 W/kg 
Gears/drive wheels 5/Rear wheel drive  
Acceleration 16.22 sec (0-100 km/h) 
Max Speed 146 (km/h) 
Tank Capacity 45 litre 
Ground Clearance 160 mm 
LoadBox 1518x1285x415  

B140 is a South-Africa only model. Why B140? I would be surprised if it was not because of the A14 engine. And to show it's newer than the B120. Car makers are not bound to follow previous tradition when it comes to names ... CCG says his is a 1976 "120Y ute".

Rallystar
The official name is 1400 LDV, for Light Duty Vehicle with 1400cc engine. "LDV" is used for small commercial trucks for all makes (Mazda, Toyota, etc).
Nissan 1400 LDV Champ

The Bakkie is also called the "Botsotso" after the South African Chief's soccer legend "Botsotso" Dladla. A direct translation of Botsotso is 'little short legged one'.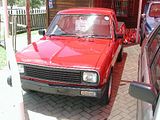 B140 Review from magazine article


RallyStar
What size Is the 1400 Bakkie?
The B140 is exactly the same size as the Datsun 1200, but with an integral pickup bed instead of a back seat.
Compare it to an XY Ford Falcon:


Andy's Web site
Features
Eddy RatDat's South Africa Truck restoration
Details on Ratdat's web site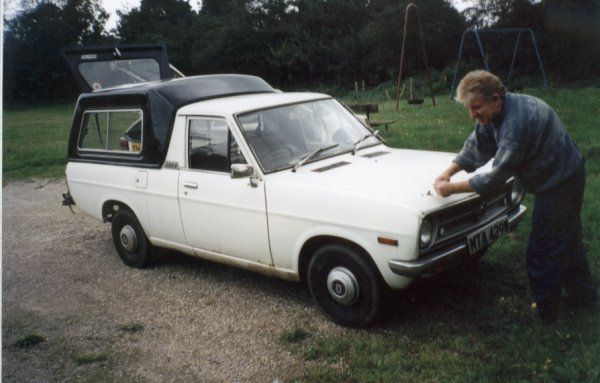 http://www.safari-conversions.co.za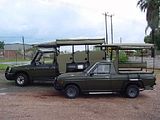 <clive ccg bones BigBlue07 1200GXman ruda supervan Nissan1400Bakkie Widget cbr >
Accessories
Canopy
Putting a canopy on the B140 is very popular.

See main article: Canopy

More Details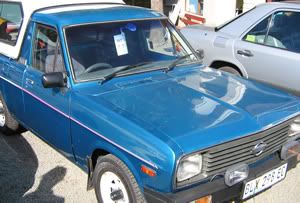 Buy parts new from Nissan South Africa, Ship to USA or AU or NZ. Search by part number.
---

I've bought 2 shipments of parts through nissan ZA over the internet ... $100 worth of parts cost $200 as the banks charge like nothing else to transfer money, then the government puts a 30% duty on top + 25% GST on top of that ...

---
Parts discussion: Bakkie crossmember
quote:

---


Part: 32010-G1550
Desc: TRANSMISSION ASSY 5 SPEED
Price: R20297.98 = USD$2,707.95

Picture: 9B4.gif

---
4-speed B140s and 5-speeds interchange. 4-speed models used the 56a transmission, which uses a different rear crossmember.
Marty's pics

200 Bakkie Interior

300km/h bakkie
According to Nissan Global, the B120 was made from Feb 1970 to 1986. The B122 was made from Nov 1986 until 1994.
FS5W60B Transmission Gear Ratios
1st
3.513
2nd
2.17
3rd
1.38
4th
1.00
5th
0.82
Rev
3.76
Still the champion of Africa - newspaper article article at AutoWorld South Africa
In the Bush

Photo Index
For scores of pics of bakkies see B140 Photo Cache
Forum Uploads
photo
photo
photo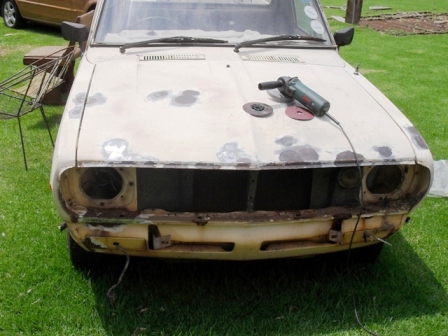 photo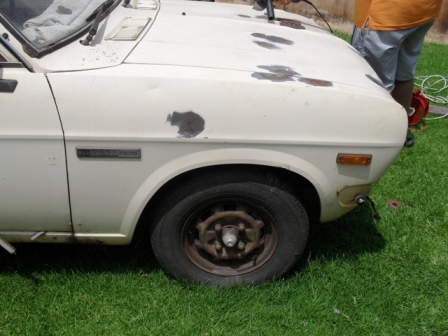 photo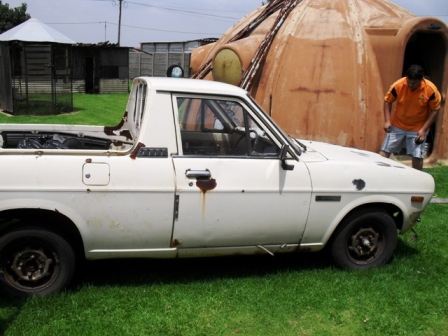 photo
photo
photo
photo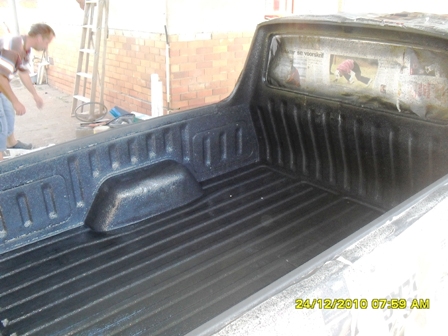 photo
photo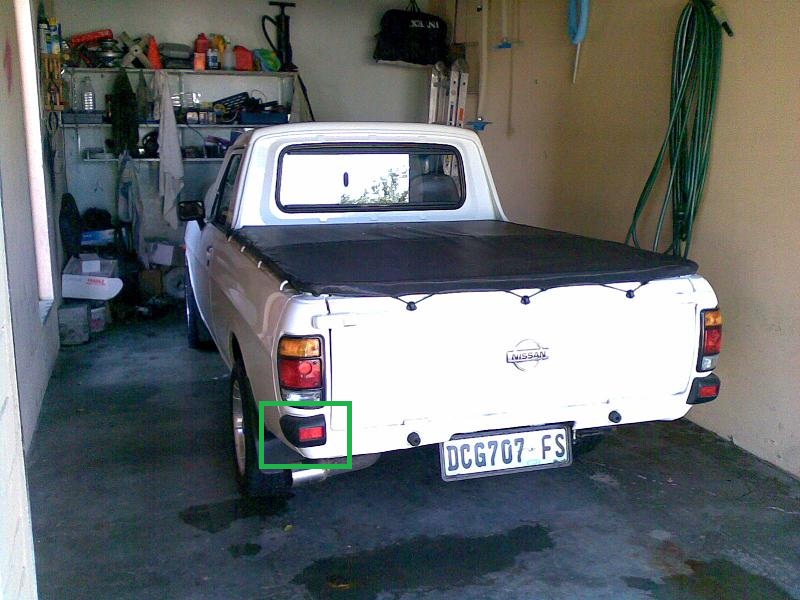 photo
photo
photo