The Datsun 1200 SSS was a special version of the Datsun B110 created by Datsun New Zealand. It was sold through the 1974 model year, even though 1200 factory production stopped in 1973. Based on the B110 4-dr sedan, it featured twin sidedraught carburettors, special alloy wheels and blacked-out bonnet.
Overview and History
Third SSS sold new on South Island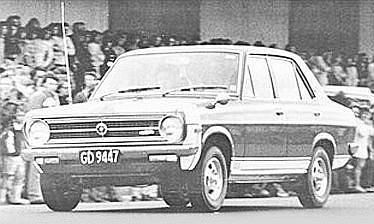 Album click to view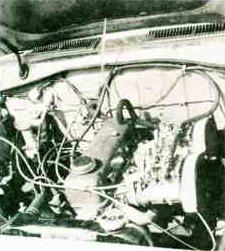 Album click to view
The Datsun 1200SSS was devised by Warren Broadbent of Nissan Motor Distributors (NZ) Ltd and Dennis Marwood of Performance Development Ltd. Warren was in Japan on business early this year and felt there was a local market for a modified version of the successful 1200 after seeing the success of the bigger Datsun 1600 SSS.
Album click to view
Why the 4-door sedan? The coupe would appear to be the basis for a hot-rod 1200.
---

Quote: The production racing class the SSS was built for was for 4 door sedans hence the deluxe sedan was the base for the little beasty.
Performance Development in Papakura did the engine modifications.
Quote:

---

These little cars are unique to NZ, having been built up by a chap by the name of Dennis Marwood in Auckland. The joint venture commissioned by the NZ Datsun distributors back in the early to mid 1970's.

Re numbers- they built around 800 110SSS's and only around 150 [B210] 120SSS's.

As I understand it they cost approx. an extra $500 [$543, see Motor Magazine article which tended to make them rather pricey at the time.

Album click to view

Essentially the drive chain [sic] modifications were the addition of the twin Delhorto carbs + air box, extractors and a reprofiled camshaft- thats all, the cylinder head, block, gearbox and diff remained unaltered. However these modifications alone were enough to give these little cars a healthy performance edge over a standard 1200 ultimately leading to them being one of the most successful cars ever raced or rallied in this country.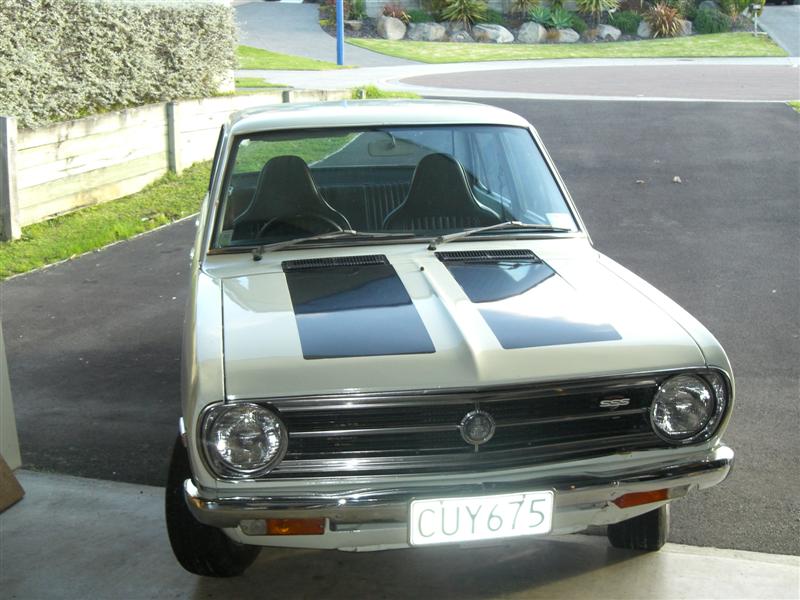 Post click for topic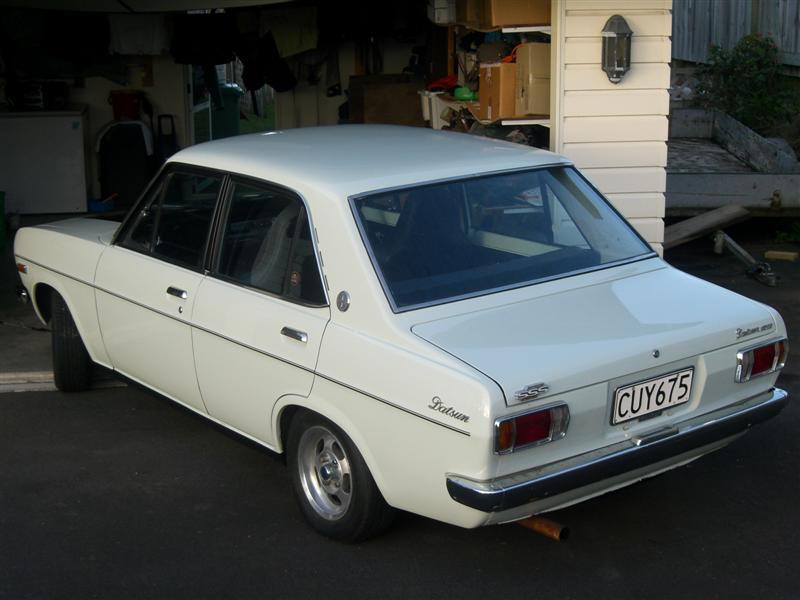 Post click for topic
Album click to view
Album click to view
Album click to view
SSS Features
SSS grille badge

Twin 40mm Dellorto carburetors (NOTE: Not the Hitachi Sidedraft Carburetors put on the 1200GX Engine)

badge on right rear of boot lid
Standard 1200 cylinder (not modified)
Compression ratio, gear ratios, brakes and suspension remained unaltered
Coby extractors (headers) exhaust is 4-2-1 cast headers they have a flange after they go into 2
Cam spec @ 0.050": Intake opens 3deg BTDC, closes 20deg ABDC, duration 203deg. Exhaust opens 31deg BBDC, closes 6deg BTDC, duration 208deg
Rectangular gauges, as with the standard Sedan. Round tachometer in front of the heater box One report says it came with Round gauges as in the coupe, which is possible (since they did vary other options during the production run) but unconfirmed
black patches on the bonnet with black down the sills and front and rear skirts
driving lights (optional?)
Datsun Competition rally spec 270 degree camshaft with 70 degree overlap
12x4" slotted Jellybean ("slotted mag") wheels by Ward Wheels with radial tyres and 'Datsun' center caps. Later 1200SSS and 120Y SSS had Triden jellybeans by Cheviot

1200 sedans were assembled in New Zealand and came in a greater range of colours than the fully imported coupes

B110 SSS didn't come with side stripes, as did the later B210 (120Y) version
center console below heater with tachometer. The tacho was usually VDO, but Smiths and others seem to have been fitted to some

dealer option: spotlights
??? black-painted sills
(some) have steeply-raked boot spoiler
coupe-spec Cowl Top Grille
carpet
based on the Deluxe body,which provides the Deluxe interior arm rest door handles
discussion: Datsun 1200 SSS
Jelly Bean mags

Post click for topic
Performance
The SSS had 55 road horsepower, compared to about 40rhp for a good standard 1200, and an increase in engine bhp from 69 to about 90bhp. The motor develops the extra horses at the same rpm. And the mild camshaft offers a wide power range.
The Pukekohe circuit time was about 7 seconds (!) faster than the best lap for a standard 1200.
Quote:

---

ACCELERATION [1200 SSS] (Standard 1200 as tested October 1971 given in brackets):
.. 0 - 60mph ............. 11.9s . (14.0s)
.. Standing quarter mile . 18.1s . (18.8s)


MOTORMAN magazine

---
MOTORMAN magazine out of New Zealand tested both a regular 1200 and a 1200 SSS and note this:
Quote:

---

We didn't take the 0-90mph time with the standard car because it was near the Datsun's top speed, but the SSS version took half a minute to reach this velocity, and continued to pull strongly to its maximum of 100mph [compared to regular 1200 at about 90 mph].

---
The downside? Only 28 miles per gallon, instead of the usual 38 mpg from a standard 1200. Those big Dellortoes must have been plenty thirsty.
Magazine Articles
Motorman Nov 1972 (pp 15-16) - "Datsun 1200SSS Road Test"
Motorman Jul 1973 (pp 12-13) - track test of the racing version
Sports Car World Mar 1973 - From New Zealand - Two hot cars built for the Benson & Hedges 500 Fiat 125T and Datsun 1200 SSS
Comments
Quote:

---

Twin dellortos and manifold for 1200/A12 I have for sale a pair of 40 DHLA Dellortos and a manifold to suit a 1200. These are ORIGINAL from a 1200SSS which was a New Zealand only model. The 1200 engine with these carbs, extractors and a mild cam made 90 hp -vs- 68 hp for the standard model. Considerably more than the highly prized 1200GX. BOLT ON HORSEPWER! They are in good working order. Will not suit an A14 or A15 as those engines have oval inlet ports. These suit A12/1200 motors with round inlet ports."

Album click to view

That seems reasonable price wise (well at least carb wise), but be aware that the inlet manifolds were Kiwi cast by Dennis Marwood (the guy that got the Datsun OK to make the SSS in NZ) and they are awful!!!! None of them fit properly and to get them to match the head ports it is necessary to drill the mounting holes oversize to lift the manifold upwards to locate it better. All Marwood manifolds are like this - just a nasty design - some are better than others, but they are all pretty nasty in terms of alignment with the head ports........

Cheers

---
Album click to view
Quote: a few more bits of trivia for you. The brains behind the 1200 SSS was Dennis Marwood, he is still racing though in an Alfa these days. He owns Autoquip Marketing in Auckland. He can be a bit of a grumpy bugger to talk to sometimes too so be warned. The dellortos were hung of a locally made manifold which Dennis still sells and had Coby extractors. The cam was a rally spec 270" from the Datsun Competition range though they probably bought one and had it copied!!! The air box is a fabricated piece in a similar style to the factory GX item. The wheels were 12" jelly beans made in Palmerston North by a company called Ward Wheels,it changed it's name to Aldic 10 yrs ago but I am not sure if they are still around. I have a set of wheels and a brand new 1 in the box. I know of more if you really want some but you are limited in your choice of tyres. All the cars I've seen had deep dish steering wheels that tended to crack through the spokes so they are getting hard to find. The stripes were limited to the bonnet and bootlid and were 2 flat black rectangles nothing too flash. These cars were very successful in the endurance races in the 70s and I have a super rare brochure showing a SSS cornering hard at Pukekohe Raceway and it's handling and performance bing praised by it's drivers Mark Petch and Frank Radisich ( Yes Pauls Father !!) I also have a sales brochure for them which I hope to be able to add to this site soon. The 120Y SSS had identical running gear and many were robbed to build 1200SSSs because they were more popular. As far as how many were built is a mystery to me maybe Dennis can tell you. Also the SSS had a huge for it's day boot spoiler which was almost upright and I would love to find one to take a mould off. The SSS didn't get any special build plates etc so they are very easy to fake. The sad thing is because they were built from locally assembled cars many of them have rusted away and the rest have been thrashed in competition so good ones are bloody hard to find.
Album click to view
Album click to view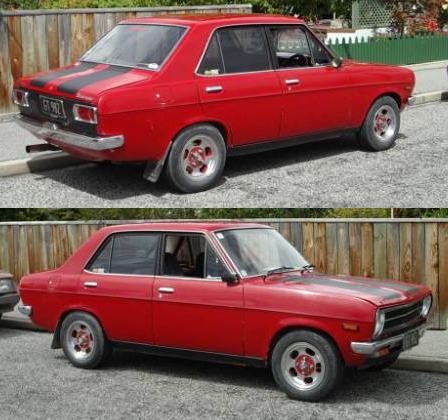 Album click to view
Racing
Shell 200 at Levin

Grant Aitken/Barry Vuyk (Datsun 1200 SSS) during the 1974 B&H 500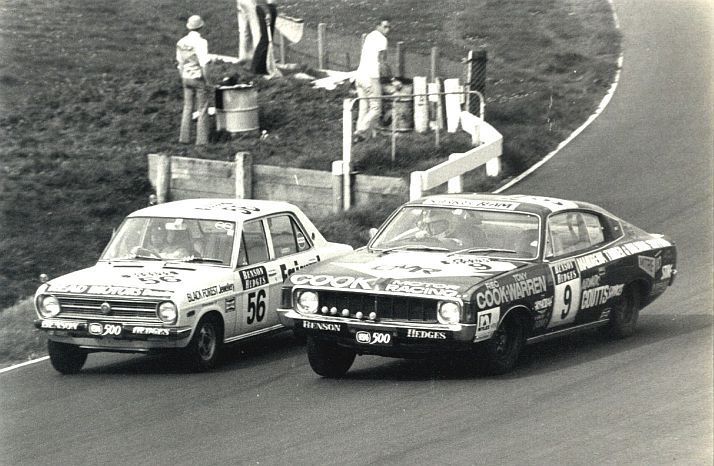 Bryan Innes/Dennis Marwood 1972 B & H 500 race car

Post click for topic
Several 1200s at the 1972 B & H race in Pukekohe with a Fiat 125T in foreground

B & H SSS

Example
on eBay - September 2016: POST Datsun 1200 SSS for sale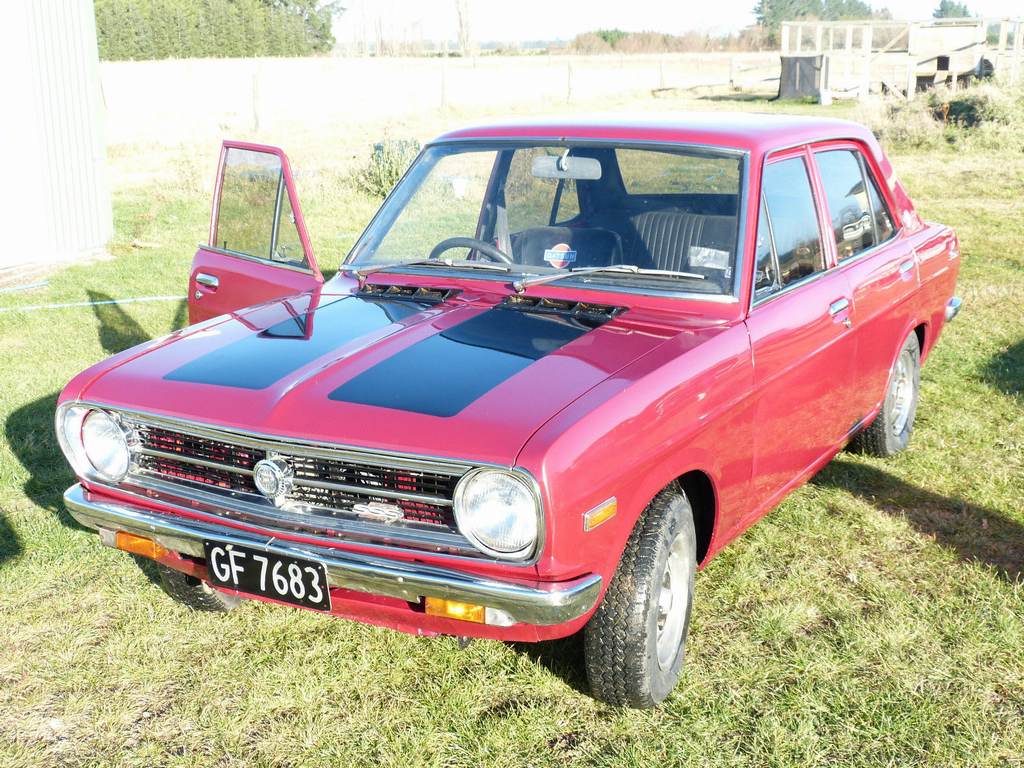 Post click for topic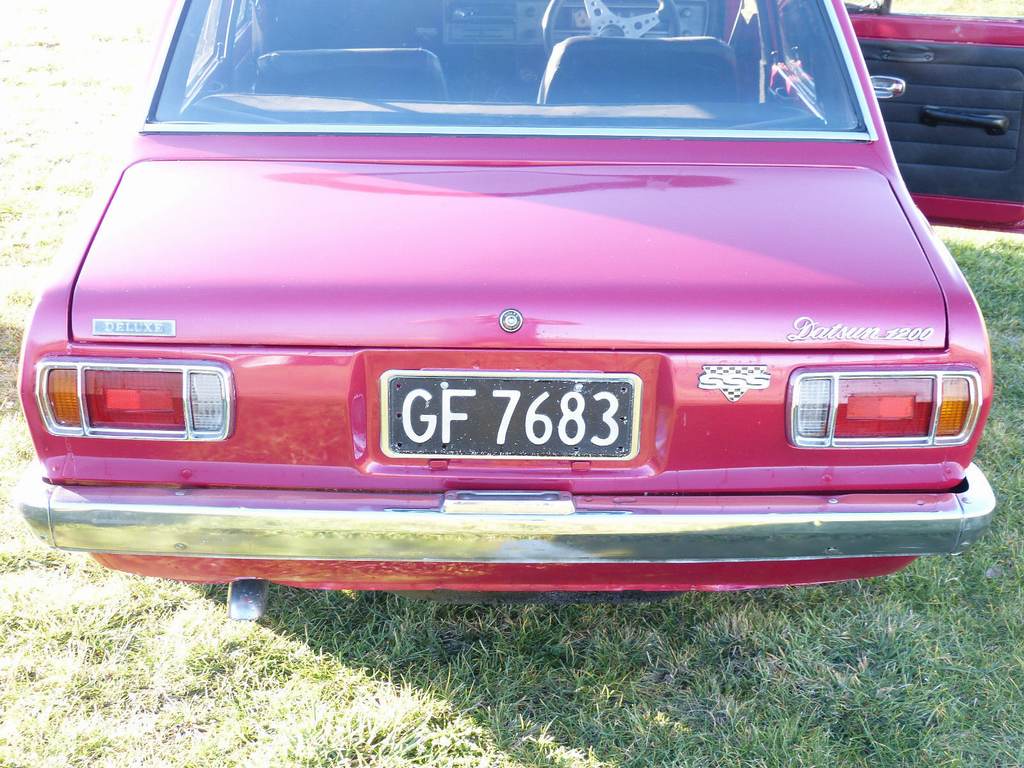 Post click for topic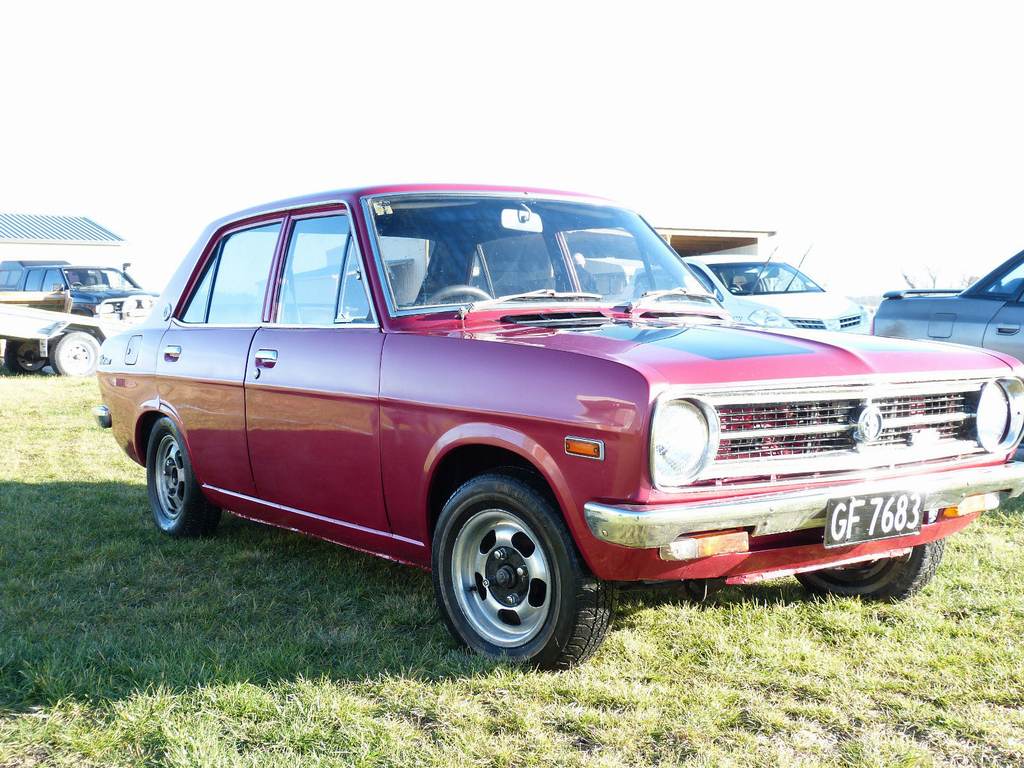 Post click for topic
Post click for topic
120Y SSS
After the B110 SSS, Nissan New Zealand marketed a B210-based 120Y SSS.


Photo Index
Click any thumbnail to see it full size in our
Club Photo Album
. Read details or post a comment!
Wiki Photos
Click any thumbnail to see it full size (on
external web site
).
¤