The Hitachi H150 differential was fitted to 1975-up Sunny RWD models, starting in September 1974. It has a 150mm (5.91 inch) ring gear, so is stronger than the H145 that was fitted to previous models. H150 is strong enough to handle the torque from A14 and A15 engines. Datsun used the H150 for all A14-powered cars. Also used by Violet A10 with A14 engine.
Overview
The Hitachi H150 was fitted to B210s and B310s with A14 and A15 engine. It can cope with more torque than the smaller H145 (the H145 was never fitted behind A14 engines). Good for maybe 125 lb. ft. of torque.
Ratios from a economy oriented 3.545 to a performance 4.111 were factory offered. In addition, Nismo sold racing (high RPM) ratios of 4.250, 4.375 and 4.625.
Post click for topic
Album click to view
H150 vs H150A
H150A is the 2nd revision and is a strengthened type. It is identical to the early H150 but can can higher and lower ratio gearsets due to a changed offset.
H150  3.889 to 4.111
H150A 3.545 to 4.625

The changed offset means there are different gearsets. 3.889 and 4.11 were available for both carriers:
3.889 (H150)  38100-H5000
3.889 (H150A) 38100-H7100

4.111 (H150)  38100-H5100
4.111 (H150A) 38100-H7200

Revised H150A gear carrier marked with an 'A'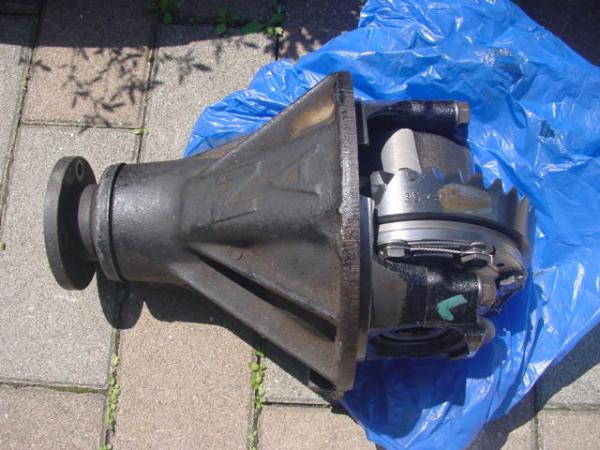 Album click to view
Identification
H145 can be distinguished by studs, whereas H150 uses bolts to fasten the diff to the case.
For 1980 and newer vehicles, look at the engine compartment build plate. It will list whether you have an H150A (HB) or regular H150 (HA).
HA38 - 3.889 ratio 
HB37 - 3.700 ratio 
H?34 - 3.454 ratio

The H150 flange is round. Some (if not all) H165 are rectangular.

Flange
H145: scalloped flange, bolt hole rectangle 36 x 50 mm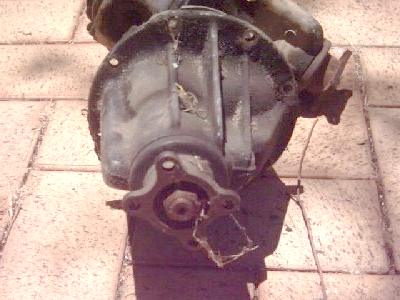 Post click for topic
H150: 45 x 54 mm round or rectangular flange
H165: 45 x 54 mm round or rectangular flange
There are some differences between flanges on H165's, some long (~217.5mm from carrier mounting face to driveshaft flange face), some short (~202.5mm). Depth of hole for centering boss varies also.
H190: 50 x 60 mm, round or rectangular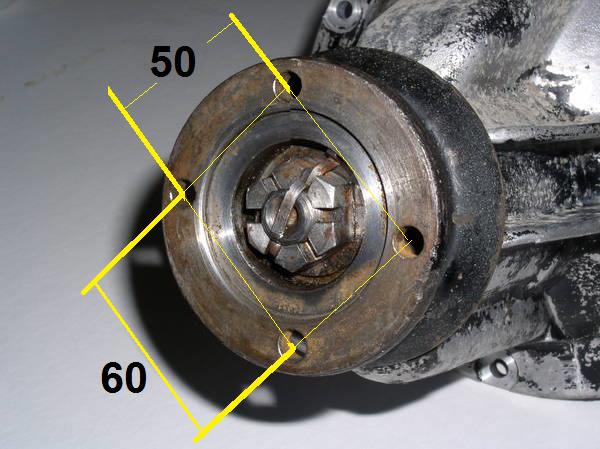 Post click for topic
Size
Measure the gear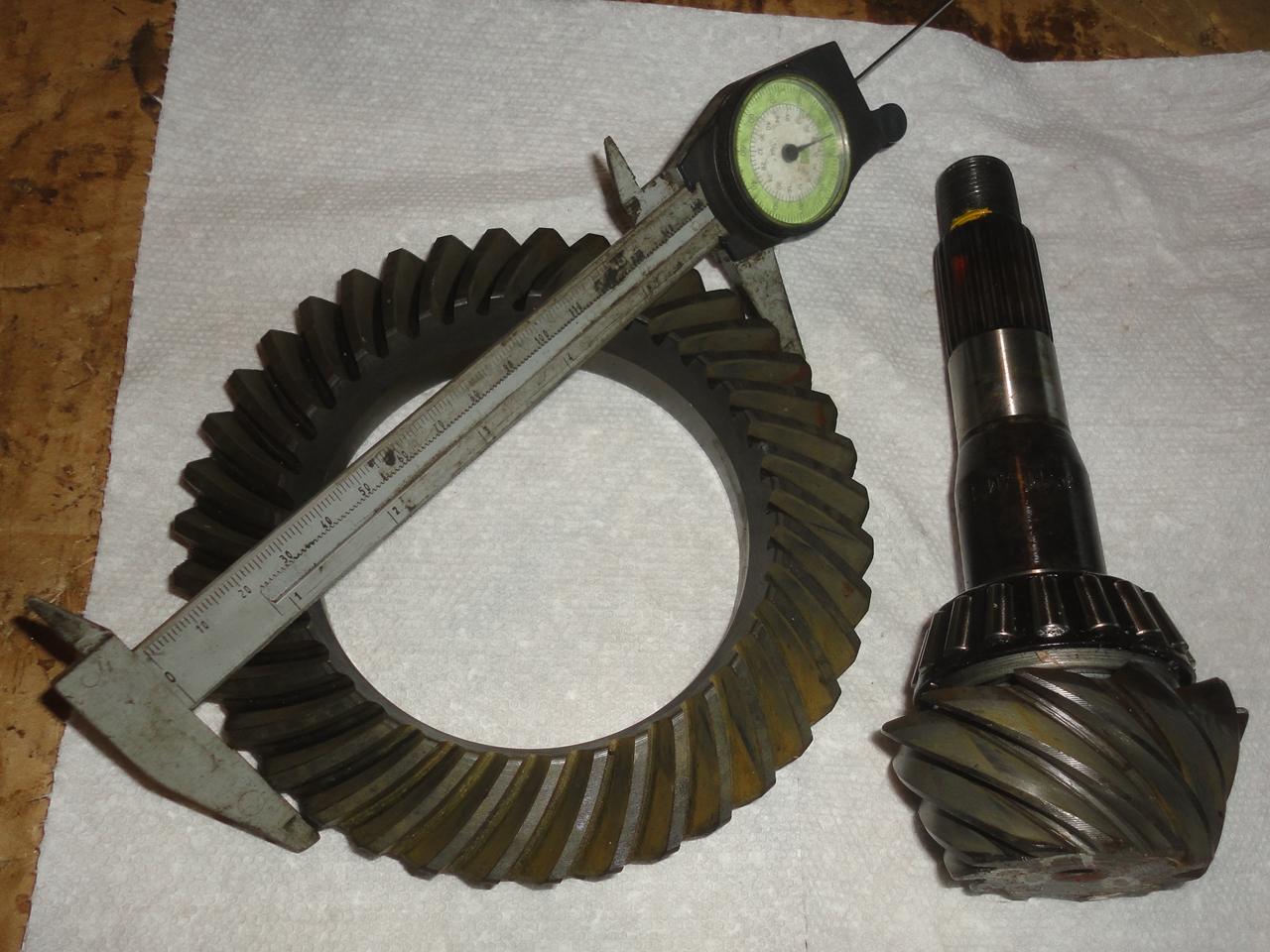 Album click to view
H145 measures 145mm
H150 measures 150mm
H165 measures 165mm
H190 measures 190mm

Pre-1980
  B10: H145, 3.900 
 VB10: H145, 4.375 (van/wagon)
  B20: H145, 4.375 S.T.D. / 4.625 Optional (ute/pick-up)
 B110: H145 3.900
VB110: H145 4.111 (van/wagon)
PB110: H165 4.111
 B120: H165 4.111 (ute/truck)
 B210 1974: H145 3.900
 B210 1975-up: H150 3.700 or 3.889
PB210: H165
GB211: H165
 B310: H150 various
  A10: H165 various

1980-up
Axle Codes
H = Hitachi removable gear carrier (pumpkin/centre section)
HA - H145 (145mm diameter ring gear, 5.709 inch)
HB - H150 (150mm diameter ring gear, 5.906 inch)
HC - H165 (165mm diameter ring gear, 6.496 inch)
HD - H190 (190mm diameter ring gear, 7.480 inch) ALUMINUM CARRIER
HE - H190 CAST IRON CARRIER
HF - H190A revised for strength

EXAMPLE: HF38 = H190 with 3.889 ratio was factory fitted

Axle code is on Chassis Identification plate 1980-on, in the engine compartment. Starting in mid-80s, Axle Code is on door-jamb sticker.

Album click to view
Factory LSD has a sticker on the back of the diff housing.
Counting
To verify the ratio in the vehicle matches the original equipment (or build tag), you may count turns of the wheel vs turns of the driveshaft. If slightly less than 4 turns of the driveshaft results in one turn of the wheels, it is a 3.9 ratio. If it takes a bit more than 4 turns, it is a 4.111 ratio.
Even better is to note the stamped numbers on the ring gear. For example, this unit is stamped 39:11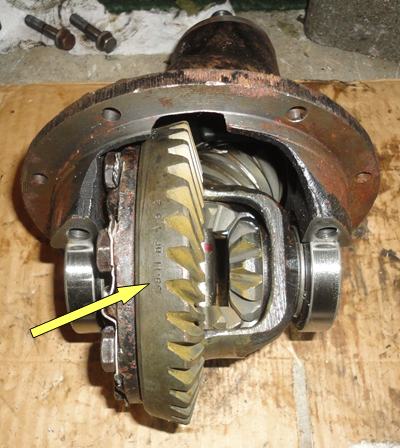 Album click to view
39 divided by 11 = 3.545 ratio

Album click to view
Pinion gear is similarly stamped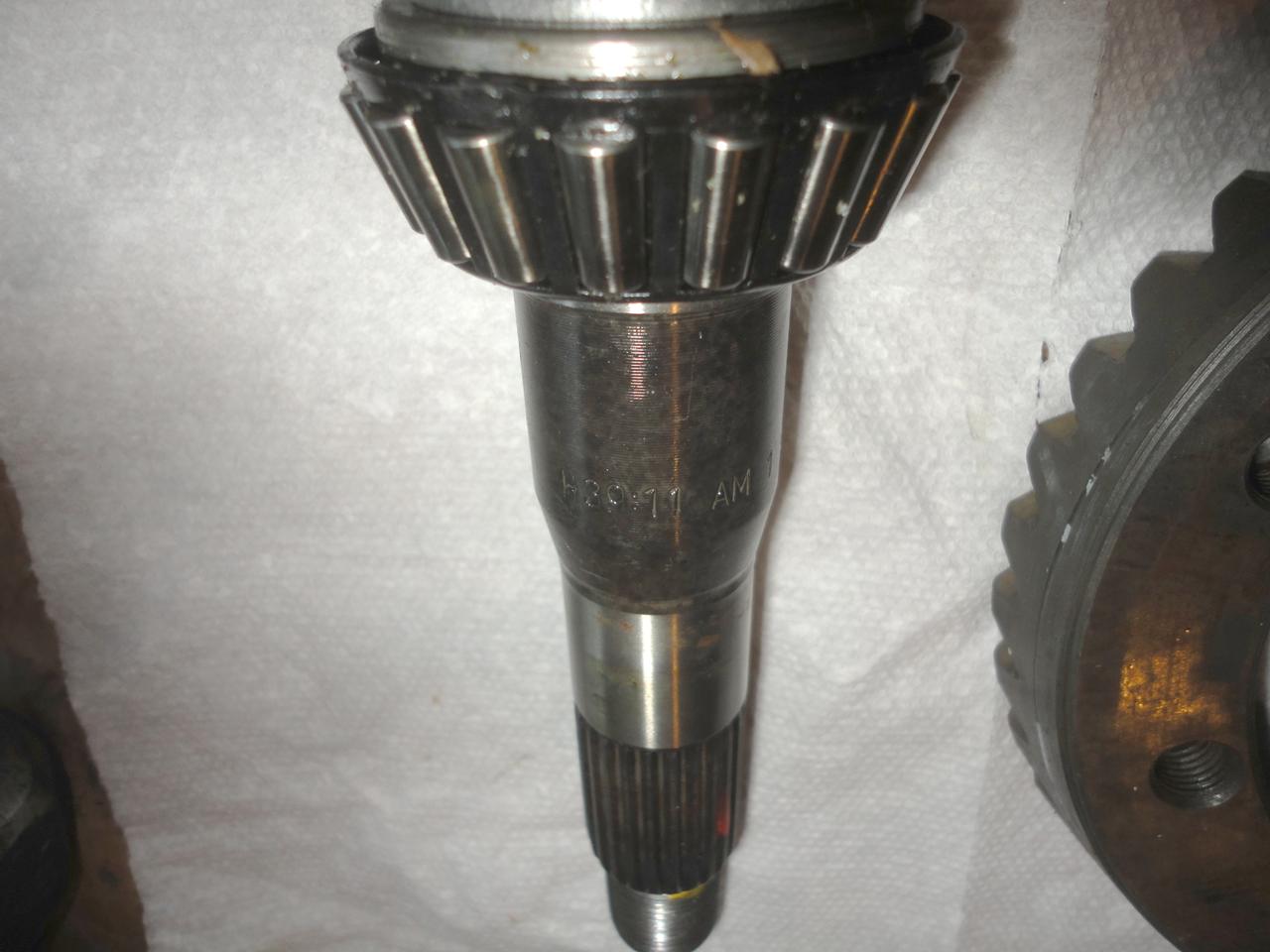 Album click to view
Strength
The H150 is good for maybe 125 lb. ft. of torque, enough for any A-series engine. The H145 was rated for less than the torque of an A14, so do not use it with an A14, it is not guaranteed to last.
Sources
(1974 B210 came with H145)
1975-1978 B210 from September 1974
* A-series models only
1977-1982 B310
1977-1978 A10 JDM Violet/Stanza with A14

Australia
For Australian production, there were only two ratios available in the H150 differential:
3.9 was used in all cars powered by an A12 or A14 engine (most of the Sunny wagons in Australia were A14 equiped)
3.7 was used in the A15 powered Sunny Wagon because the increased torque of the A15 engine allowed it to handle the load quite happily even with the slightly taller gearing. So acceleration is still the same, even though the gear is taller. If the 3.7 was fitted to an A14, it would accelerate more slowly.
120Y diff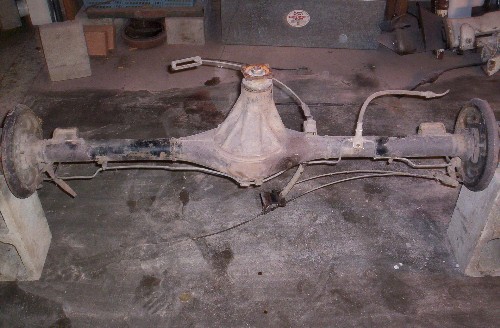 Album click to view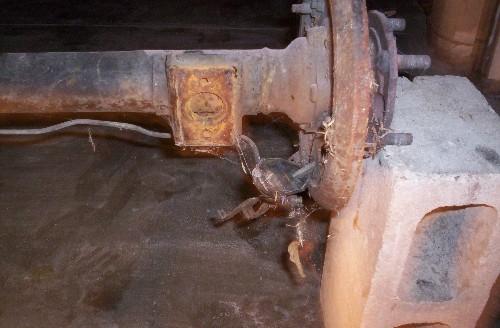 Album click to view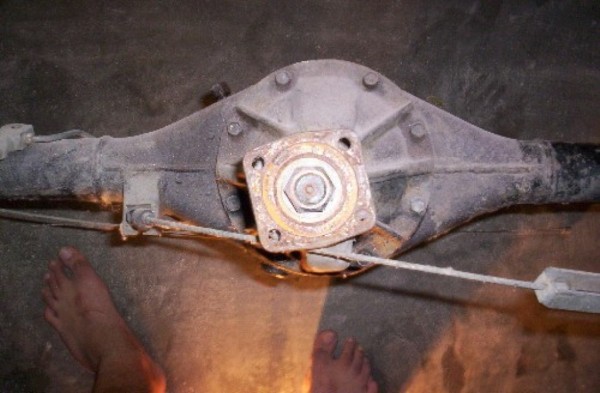 Album click to view
Japan
These Japan market vehicles used the H150:
B210/B211 A12 7409- 3.889
B211      A14       3.889 or 4.111
B310      A12/A14   3.889
          A15       3.700
A10       A14       3.889

North America
Ratios from Nissan North America:
B210
1975-1979 4sp and auto: 3.889 
1975-1979 5sp: 3.70 

210  PARTS CATALOG
3.889 AUTO, A12 1979-1980
3.700 MANUAL(A14) 1979-1980
3.545 AUTO(CAL),A12 1981-1982
3.545 MANUAL(A14,MPG) 1981-1982
3.700 MAN(A15),AUTO(FED,CAN) 1981-1982
3.545 MANUAL(A15,MPG) 1980

Usage
B310 1979: 3.545 (A14 MPG 4-speed)

Specs
Ring gear offset     27mm
Horizontal offset    18mm (H150)
                     20mm (H150A) 
Ring gear bolts      M10 x 1.25 (8)
side gear serrations 22 x 21T 
spiders              4

Ratios
* H150 is HA
Uses gear Carrier 38310-H5000
3.889 and 4.111 ratios available

* H150A is HB
Uses gear carrier 38310-H9500 marked "A"
all ratios available

3.700
HB37, 3.700:1 ratio
JAPAN  B310 A15
USA B210 MANUAL 0476-
USA B310 A14 MANUAL -0780
USA B310 AUTO CAN,FED 0880-

HB37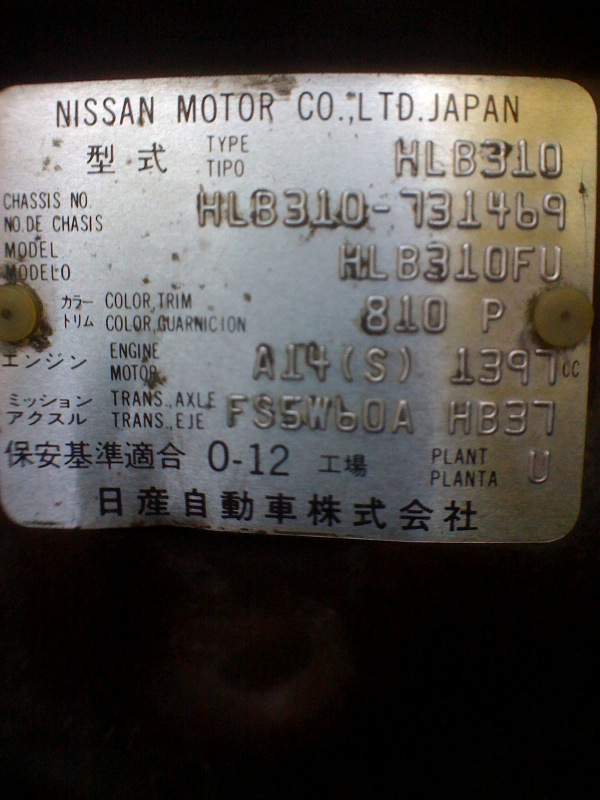 Upload click to view
3.889
3.889:1 ratio replaced the H145 3.90. The new ratio with 35/9 teeth allowed for quieter gears than the old 39/10 gearset due to better repeating hunting pattern.
AUS B310 ALL

JAPAN 
A10 38100-H7100 HA38 [A14 powered Nissan Violet/Auster]
* A10 7705-7803 Sedan & Coupe "Open Back"
* A11 Sedan 7804-
B310 -7903

USA
B210 1975-1978
B310 A12 AUTO -0780
B310 A12 AUTO CAL 0880-
B310 AUTO, A12 MANUAL 1279-
B310 AUTO -1179

38100-H5000 H150 3.889 gearset
38100-H7100 H150A 3.889 gearset

HA38

3.545
HB35 (3.545:1 ratio), highway gear, low torque ratio was only used in USA, mostly in the MPG fuel economy champion B310s.
USA Catalog
* CAL AUTO, A12A from Aug 80 [i.e. 1981 model and newer] 
* MPG MANUAL A15 from Dec 1979 to July 1980 [1980, 1981 model years]
* MPG MANUAL A14 from Aug 1980 [1980 model only]

USA Factory Service Manual
* 1979 not offered
* 1980 with A15 Manual
* 1981-1982 with A14 Manual

4.111
HB41 (4.111:1 ratio) with 37/9 teeth was shipped in the Japan market 1976-1977 B210 Twin Carb A14T 5-speed model (H51 model).
38100-H5100 H150 4.111 gearset
38100-H7200 H150A 4.111 gearset

4.250
Nismo part number 38100-A1253
4.375
Nismo part number 38100-A1254
4.625
Nismo part number 38100-A1255 37:8 = 4.625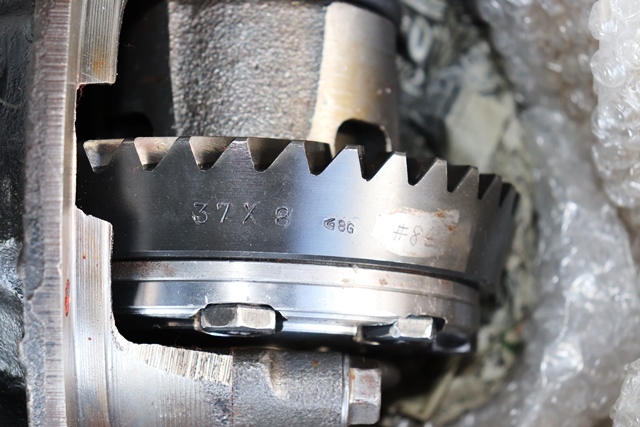 Post click for topic
Limited Slip
Nismo sold an LSD unit for the H150.
See main article: LSD#H150

38420-RS210 4-pinion Limited Slip Differential Assembly
* fits both H150 and H150A gear carriers

Whilst NISMO produced H150 LSDs (Limited-Slip Differential), Axles baffles and Oil Coolers were not available from Nissan for the H150.
Swap Into H145 Housing
The easiest swap is to get the entire rear-axle assembly from a 1975 or newer B210 with A14 (140Y) -- this is the H150 (150mm diameter ring gear). The B210 main spring is 55mm longer, but the others can be used on the 1200 -- or use the 1200 springs.
Use a B310 propeller shaft with H150 diff in B110.
See Bolts right in!

Album click to view
NOTE: The 1974 B210 uses an H145, although the housing is the new stronger design. H145 can be distinguished by studs, whereas H150 uses bolts to fasten the diff to the case.
B210s have a strong axle housing (axles tubes are larger, to 2.2 inch up from 2.0 inch, so U-bolts are different). The B210s use an isolation clamp (the axle tube is rubber mounted), and so the mounting pad is wider. You will need the clamps, u-bolts and shock mounts to do a swap. The housing also user larger ball 72x32x19 bearings (up from 62x32x16) with both inside and outside seals. The B110 only had one seal.
Because the H150 is longer, the driveshaft is shortened by 7mm. The housing face is 2mm toward front of car (diff gear is 5mm larger)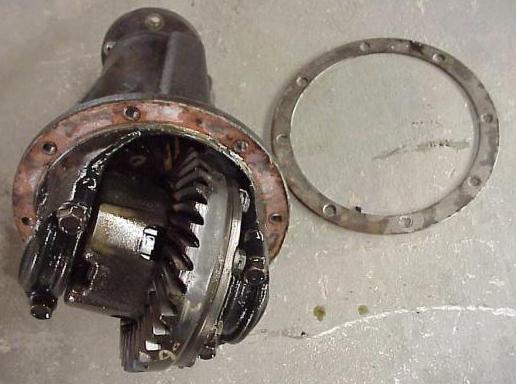 Album click to view
You can also just put the H150 gear assembly in the stock H145 axle housing. You just need a 2mm spacer.
Album click to view
Part Numbers
H150 parts diagram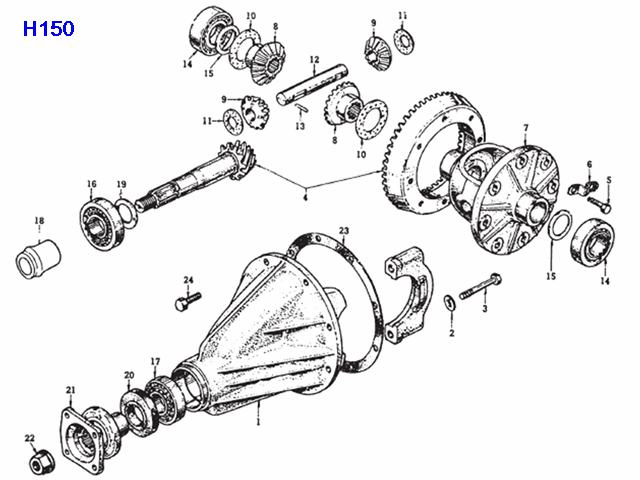 Album click to view
38300-H5000 FINAL DRIVE ASS'Y HB38 (35/9=3.889)
38300-H7100 FINAL DRIVE ASSY HA38 (35/9=3.889) L=216 H150A A11 JAPAN 7804-
 use with 1235 mm driveshaft
38300-H7101 FINAL DRIVE ASSY HA38 (35/9=3.889) L=257 H150A A10 JAPAN -7803
 use with 1195 mm driveshaft
38300-H7000 FINAL DRIVE ASSY HB37 (37/10=3.700) 
38300-H9000 FINAL DRIVE ASSY HB35 (37:11=3.545)

1 CARRIER COMP-gear
  38310-H7000 CARRIER-GEAR H150 -7906 A10 JAPAN
  38310-H8500 CARRIER-GEAR HA38 7904- <2,0> 38310-H5000 HA38
  38310-H9000 
  * HB37 1279- USA replaced 38310-H9500 
  * HA38 SELECT USE MURAYAMA 8004- A10 JAPAN
  38310-H9500 CARRIER-GEAR
  * HA38 7907- SELECT USE TOXHIGI [Tochigi?] A10 JAPAN 
  * HB37 1279- USA
    replaced 38310-H7000 COMP-CARRIER,GEAR HB37
2 08915-14010 WASHER-lock fixing diff bearing cap (4 needed)
3 38315-H7000 BOLT 7906-
  superceded 38315-G0400 BOLT-cap fixing diff bearing cap (4) -7905
4 38100-H9000 GEAR SET-hypoid (HB35 39/11=3.545)
  38100-H7000 GEAR SET-hypoid (HB37 37/10=3.700)
  38100-H5000 GEAR SET-hypoid (HA38 35/9=3.889)
  38100-H7100 GEAR SET-hypoid (H150A 35/9=3.889)
  38100-H5100 H150 4.111 gearset
  38100-H7200 H150A 4.111 gearset
  38100-A1253 4.250 [Nismo]
  38100-A1254 4.375 [Nismo]
  38100-A1255 4.625 [Nismo]
5 38102-G0300 BOLT-drive gear (8)
6 38103-G0400 STRAP-lock bolt (4)
7 38421-H8500 CASE-DIFF 7909- <2,0> 38421-H5000 -7808
8 38423-H8500 GEAR-side diff bevel (2) 7906- <2,0> 38423-H5000 -7905
9 38425-G0300 PINION-mate diff bevel (2)
10 SELECT (2)
 38424-H5000 WASHER-thrust side gear (t=0.76-0.81)
 38424-H5001 WASHER-thrust side gear (t=0.81-0.86)
 38424-H5002 WASHER-thrust side gear (t=0.86-0.91)
11 38426-18000 WASHER-thrust pinion mate (2)
12 38427-18000 SHAFT-pinion mate
13 38428-G0400 PIN-lock pinion shaft B210
 38428-U1500 PIN-lock pinion shaft B310
14 38440-H1000 BEARING ASS'Y-diff side (2)
15 as required
 38453-H1000 SHIM-adjusting side bearing (t=0.05)
 38454-H1000 SHIM-adjusting side bearing (t=0.07)
 38455-H1000 SHIM-adjusting side bearing (t=0.10)
 38456-H1000 SHIM-adjusting side bearing (t=0.20)
 38457-H1000 SHIM-adjusting side bearing (t=0.50)
16 38120-18000 BEARING ASS'Y-drive pinion, rear
17 38140-04100 BEARING ASS'Y-drive pinion, front
18 38165-N5000 SPACER-drive pinion (pinion bearing)
19 as required (1)
 38154-G0400 WASHER-adjusting drive pinion (t=2.74)
 38154-G0401 WASHER-adjusting drive pinion (t=2.77)
 38154-G0402 WASHER-adjusting drive pinion (t=2.80)
 38154-G0403 WASHER-adjusting drive pinion (t=2.83)
 38154-G0404 WASHER-adjusting drive pinion (t=2.86)
 38154-G0405 WASHER-adjusting drive pinion (t=2.89)
 38154-G0406 WASHER-adjusting drive pinion (t=2.92)
 38154-G0407 WASHER-adjusting drive pinion (t=2.95)
 38154-G0408 WASHER-adjusting drive pinion (t=2.98)
 38154-G0409 WASHER-adjusting drive pinion (t=3.01)
 38154-G0410 WASHER-adjusting drive pinion (t=3.04)
 38154-G0411 WASHER-adjusting drive pinion (t=3.07)
 38154-G0412 WASHER-adjusting drive pinion (t=3.10)
 38154-G0413 WASHER-adjusting drive pinion (t=3.13)
 38154-G0414 WASHER-adjusting drive pinion (t=3.16)
 38154-G0415 WASHER-adjusting drive pinion (t=3.19)
 38154-G0416 WASHER-adjusting drive pinion (t=3.22)
 38154-G0417 WASHER-adjusting drive pinion (t=3.25)
20 38189-A6100 SEAL-oil front (oil drive pinion)
21 38210-H5000 FLANGE ASS'Y-comp pinion B210
   38210-H5003 FLANGE ASS'Y-COMPANION B310, A10 JAPAN 8004-
   38210-H7100 FLANGE ASS'Y-COMPANION A10 JAPAN -8003
22 38216-U3000 NUT-drive pinion 7805-
  superceded 38216-U1500 NUT-drive pinion -7804
  also used by HC (H165)
23 38320-H5000 GASKET-gear carrier
24 38321-H8500 BOLT (8) <2,0> 38321-H5000

38210-H5000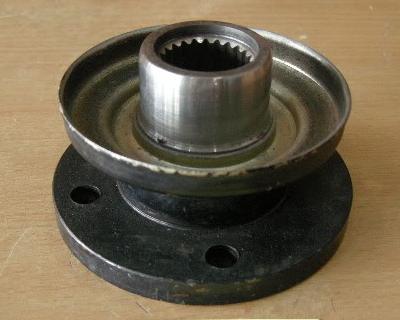 Album click to view
38100-H5000 GEAR SET-hypoid (HA38 35/9=3.889)

38100-H7000 GEAR SET-hypoid (HB37 37/10=3.700)

Nissan 38189-A6100 SEAL-oil front H150, H165
SKF 13972
Specifications
* Width 8mm (0.315")
* Shaft 35mm (1.378")
* Bore 64mm (2.52")
* Outer Diameter 64.16mm (2.526")
* Boretite: Yes

Nissan Competition
From the 1984 Nissan Competition Catalog
H150 RING & PINION SETS (FROM 9/74)

38100-H9000 3.545 R&P SET
38100-H7000 3.700 R&P SET
38100-H5000 3.900 R&P SET
38100-H5100 4.111 R&P SET
The H150 3rd members will fit the B210 (from 8/74) and 210 and do not include limited-slip units

38300-H9000 3.545 3RD MEMBER
38300-H7000 3.700 3RD MEMBER
38300-H5000 3.900 3RD MEMBER
38300-H5100 4.111 3RD MEMBER
The factory does not produce axles baffles or limited-slip units for the H150 differentials. [editor: Nismo later did offer an H150 limited-slip unit]
¤