Left-hand-drive (LHD) versions of the Datsun 1200 used a hydraulic clutch system. It is very nice, with a light, linear action.
Daily Care
Observe the level of fluid visible through the plastic reservoir of the master cylinder (no need to remove the cap).
Overview
Stock pedal force is 10.8 kg (23.8 lb), a bit higher than the RHD mechnical clutch at 8.3 kg (18.3 lb). The slave cylinder diameter is 3/4 inch and the master cylinder is 5/8 inch.
Extremely light clutch pedal effort, but with good feedback
1987 Nissan 1200 truck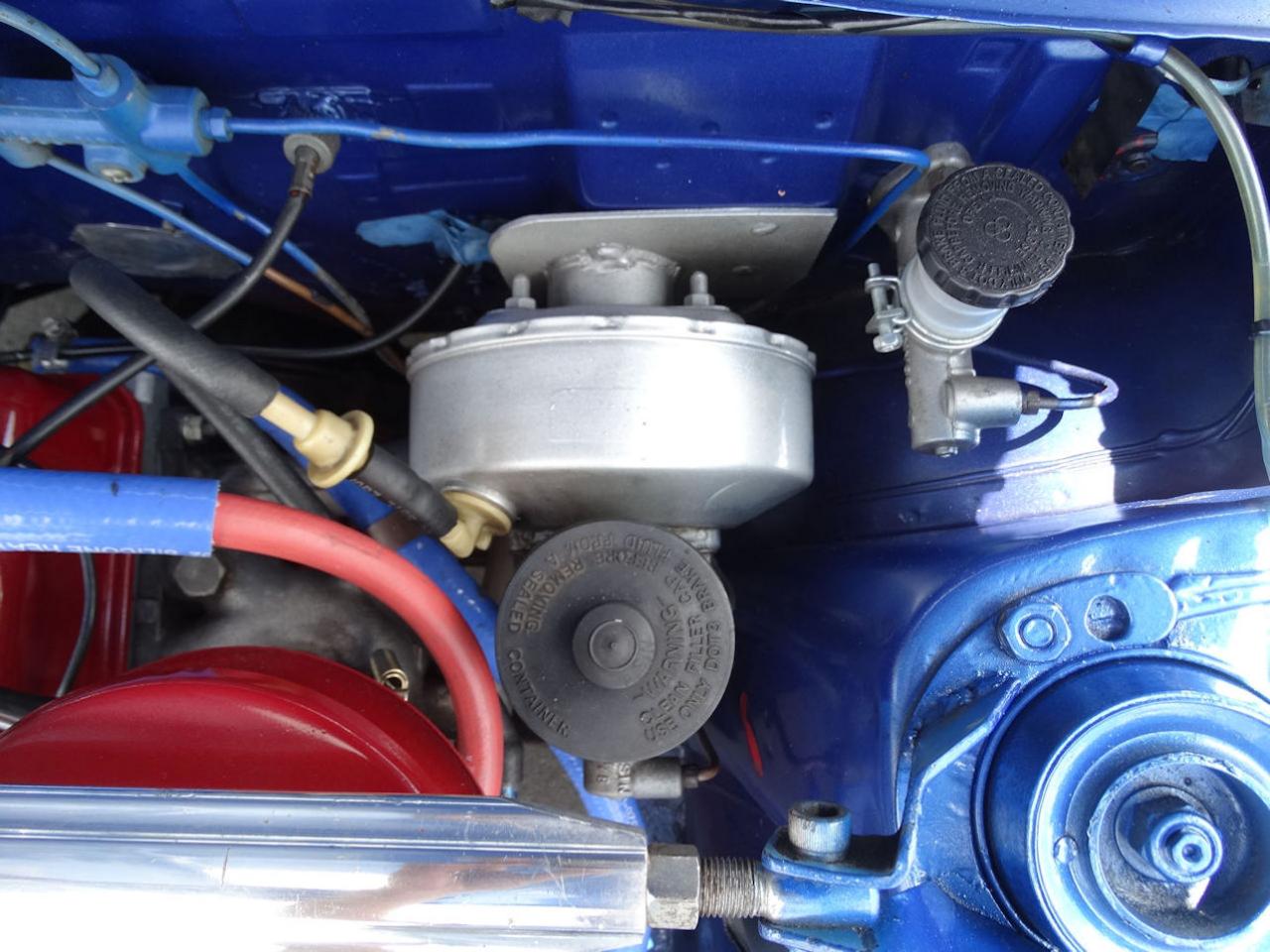 Post click for topic
Album click to view
Clutch slave cylinder bolted to transmission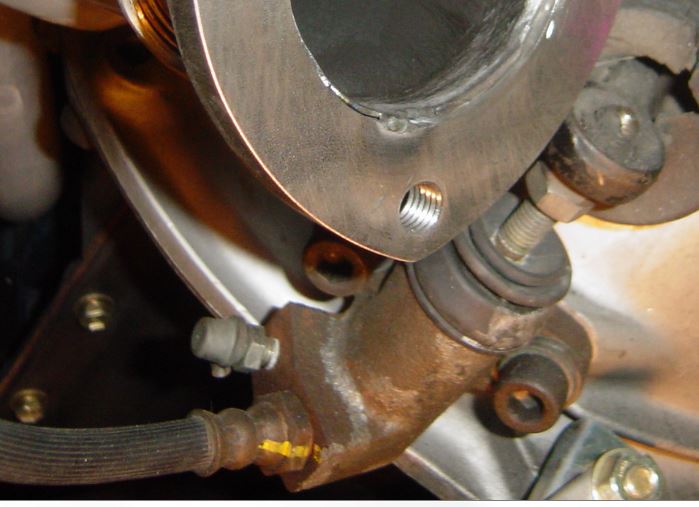 Album click to view
Adjustment
This is for the 71-73 1200. The B210 (120Y) measurements are different.
Adjust slave cylinder free play
Adjust pedal pad height without stopper
Adjust pedal stopper
Clutch Slave Cylinder
Stock clutch slave cylinder diameter is 3/4 inch.
Adjust the free play to 5/32" (1 to 2 mm play). Pull the release lever towards the rear of the car as far as you can, then let go, and see how far it goes forward. That's the play. To adjust, loosen the locknut (the two nuts), then turn the shaft in or out.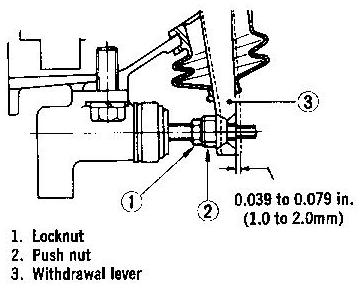 Album click to view
Pedal Linkage
IMPORTANT: Before adjusting the pedal linkage, first adjust the clutch release arm under the car (see section above).
Album click to view
The pedal specs are:
Pedal height: 5.57 in (141.5 mm)
Pedal free play: 1.181 in (30 mm)
Pedal stroke is 5.65 in (143.5 mm) with the adjustment stop (the switch in the diagram) backed off. Adjustment is made with shims for the cylinder on the firewall.
Adusting Shim
30611-27260 1.6 mm
30612-27260 0.8 mm
30613-27260 0.5 mm
Removable, Replacement and Bleeding
A common problem with clutch not working is the clutch master cylinder leaking internally. So no fluid leaks out, yet it won't fully activate the slave. To test if that's the problem, take the cap off the master, and watch while you pump the clutch pedal. If the fluid level RISES as the pedal goes down, the first piston seal is leaking. In extreme cases a jet of fluid will shoot up.
If the master is bad, replace it. Or a kit (new seals) can be installed.
Bleeding
Master Cylinder
If the Master Cylinder runs dry, or when replacing it, be sure to bleed the Master Cylinder. separately. Remove the outlet pipe & place a thumb over it for the return stroke of the cylinder (to prevent ingestion of air). Push the cylinder rod once or thrice. Once the Master Cylinder is free of air you can bleed the whole system with confidence.
Slave Bleeding can be done by one person (no assistant needed):
Put about 1" new fluid in a clear glass. Place glass on ground. The fluid prevents air from going back up into the cylinder
put a hose from the slave bleeder to the bottom of the glass, making sure the new fluid covers end of hose
Crack the bleeder slightly
pump the pedal while you watch the glass (lie on the ground with the door open, and work the pedal with your hand). When air bubbles stop coming out, it's done. Often this only takes two or three pumps.
tighten bleeder
top-up the master cylinder. DO NOT REUSE BRAKE FLUID
Any spilled brake fluid should be rinsed off painted surfaces with lots of water.
Part Numbers
Stock USA cylinders. "Repair Kits" are also available. These include all new rubber parts, and can be used if the aluminum body is not pitted. The bore is hand-honed. Often with aluminum a kit will leak, so we recommend a new unit rather than a kit. Cast-iron cylinders may have better success.
Master Cylinder
Clutch Master Cylinder - 5/8"
30610-24900 ASSY-CYLINDER CLUTCH MASTER (5/8" NABCO)
30610-24900 (superceded by 30610-24910). $111 USD
RHINO PAC M0600 $35.79
Slave Cylinder
Clutch Slave Cylinder - 3/4"
Left: Original Style 30620-H1601 (superceded by 30620-H1600) $59 USD
Right: Replacement Style 30620-H1600
Clutch Slave Cylinder Rockauto
* RAYBESTOS SC37495 $12.44
* ACDELCO 18F19 $14.56
* RHINO PAC S0600 $15.92
* EXEDY SC558 $6.84
* KELSEY-HAYES S51000 $4.83
* NAPA/UNITED 37495 $14.72
* BRUTE POWER/PERFECTION CLUTCH 37495 $6.44
* RAYBESTOS SC37495 $4.71

Exedy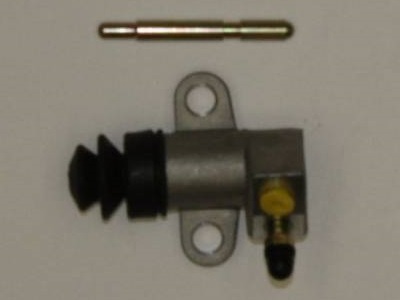 Album click to view
B310 A14 (60-series gearbox)

Album click to view
B210
Master
* Clutch Master Cylinder: 5/8 inch

HB210 USA
30610-H2502/30610-B8000/30610-B8001
30610-H5801/30610-H5802 4> 30610-B8001


* Comparo: B110 and B210 are both 5/8" Master Cylinders
* NOT interchangeable with B110 due to the rod differences
* B310 looks the same as B210 except bolts are at 45 degrees

Beck Arnley part number 072-6489
* 620 Pickup from 1972-3/76
* B210 (all models) from 1974-4/75
* SPL-311 (1600 or 2000) from 1966-70
* 510 from 1968-73 (with Nabco master cylinder)
* 610 from 1973-75 (with Nabco master cylinder)
* 710 from 1973-75

Beck Arnley part 072-6521
* 74-75 B210
* 76 F10
* 72-76
* 620 pickup
* 66-70 SPL-311 1600
* 68-70 SPL-311 2000
* 75-78 280Z
* 69-73 510
* 78-81 510
* 73-76 610
* 74-77 710
* 77-81 810

Slave
HB210 USA
11/16" - 4speed ALL, 5speed from 11/76
* 30620-H6100 Clutch Slave Cylinder <> 30620-H6101/30620-H61012
early 5-speed 3/4" - to 9/76
* 30620-U7000 Clutch Slave Cylinder: 11/16 inch <> 30620-R6400

610 
30620-S0100 Clutch Operating Cylinder [slave cylinder, 3/4"]
* For 63-series 4 or 5-speed
Alternatives:
* 30620-18V00, 30620-18V01, 30620-69F03, 30620-69F70, 30620-P9500
* 30620-S0100, 30620-U7000, 30620-U7001, 30620-W7000, 30620W-W7001
30620-18V01
* S13 240SX 1991-1993
30620-69F03
* S14 240SX 1996-
30620-P9500
* S130 280ZX 1982-

HYDRAULIC HOSE
The hose is difficult to find in USA, except on eBay. Alternatives: lot of the brake hoses from cars with a solid rear axle will work also.
(rear brake hose)
* BRAKEWARE #77001 $12 at Autozone.  

It's about 1.5-2 inches longer then the original, does not hang too low and bolts right up
1200 rear brake hose $4 at RockAuto
* one male, one female end
* Wagner BH96544
* Bendix 77101
* American Remanufacturers 8704300
* Coni-seal BH177101
* Dorman H36866 (13")
* Raybestos BH36866/4536866/SP5939 (13-3/16")
* Centric 15042300
* Guardian 3196544
* Beck/Arnley 073-0879 ( 0730879)

Bendix 77101
* 46201-89918
* 46201-H7200
* 46211-89911
Length: 13-3/64"
10x1.0 mm female x 10x1.0 male

Album click to view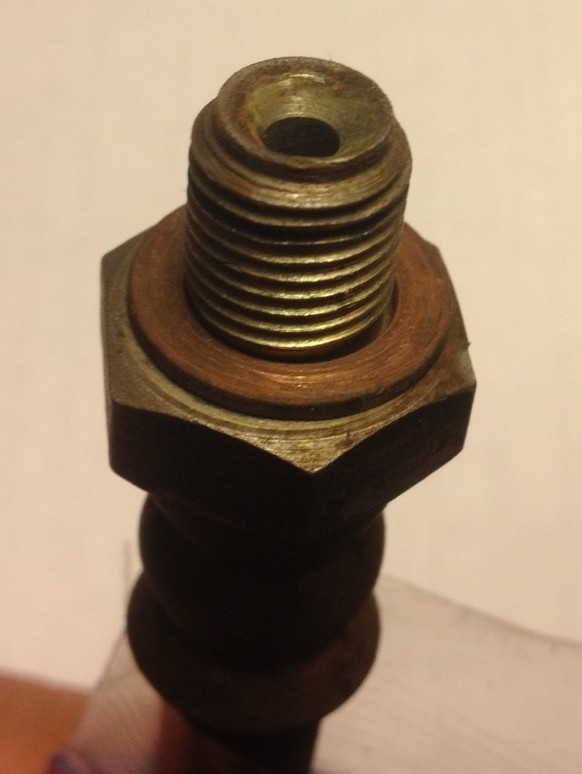 Album click to view
RHD Hydraulic Conversion
Fit a master cylinder. You can purchase LHD 1200 part or use a local Datsun such as 180B, 200B or R31 parts
Fit clutch pedal
Fit slave to gearbox (see Converting to Hydraulic)
Also See:
* Remote Clutch Master Cylinder (under-dash)
* Pedals

180B master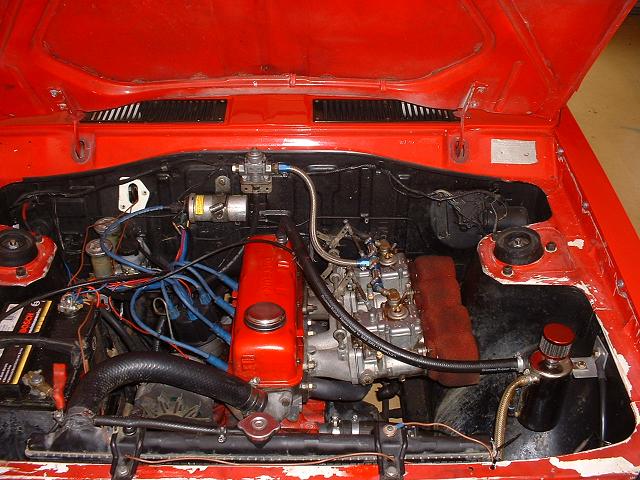 Album click to view
Album click to view
Album click to view
200B hydraulic swap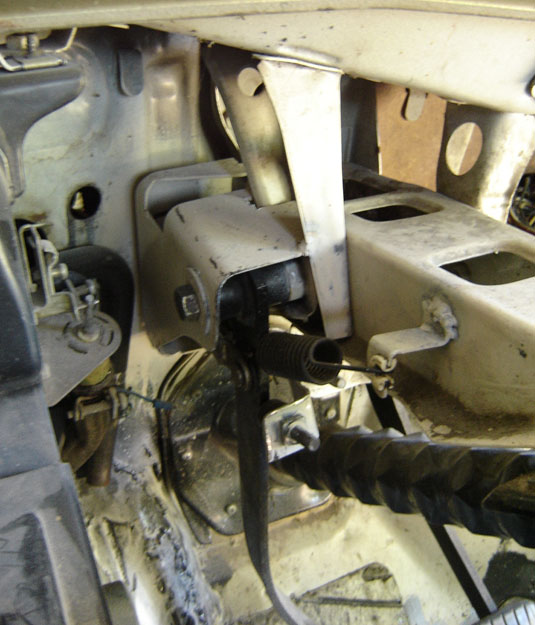 Album click to view
R31 swap, box braced to steering post. Original clutch pedal removed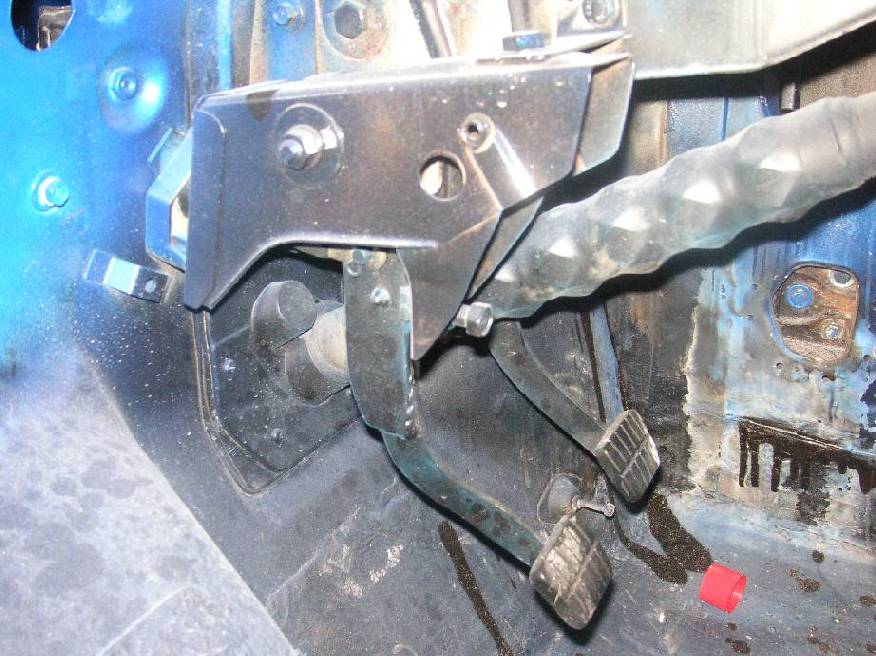 Album click to view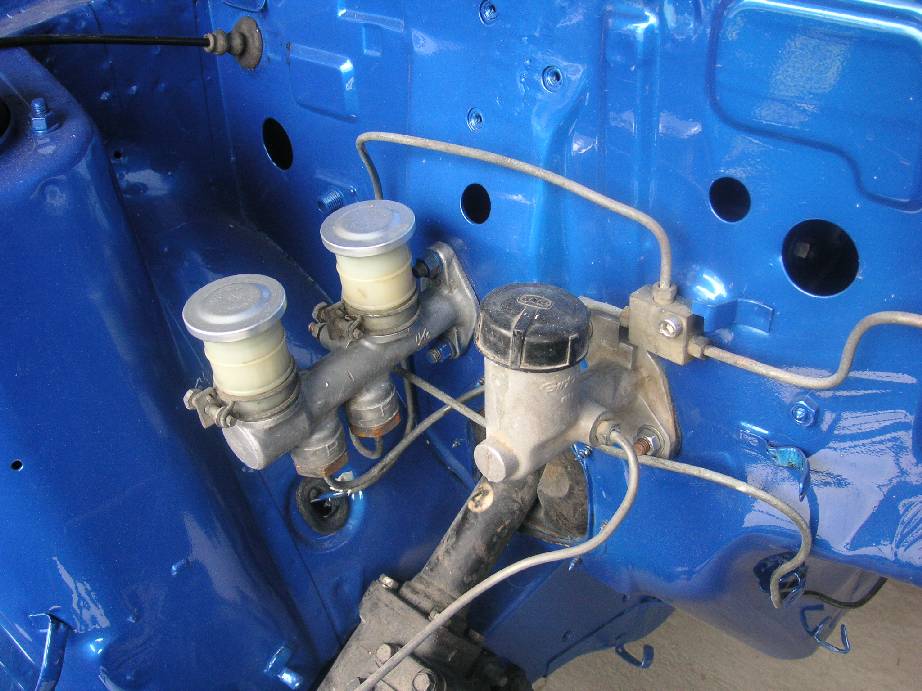 Album click to view
Remote Clutch Master Cylinder
See main article: Remote Clutch Master Cylinder


Photo Index
Click any thumbnail to see it full size in our
Club Photo Album
. Read details or post a comment!
¤