Automatic-equipped 1200s had a significantly larger front tunnel area. The rear of the tunnel is the same. For this reason you can easily convert an Auto car to a Manual car. To go to an automatic you may need to modify the tunnel.
Also see: Manual transmission conversion

Overview
Here's all the parts you need to gather to fit an Automatic in a car that currently has a manual transmission:
full
full
* Tunnel from B110 automatic, B210 (any) or 610
* Automatic with Torque Converter
* Automatic Driveshaft
* Automatic Shifter with linkage and the automatic console
* Rear rubber insulator for Automatic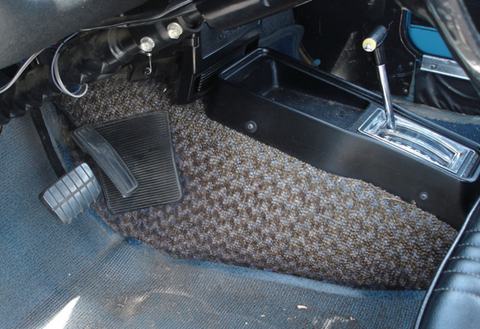 Speedometer Cable
The speedo cable is the same as a manual transmission.
Shifter
Shifter came with a console.
Driveshaft
The automatic has a larger spline. So use the auto driveshaft with auto transmission. Remember that B110 and B210 Driveshaft is the same. The B210 and B110 driveshafts are the same length. Only automatic vs manual lengths are different.
The spline is the same as what the larger Datsuns used.
Rear Engine Mount
The rear engine mount, also called the "transmission crossmember" is mounted about six inches further back.
See Gearbox Mount

Gearbox mounts are different, but is the shifter hole in the tunnel is in the same place (the rear portion of the tunnel is the same).
Engine Differences
Carburetor
For emission controls, the carb differed. However you can use any carb with an automatic.
Distributor
Auto cars had a different distributor curve for emission control. However you can use any distributor with an automatic.
Flex Plate
Automatics don't use a flywheel, the torque convertor has enough mass to act as the flywheel. They use a thin "flex plate" with has the ring gear teeth for the starter.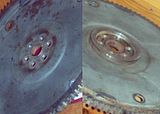 flex plate
Also note the crankshaft adapter.
You can use the flywheel off the A14 on the A15. The thing to look at is the back of your A15's crankshaft -- make sure it has the hole for the trans pilot shaft bearing.
Clutch Fittings
Automatic cars don't have:
Clutch pedal
Clutch master cylinder (LHD models)
Clutch cable (RHD models)