A stumpy transmission is 26.3 inches overall length -- the same length as a Datsun 1200 transmission. The classic 'stumpy' is the 71C transmission from a Skyline, although there is a 63-series version commonly called a 'shorty'. These are the right length for a 1200, and the shifter comes up in the stock location, though obviously they are much larger around. There are 4-speed and 5-Speeds in this length.
63-Series
FS5C63A: Mid-close ratio for Z-series engines
FS5W63A: Wide ratio for L-series and A-series engines
The 5-speed is commonly called the 'dogleg' box because it has a dogleg shift pattern. However, this is not a great nickname as some other Datsun transmissions have a doglog shift pattern like the 56A 5-speed which is the same length.
NOTE: 63-series 5-speeds came in both short and long lengths. Measure to be sure which one you are getting. The long version is 31.5 inches long.
63-series 4-speeds can be identified by the removable pan on the bottom of the gearbox.
63-series 5-speeds appeared starting 1976-1/2.
A-series Engine
1976-1978 HB210 (A14 powered B210) FS5W63A

L-series Engine
1977-1979 Datsun S10 (Silvia/200SX) 5-speed
1978-1979 Datsun A10 (Stanza/Violet/510) 4-speed
1978-1979 Datsun A10 (Stanza/Violet/510) OPTION 5-speed
1968-1973 Datsun 510 4-speed F4W63
1977-1978 Datsun 610 5-speed
1972-1973 Datsun 620 USA (early with L16 engine) F4W63
Datsun 710 4-speed F4W63
Datsun 521 with L16 engine has a shorty F4W63, but with flanged output shaft

Z-series Engine
1980-1981 Datsun A10 (Stanza/Violet/510) 4-speed
1980-1981 Datsun A10 (Stanza/Violet/510) 5-speed

Other
J-series and R-series engines used F4W63, length unknown. Bell pattern differs from L-series.

F4W63L (1976-1985)
1978-up 510
Bolted on bottom pan but smooth main gear case instead of the previous ribbed design

A14 FS5W63A comparo L20B FS5W63A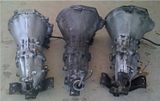 Z20 5-speed

S10 L20B 5-speeed (wide ratio)
1st 3.382
2nd 2.013
3rd 1.3121
4th 1.000
5th 0.854 

S110 Z20S engine (mid-close ratio)
1st 3.170
2nd 1.921
3rd 1.312
4th 1.000
5th 0.854

Do not confuse the shorty with a long-tail 63-series 5-speed:

71-Series
Skyline DR30 (FJ20 engine with 71C)
Skyline DR30 (L24 engine with 71C)
Datsun 720 pickup USA (71B)
Many Datsun transmissions are longer than a Datsun 1200 gearbox, so the shifter comes up about 4 inches aft of normal.
Or you can modify a L-series "stumpy" gearbox to fit the CA series front case. Then it bolts right in, shifter in the stock location for a 1200, and stock 1200 automatic driveshaft works too.
Stumpy Transmission
Plus: fits stock shifter hole and uses stock 1200 driveshaft (automatic driveshaft)
Minus: The stumpy uses the same cluster as the 280z 5spd, and while those are known for their durability, they don't shift as nicely and don't shift easilty above 5,000 RPM.
The stumpy Skyline gearbox, refers to the R30 Skylines with the L24 (six-cylinder) engines. The R30 came in sedan and hatchback styles.
You need a CA20 or CA18 gearbox to get the front case so that it will bolt to a CA18.
To use the gearbox on a CA18, you must switch out the front section of the gearbox from a longer S13 gearbox, or a more common CA20 (e.g. 910 Bluebird Series 3) gearbox. There are conflicting reports about some of the swaps needing a different sized bearing to make this 'gearbox surgery' a success.
Beware: if the bearing doesn't fit right, the box will not last a long time. If the bearing is spot-on it can last for years behind a CA18DET.
CA20E front case on a stumpy box doesn't require a different bearing
CA18DET front case on a stumpy box requires a spacer (or bearing change)
Once modified, the "stumpy" transmission bolts right into the 1200, and the gearshift lever comes up in the right place. Other CA transmissions will require you to cut a new hole in the tunnel farther back.
See:
If you wonder why people go for the stumpy 5 speed - here is a comparison photo between (from right to left) a 56 series (A12 gearbox) a 60 series (A14/A15 gearbox) and the stumpy 5 speed.
There is also a bearing swap that needs to be made when fitting a CA front case. See photo below
North America
NOTE: custom "stubby" FS5W71B can be made from 26.3" FS5W71B -- by removing front case and fitting CA front case
1983 Datsun 720 4x4 with Z24 engine
720 with diesel engine
L-series
Would the shifter be in the correct place for 1200?
Would need the automatic tunnel for this large 71-series gearbox
the rear case has no speedometer gear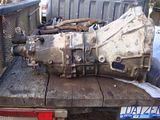 Interchangeability
63-series 5-speed transmission parts swap to other 63-series 5-speeds.
4-speed to 5-speed: Complete unit swaps. Parts do not.
L-series to A-series to Z-series. Front case (including bell housing) swaps
71 to 71 front cases interchange. For example, an L-series 71-series front case can be used on a CA-series 71 series transmission.