With A-series 5-Speeds gearboxes becoming less available, you might consider a transmission swap. With the Nissan 71-Series Transmission, we have inexpensive and very strong gearboxes including stumpy versions that use stock driveshafts. We have lots of choices include 6-speed gearboxes. Or non-Nissan transmissions can be swapped in behind the A12.
Overview
Also see Transmission Interchange

When comtemplating a swap to another type of transmission, the following parts are needed:
Transmission of choice
Clutch disc, pressure plate, release bearing, and pilot bushing for the end of the crankshaft. It is recommended that you buy all new. They can be reused, but only recommended if they are in known good condition.
Driveshaft (tailshaft/propeller shaft) to fit both your Differential and the transmission
Rear mount (gearbox mount)
Slave cylinder and slave push rod to match the new transmission
Release arm and release bearing sleeve to match the new transmission
Speedometer cable to match the new transmission and your speedometer

If converting an automatic-equipped car to manual transmission you need:
The brake/clutch pedal assembly, complete with all hardware and springs, from the same model car you have now
Flywheel & clutch pilot bushing
See main article: Manual transmission conversion

If you have cable clutch and the new transmission requires a hydraulic clutch linkage:
Clutch Master cylinder and Slave cylinder. The cylinders may be bought new, as they are inexpensive and you know they will not be worn out.
Hydraulic hard line. A pre-made section of brake hard line may be bought and bent to fit.
Hydraulic flexible hose

Considerations:
Length of transmission
Shifter location
Speedometer cable. Is it on the same side? If on the passenger side, you might need a longer cable.
Common Swaps
Common swaps include:
For information on choosing a 5-speed see: 5-Speeds
This article will focus on swaps adapting non-A-series transmissions to fit. For A-engine transmissions, see Transmission Interchange.
Tunnel Consideration
A standard Datsun 1200 has a small central tunnel, limiting the gearboxes that will fit. However, automatic-equipped Datsun 1200s have a very large tunnel that will accomodate most gearboxes and still allow the factory heater to work.
See main article: Tunnel

If the gearbox is too big for the tunnel, either replace the tunnel or open it up by cutting a slit in it and prying it apart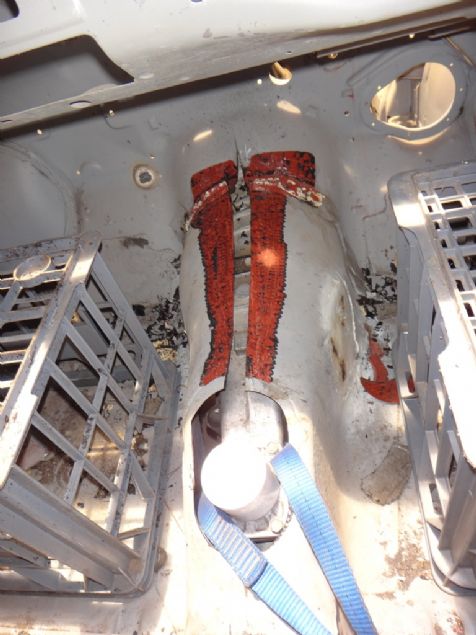 Gearbox Crossmember
In general, you can always 1) remove the Datsun gearbox crossmember brackets then 2) fit a generic crossmember bolted to the floor.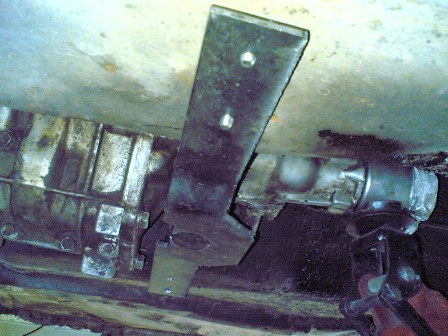 Adapter Plate
How about a good-old fashioned adapter plate? This is how it was done back in the day. They swapped any kind of gearbox to any kind of engine. And it still works fine today.
An adapter plate bolts to the engine, then using a 2nd set of bolt holes the transmission is bolted to it.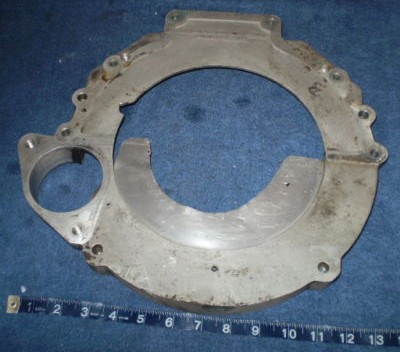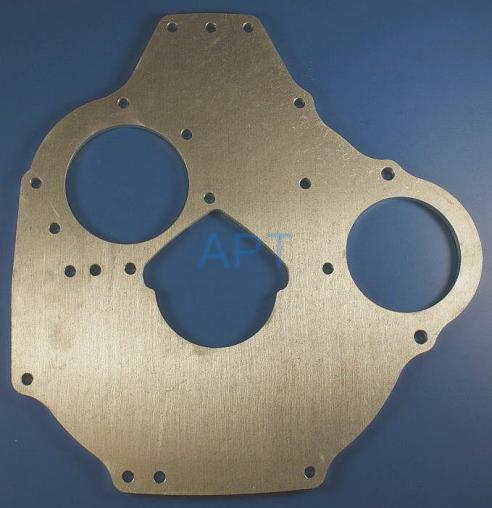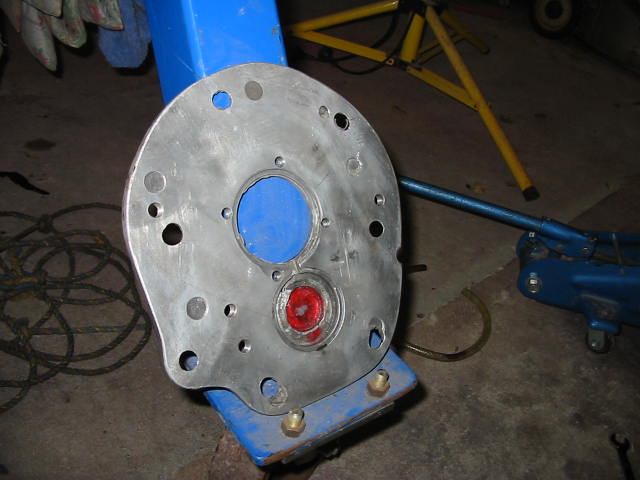 Epoxy Method
To make an A-series bellhousing, cut off an A-series front case, fill it with epoxy, and machine it flat. Then bolt it to the transmission, still using the A-series throwout arm.
Cut & Shut
Cut-and-shut is where the front part of the new transmission is cut off, and a cut-off part of an A-series transmission is welded to it.
Just cut the bellhousing and weld on a fragment of A-series bell housing, then machine the input shaft smaller.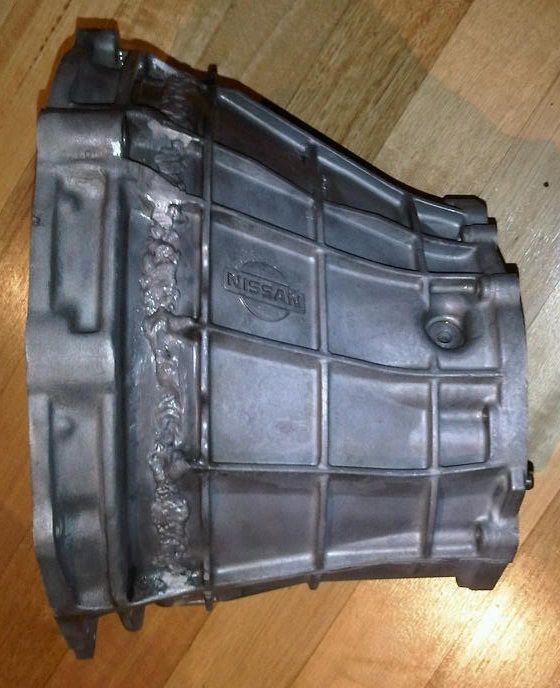 Nissan 71-series swap 5-speed (280Z box) modified for A12 engine

Album click to view
Nissan Silva S15 6-Speed gearbox modified for use with A12 engine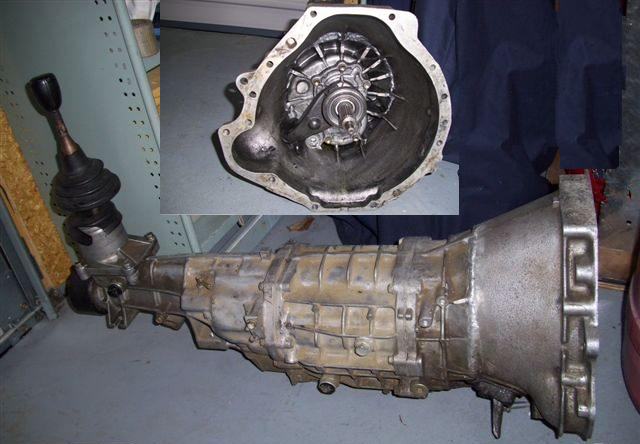 Album click to view
Toyota K40/K40 cut-n-shut

Album click to view
As with any adaptation, aligning the adapter is critical. It must be:
parallel to the transmission and rear engine faces
Centered exactly on the crank/input centerlines
The tolerance is very low, so this must be a precision fitting to avoid clutch vibration and early gearbox wear.
Milling Method
Cut the front case of transmission approximately
Remove front case
Mill the cut parallel to the face of the case
Repeat for A-series bell-fragment
Weld a circular plate to the case
Center the bell fragment on the plate and weld it
Centering can be done with careful use of dividers and precision measuring.
Shaft Alignment Method
Make a shaft to go in an old A-series engine block where the crankshaft would go. Weld a perpendicular flange on the end. It must be very accurately at right angle to the shaft.
NOTE: photos of L-series engine. But A-series will be similar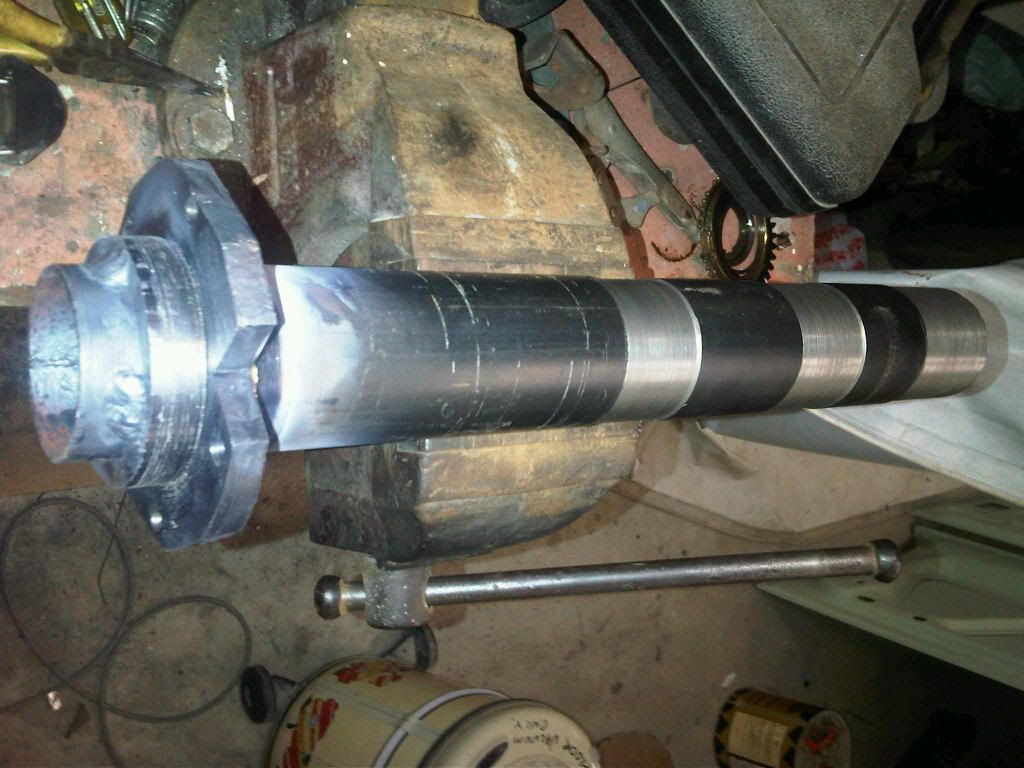 Remove the front case from the transmission.
Insert into the engine block and bolt the transmission front case to it. This needs to be very secure so that no play is magnified down along the shaft. Precision is very important in gearbox alignment.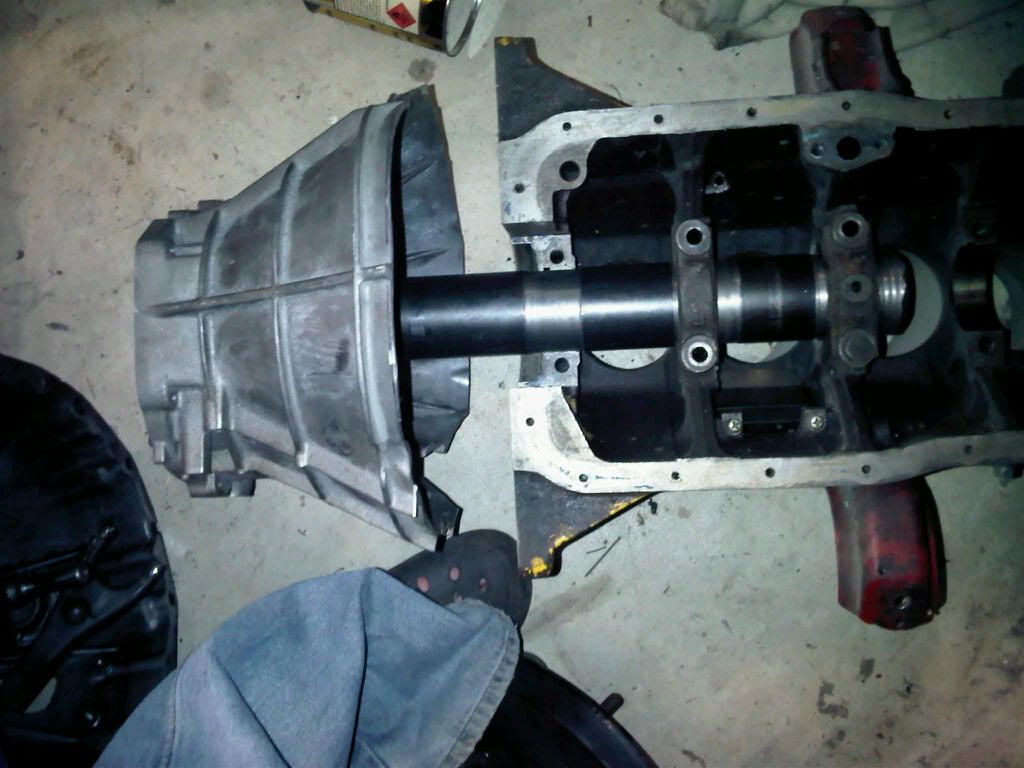 Cut the transmission case aproximately as much off as needed. You could do it with stationary grinding wheel while rotating the case on the shaft.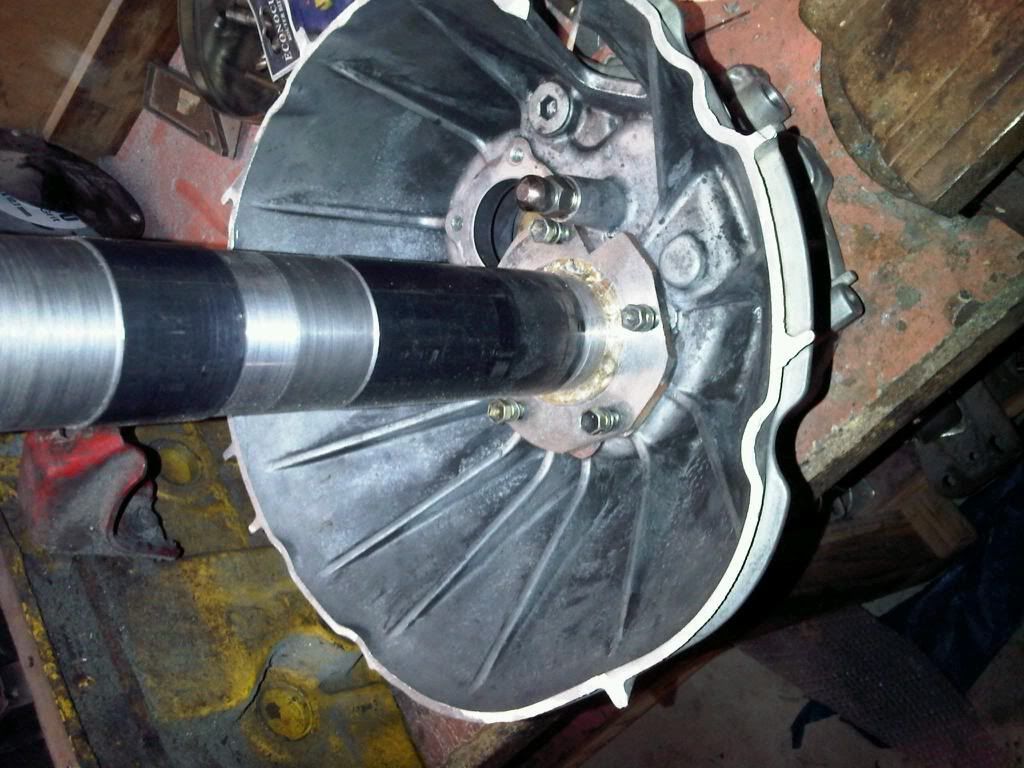 Bolt the A-series fragment to the block too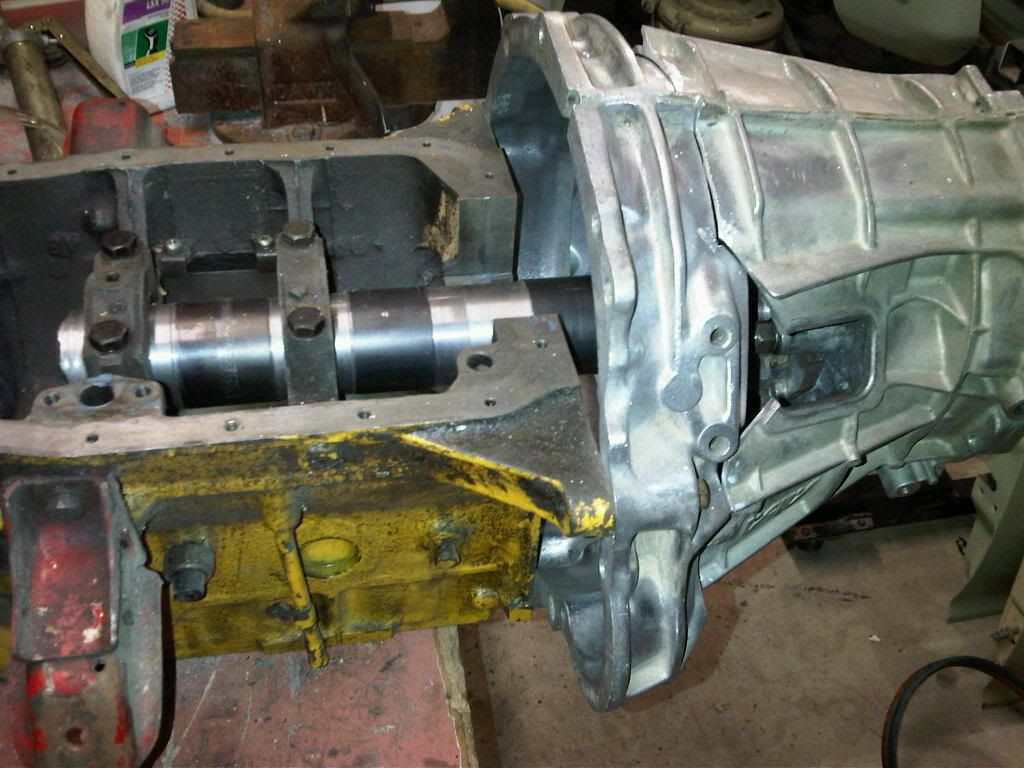 Rotate the case appropriately and weld together.
Result: 6-speed front case modified with different type of bellhousing pattern.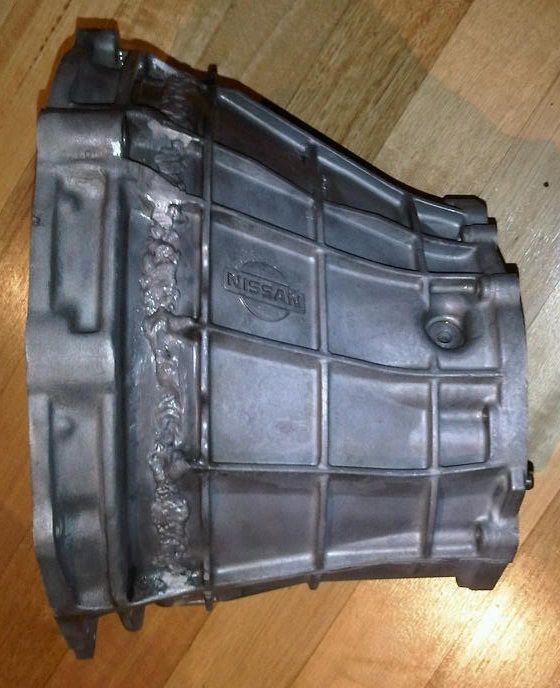 ¤