The 71 transmission is Nissan's strongest transmission. It was fitted to L-series six cylinders, FJ engines and more. 71 series comes in four different lengths, however a stumpy version is the same length as a Datsun 1200 transmission though obviously much larger around. The stronger 71B replaced the original 71A designs in the 1970s.
Overview
The 71-series has the mainshaft and countershaft 71 mm apart. This larger transmission is thus stronger than the 56-series used in the Datsun 1200, and stronger than the 63-series used in some A14-powered B210s. The C revision boxes (FS5W71C) was used with 3-liter V6 engines.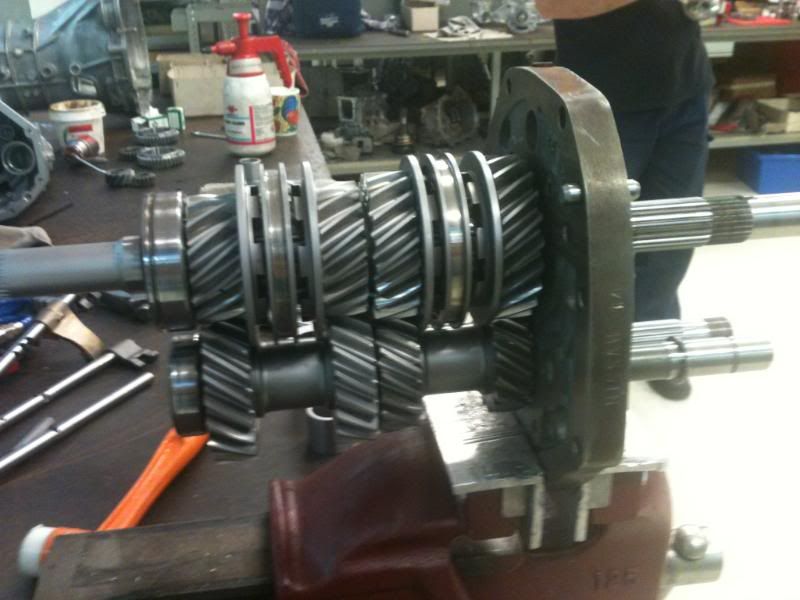 Although the Nissan 90-Series Transmission was rated higher, experience shows that the 71C is practically just a as durable even behind a 300ZX turbo (see Gearbox Strength).
While never offered in an A-series version (it would be overkill even for a supercharged A-engine), the 71 is a good choice for larger Engine Swaps.
71 series is also the size of the Datsun 1200 Automatic Transmission (L3N71B), so a 1200 automatic Tunnel should fit them.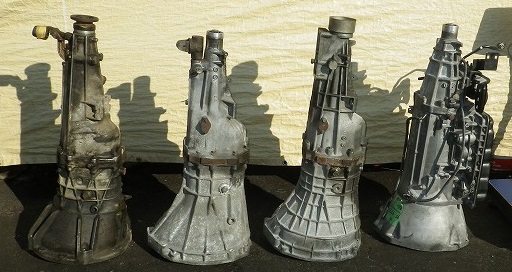 album
71A 1969-1970 Fairlady 5-speed
71B 1975-1983 5-speed
71C 1984-1998 5-speed
3N71 automatic

Lengths
Long extension housing is the most common.
Overall Transmission Assy Length
Long tail #1: 31.5 inches
Long tail #2: ? inches
Tail #3: ? inches
Short tail: 26.3 inches (stumpy)

Stumpy
A stumpy is a gearbox that is 26.3" long overall. It fits in a Datsun 1200 perfectly with shifter in the correct location.
See main article: Stumpy

71 Original
F4W71
Short 4-speed with flanged output
1969-1972 Datsun 521 with L16 engine

Short 4-speed with sleeve-yoke output
1972-1973 Datsun 620 with L16 engine

Long 4-speed
71A
F4W71A Long housing
FS5C71A Long housing
Removable bell housing
Datsun Roadster with U20 bell
Datsun Roadster with R16 bell
Datsun 240Z early USA dealer installed with L-series bell
71B
Look for 71B cast into the transmission case.
F4W71B
Short housing
Datsun 720 with Z-series engine (short 26.3")

(1972-1982) long housing. Rear extension of transmission has bolt-on cover plate.
1972-1973 Datsun 240Z
1974 Datsun 260Z
1975-1978 Datsun 280Z
1979 Datsun 280ZX
Datsun 610
1977-1980 Datsun 810 L-series six-cylinder
1974-1979 Datsun 620 with L18 or L20B engine
1979 Datsun 720 with L20B engine
1980-1982 Datsun 720 with Z-series engine (long 31.5")
FS5W71B
Long extension housing
Datsun 200SX (S110) with Z20 engine
Datsun Maxima (810) with LD28 diesel
Nissan 720 with SD diesel
Nissan 200SX with CA18ET engine
Datsun 720 long tail
1977-80 Datsun 280Z
1979 280ZX (non-Turbo)
Datsun 810
Datsun 620

Short extension housing
Engines
L-series (various)
Z-series (S110)
LD28 diesel (Maxima)
SD diesel (Nissan 720)
CA18ET (Nissan 200SX)

71C
FS5W71C - The 71C has a different shifter than the 71B and all versions are longer than the 71B. A 71B front housing can be swapped.
NORTH AMERICA
1983- Nissan 300ZX (non-turbo, turbo uses 90-series)
1986-1989 Nissan D21 (Hardbody) with Z-series engine
1989- Nissan D21 (Hardbody) with KA-series engine
Pathfinder/Xterra/Frontier with KA-series engines
Pathfinder/Xterra/Frontier with VG-series (V6) engines

Engines
VG-series (V6)
KA-series
Z-series

Interchange
Like transmission parts interchange:
71A bell housings
4-speed to 4-speed
5-speed to 5-speed
71B/71C front cases
Complete transmission units of the same length interchange. For example, replacing a shorty FS5W71B with a shorty FW471.
L-series and Z-series/KA-series use the same bell patttern -- BUT the L-series is a slant engine. So while the transmissions will physically bolt on, use the Z-/KA front case with the Z-series engines, and the L-series front case with the L-series engines. OR, you can bend the gearshift to the appropriate angle, but you risk transmission oil leaking out.
Sources
Europe
D21
D21 KING CAB EUR 2WD MT KA24, Z20, TD25
FS5W71C
32010-07G63 0586-1087 Z20
32010-56G00 0492-1292 Z20S <> 32010-56G01
32010-56G01 1292-0594 Z20S <> 32010-2S400
32010-25G02 1087-0492 TD25 <> 32010-05G63
32010-56G10 0492-1292 TD25 <> 32010-56G11
32010-56G11 1292-1095 TD25
32010-1S800 1095-

REAR EXTENSION ASSY 
32130-05G11 0594-
32130-05G10 0895- <5> 32130-05G11

North America
720
The north america parts catalog lists the following.
WHEELBASE
LONG (includes King Cab)
REG 2575 mm (101.4")

32010 TRANSMISSION ASSEMBLY
32100 CASE ASSY-TRANSMISSION
32110 COVER ASSY-FRONT
23138 PLATE-ADAPTER
32130 EXTENSION ASSY-REAR


L20B used from introduction 0679-0680
SD22 Diesel 0679-1082
SD25 Diesel 1182-
Z22 from 0880-1082
Z20 from 1182-0784
Z20 from 0784-
Z24 from 1182-0784
Z24 from 1183-
Z24 from 0784-
Z24I from 0485- (I = central fuel injection)
L20B 4-speed + 5-speed
0679-1179 Aluminum Front Cover
1279-1082 Aluminum Front Cover
1179-1082 Cast Iron Front Cover

Cast Iron Front Cover
L20B later (some)
SD25

D21
USA
REAR EXTENSION ASSY - F5
32130-05G11 0487-     Z24/SD25/KA24E
32130-05G10 1185-0487 Z24/SD25

Tail Housings
EXTENSION ASSY-REAR
ER30 32130-E9911 also C31
HR30 32130-E9912 also C31 with neutral switch

12"
32130-E9912/32130-E9957 Z24 2WD 0784- (except CAL STD)

16"
32130-E9801
32130-E9802
32130-E9407

??"
32130-E9803 L20B 1279-0680
32130-E9408
??
MAIN SHAFT 71C 
[shifter positioned forward]
 32241-95P00/95P01/95P09 <5,7> 
  RB20 GEARBOX
  32130-73L00 EXTENSION HOUSING
[shifter positioned rearward]
 32241-91P00/32241-50F00/32241-V5010/32241-V5270 <7,7>
 * S13 JAP,USA
 * Z31 USA

4-speeds
L20B
F4W71B 4-speeed for L20B
32010-44W05 FED 2WD long + 4WD regular
32010-45W05 CAL 2WD long + 4WD regular
32010-B9860 CAL 2WD regular
32010-B9960 FED 2WD regular
Z22
F4W71B 4-speed for Z22 engine
32010-05W00 2WD regular
32010-46W00 4WD [both wheelbase]
32010-Q4900 Heavy Duty [both wheelbase]
5-speeds
L20B
FS5W71B
0679-0680
32010-44W06/32010-44W16 King Cab 4WD FED
32010-45W06 King Cab 4WD CAL

0679-1179
32010-B9910/32010-B9912 King Cab 2WD + non-KC CAL
32010-B9911 King Cab 2WD + non-KC CAL FED

1279-0680
32010-B9912 King Cab 2WD + non-KC CAL
32010-B9913 King Cab 2WD + non-KC FED
Z-Series
Z20
32010-61W01 1182-0784
32010-82W01/32010-82W15 0784-

Z22
32010-05W10 0780-1082 2WD
32010-18W00/32010-46W10 4WD

Z24 OPTION FS5W71B with 16" extension housing
32010-20W16/32010-20W15 King Cab + 2WD 0784-

Z24
32010-55W06/32010-55W10 4WD 0183-

Z24 12-inch extension
32010-80W15/32010-80W16 2WD 0784-

Z24I
32010-90W00 0485-
32010-90W15 0485-
32010-90W16 0485- 4WD
SD Engine
32010-V2400/32010-Y8401 SD22 0679-1082
32010-19W15 SD25 1182-
Ratios
C = Servo type synchros
W = Warner type synchros

1984-1998 gearset FS5W71C e.g: 300ZX USA
1st: 3.321
2nd: 1.902
3rd: 1.308
4th: 1
5th early 0.759
Reverse: 3.382

1980-1983 gearset mid/close e.g: 280ZX USA
1st: 3.062
2nd: 1.858
3rd: 1.308
4th: 1
5th early 0.773
5th late: 0.745
Reverse: 3.026

1976-1979 gearset wide/ratio e.g: JDM 810 Bluebird
1st: 3.321
2nd: 2.077
3rd: 1.308
4th: 1
5th early 0.864
5th late: 0.816
Reverse: 3.382

Input Drive
22 teeth main shaft
31 teeth counter gear
input ratio = 31/22 = 1.409
Overdrive (5th)
19/31 main/counter * input = 0.864 (810 -7806)
22/38 main/counter * input = 0.816 (810 7806-)

4th

3rd
26/28 teeth main/counter * input = 1.308

2nd
28/19 teeth main/counter * input = 2.077

1st
33/14 teeth main/counter * input = 3.321

Reverse
36/15/15 teeth main/counter/reverse * input = -3.382
Input Ratios
28:23 = 1.217 FS571A (Roadsters and early Z, close spreads)
31:22 = 1.409 (most cars)
32:21 = 1.524 (most trucks and heavy cars. This ratio effects a wider spread)
32:18 = 1.778 (Commercials with widest spread for underpowered vehicles)

Input Shaft
S14 5-speed input shaft
O.D.: 1"
Spline: 24 teeth
Pilot Bushing Inside Diameter: 0.626 to .6300" (Length: .689")
Pilot Bushing Outside Diameter: .814 to .815"