Australian-built R31 Skyline/Pintara came with a Borg Warner 78 rear axle assembly (fitted with M75 crown wheel). The gearset (CWP) is strong, about as strong as the H190 in the Datsun pickups.
Also see Borg Warner 78

Overview
Borg Warner 78 has a 9-bolt rear cover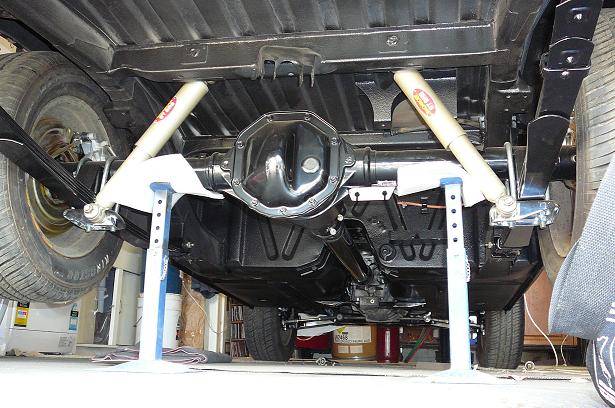 Album click to view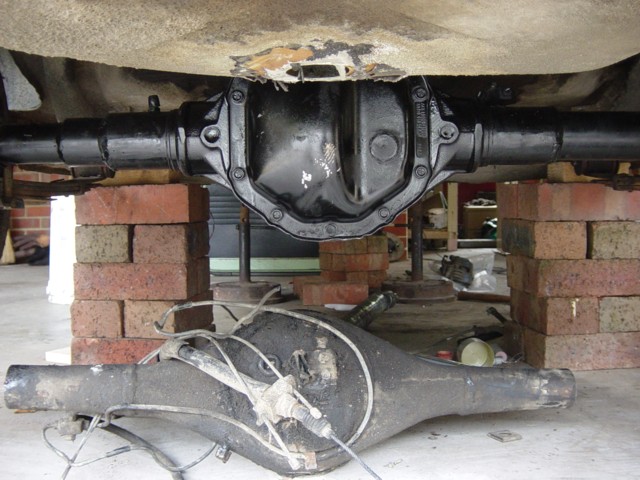 Album click to view
R31 Rear Disk Brakes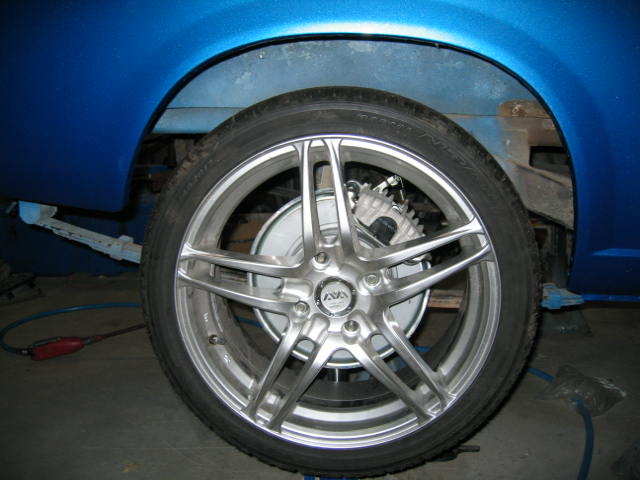 Album click to view
BW78 axle narrowed and installed in 1200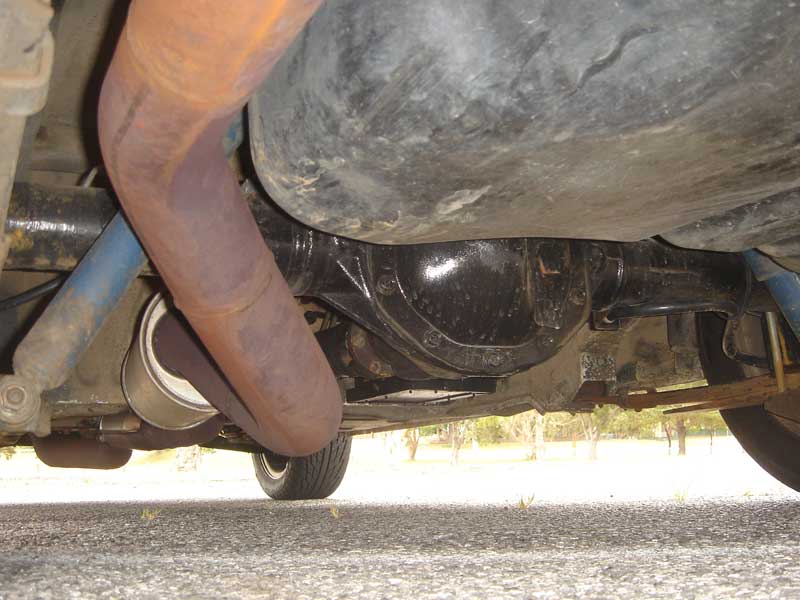 Album click to view
BW78 into 120Y

Album click to view
BW78 into B310

Album click to view
Album click to view
R31 for 1200 Ute. Calipers placed in front for slick handbrake connection

Album click to view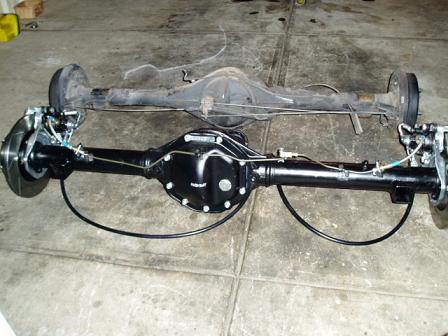 Album click to view
GM BW78
BW78 from GM Commodore VN can be narrowed to suit. There is no material difference between VN and R31 units once the brackets have been removed and the tubes shorted.
You can easily fit Skyline or Pintara gears on a Commodore or Falcon LSD centre, with the usual gear-swapping caveats:
There are 25-spline and 28-spline versions so get the one that matches axles to LSD unit
Like Nissan units, there are two ranges of gears, the higher range needs a shim to fit the gearset
Commodore VN
* 1988-1991
* Holden Commodore/Holden Berlina/Holden Calais/Holden Utility 

VN vs H165. LSD units are fairly common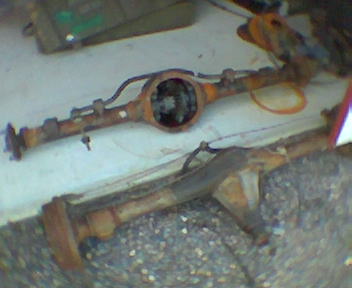 album
Swap Notes
Converting To Leaf Spring
Creating Leaf Spring pads

Album click to view
Album click to view
Album click to view
Album click to view
Lowering Spring Pads

Album click to view
Album click to view
U-bolts
you can put a borg warner diff in a 1200 ute (originally equipped with H165 rear axle) using the original B120 U-bolts

Album click to view
Album click to view
Album click to view
Note that POST 120Y borgwarner bolts and plates also fit.
Handbrake Cable
Coops pocketed the R31 pulley thing, cut the bracket off & drilled to suit the 1200 adjustment bracket.

Album click to view
POST short-coupe said: get all the bits from the R31, including the cable joiner, (my calipers are on the front, not the back), cables go back and i welded a bracket onto the diff to hold the cables. Had a local trailer spare parts mob make up the cables to my requirements, then it was just a matter of machining a piece of 1" x 1" angle iron to suit the cable ends.

Album click to view
POST datpro: Hey guys i know where you can get a hand brake kit to suit the borgwarner diff. I've got one includes every thing, adjustable Call Mark from MD conversions in Blacktown, tell him Brent from Mudgee told you about them. No 96717508
Also see: * POST r31 handbrake cables to suit 1200 ute
Guide
noteven's POST R31 Diff. Handbrake Cable DIY Guide
WHAT YOU NEED:
Standard R31 Handbrake cables (just the left and right cables , dont need splitter)
Diff already in the car
$200 for Handbrake cables to be made and steel cost
Few Hours time
Masking tape
Decent Mig Welder
Cordless Drill/Pedestool Drill/Drill Bits
Tie wire/mig wire/string (used for measuring)

Step 1
I'm assuming the rear brakes are all connected and you still have the standard handbrake cables.
Connect it all up and push the cables to sit ontop of the leaf springs. prevents them from sagging.
Cable tie the cable to the leaf to hold it there
cable tie it to the housing also
You will realise one cable needs to be shortened. one has to be made longer
Using my template as a rough guide, make the piece you will be welding to the diff. i forget the hole size but it will vary on cables.
Tack the piece to the diff inline with the front section of your existing handbrake cable
now tape the wire/string to your cables and run the string/wire to the plate on the diff
Mark where you want the cable place to add the cable stop
now make a second mark about 50mm before your existing handbrakes threaded swage end
Now that you have all your measurements, take them down to a handbrake cable/clutch and brake place for them to make you new cables.
NOTE: make sure you get threaded ends put on. or this guide is useless. (took one day , cost $190 . i thought this was reasonable)
While your cables are being made, get started on the splitter box (see photos). 4 sides, pretty much a triangle shape, which is going to allow you to bolt it to your existing handbrake cable end and have 2 holes for your new cable ends. Very simple.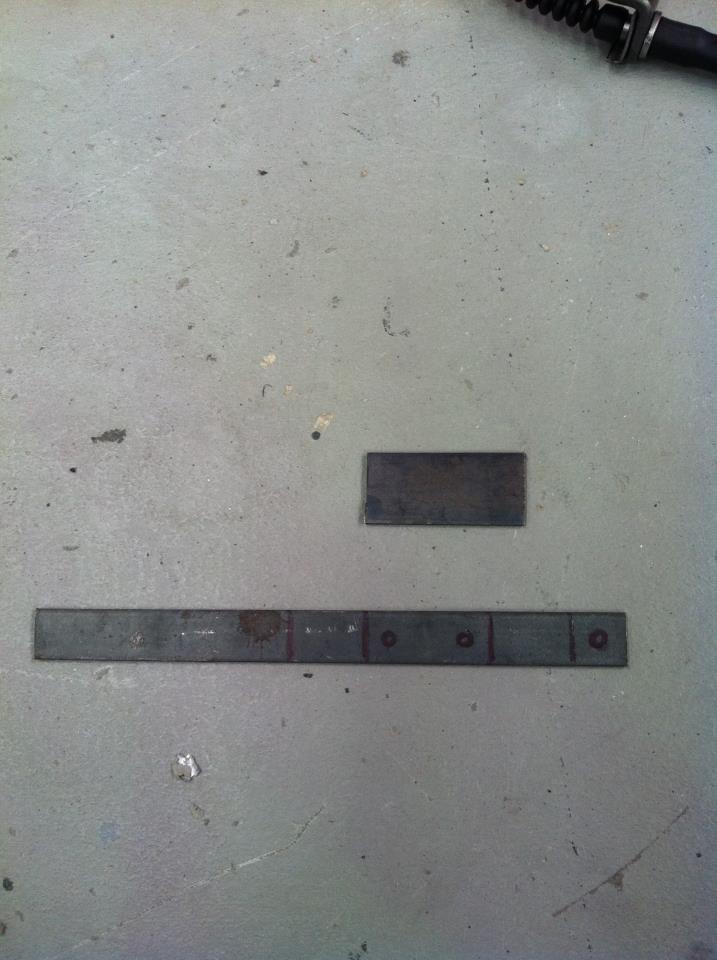 Post click for topic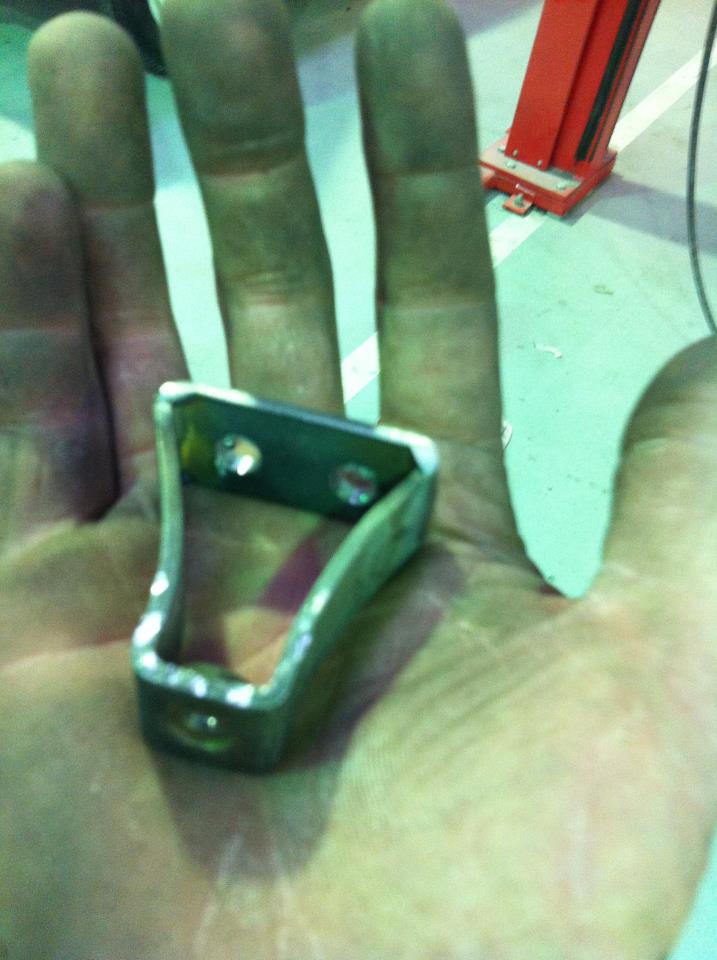 Post click for topic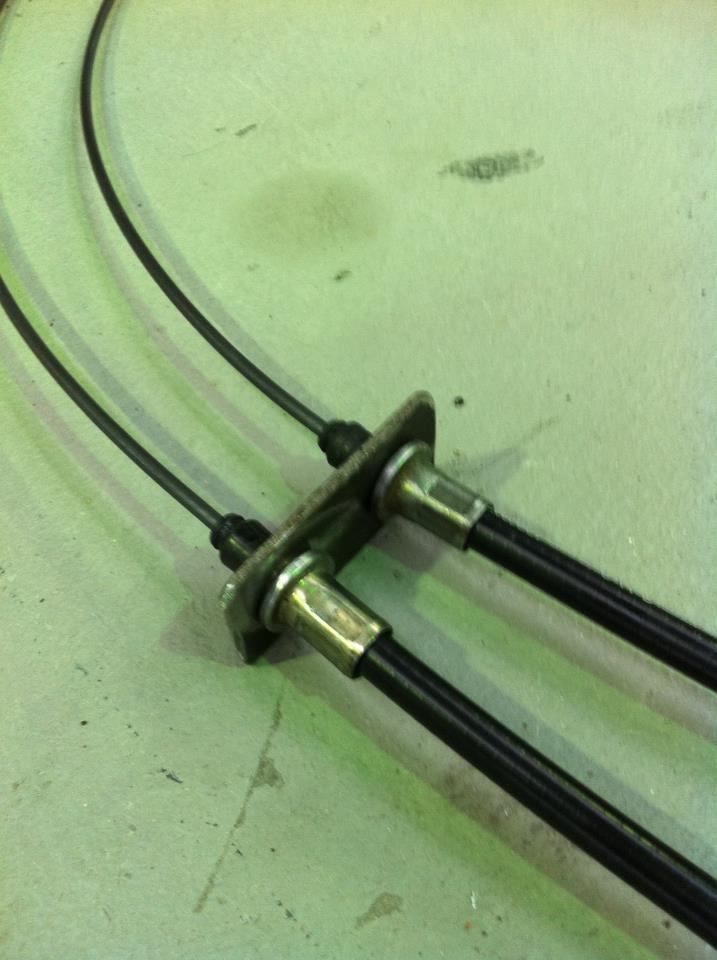 Post click for topic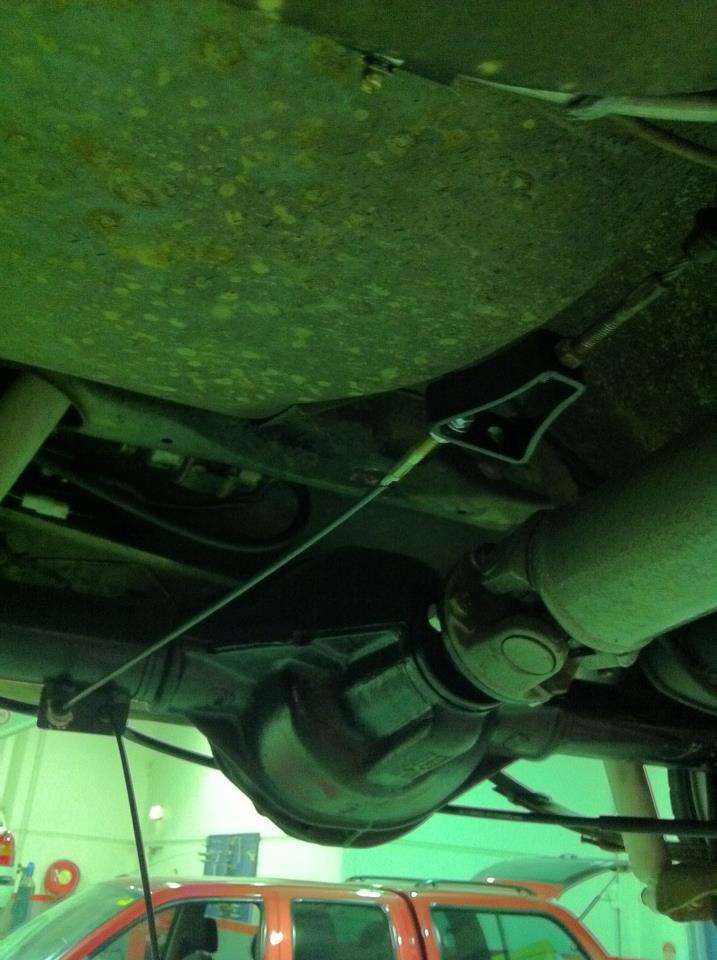 Post click for topic
After everything arrives. put it together and enjoy having a handbrake that doesn't slap on your tailshaft.
Mad Dat
$2345 Product No - DIFR31: Diff Housing & Rear Disc Brakes
Shortened R31 28 spline. Rebuilt calipers, new wheel bearings, new seals, new U-bolts, new discs, new pads. Includes hand brake cables and brake lines. Shortened to your specifications. Calipers painted red or black. This item is an empty shell and needs one a gearset fitted.
Shortening
The BW78 can be easily shortened. Shorten the long tube to the same length as the small tube. Machine and respline the long axle down to length. The diff wont be centered, normally the diff is offset a bit to the driver's side, but in doing it this way it offsets it to the passenger side. It's the cheapest way to do it and its fine. The R31 diff has the centre pretty well in the middle of the housing, meaning the pinion is slightly off to one side. When shortening it swapping axles and just cutting down the long axle it ends up with the whole centre off to one side but the pinion is still only slightly off centre, just in the opposite direction to what it started.
$900 to $1600 AUD for this shortening which also includes a remachined axle, and welding on leaf spring plates. It does not include new bearings or LSD or new brakes.
Or if you do it yourself, it's only $50 for an additional good used short-side axle and some work cutting/welding. Some say you shouldn't use a left-side axle on the right (or vice-versa) but hundreds of folks have had no problems.
pigdog:

neither me or him have ever has a problem with using the axles in reverse. both in daily driven turbo cars for over 3 years.
Or buy a completely rebuilt shortened unit ready to fit into a 1200 for $2345 AUD from Maddat: Mad Dat Diff.
Discussion: Where to shorten diff housing
Where to cut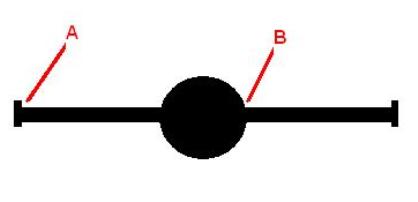 Set diff in a jig to ensure alignment
cut the axle tube in the middle (between Point A and Point B)
shorten tube, and chamfer to tube-ends
weld end back on, use a chamfered butt weld
optional: use a sleeve tube over the splice and weld to both tube sections
The axle tube has the recess in it for the bearing, so point A cannot be cut flush. The axle tube must be cut in two and then re-joined.
When doing it at point B you can cut it flush. It takes about 20 ton of pressure to get the tube back in again and its in there a good 3 inchs or so...ain't nothing going to move it even without welds on it.
Cutting the end off is quicker and easier to line the end flange up again.
It's a shortened BW and the diff man actually welded the outer section of the H145 housing(with the original mounts) back onto the BW housing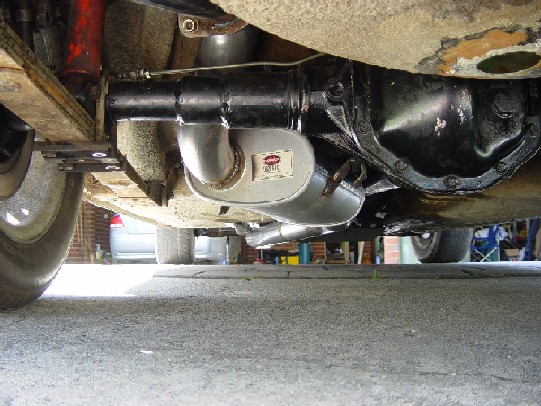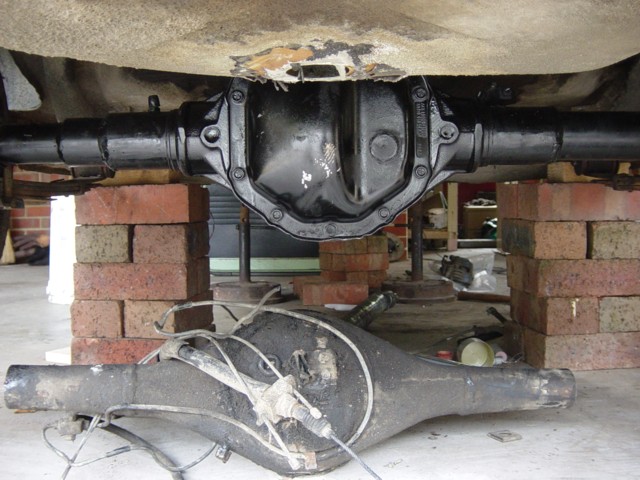 R31 Handbrake Lever
Though most people retain the stock 1200 handbrake lever and adapt the cables, it is possible to fit the R31 lever into the 1200.
Comparo
ute swap
Bump stops replaced with bumpers inline with the shocks. Chassis floor rails reinforced.

Album click to view
Album click to view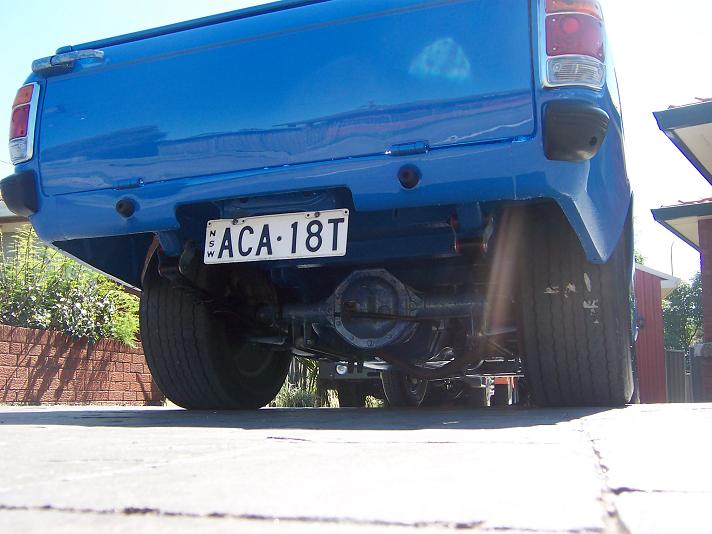 Album click to view
Album click to view
Album click to view
Album click to view
Anti-tramp links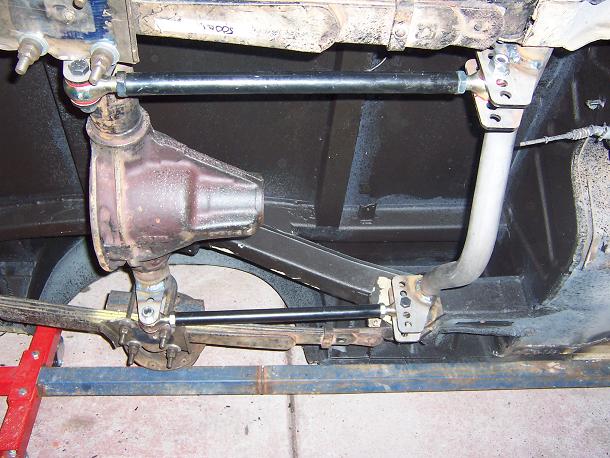 Album click to view
Laney swap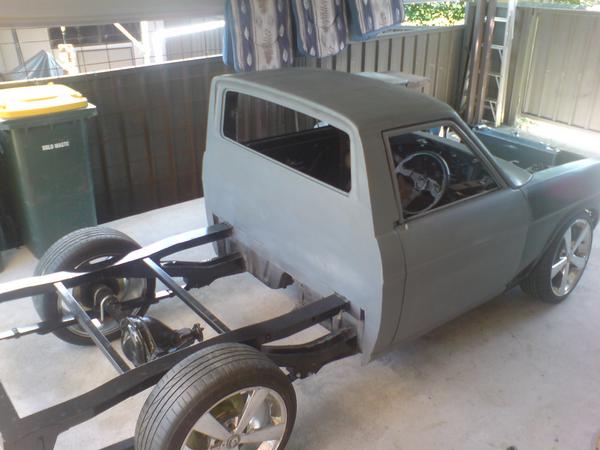 Album click to view
Album click to view
Album click to view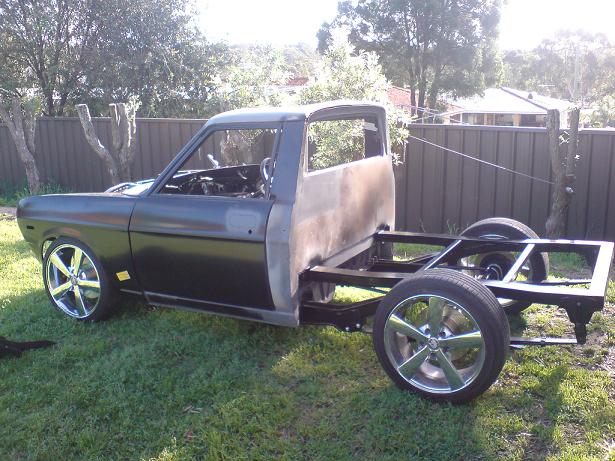 Album click to view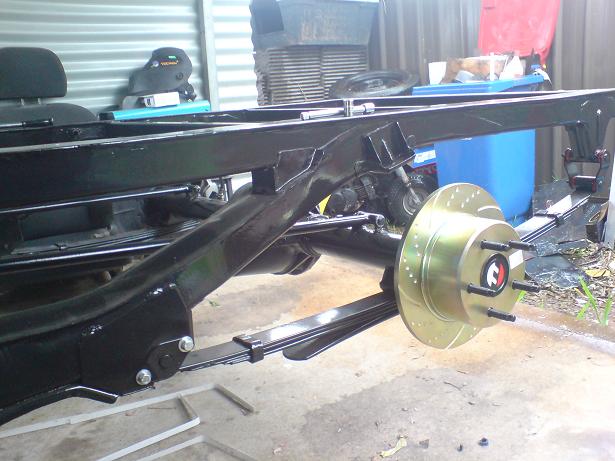 Album click to view
Album click to view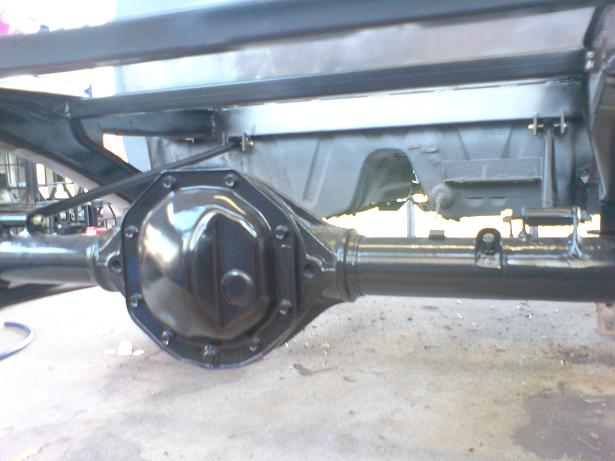 Album click to view
Album click to view
Album click to view
Photo Index