Swapping a Nissan CA engineᵂ into a Datsun 1200 is perhaps the most common high-power swap. It provides abundant horsepower (up to 400 hp) in a small, lightweight package. The CA18DE is a dual overhead cam engine, while the CA18DET is the factory turbo version. It will fit into the 1200 without cutting the firewall or body. You will additionally need a stronger rear axle assembly to cope with the extra torque that the CA-series puts out. On the down side, POST quote: "It does unbalance the car...lets not try to lie to ourselves."
Overview
Internally stock CA18DET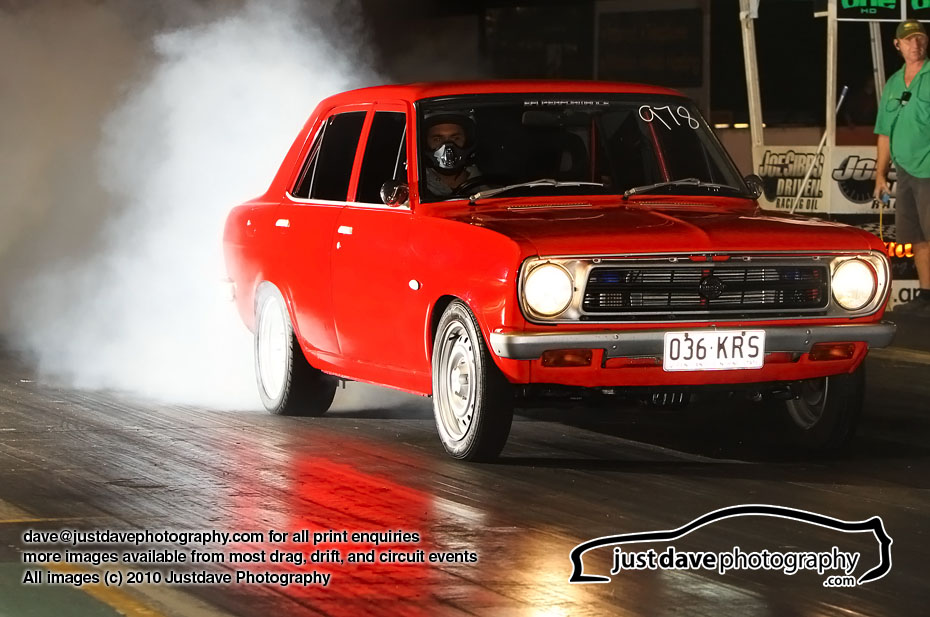 Album click to view
Album click to view
Perfect fit for a 1200

Album click to view
Album click to view
CA16DE DOHC (Only available in FWD format)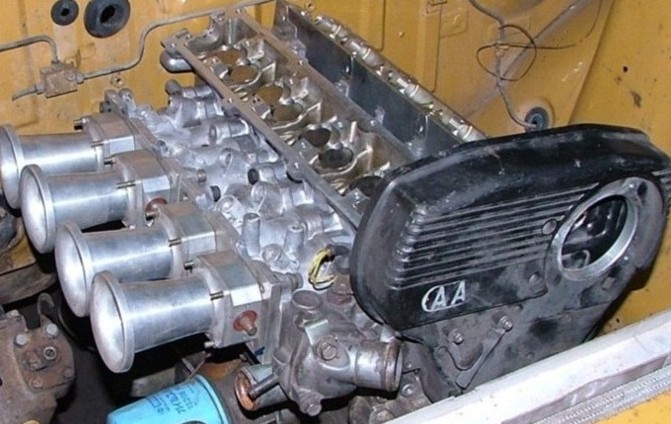 Album click to view
CA18ET SOHC Turbo (Single Overhead Cam)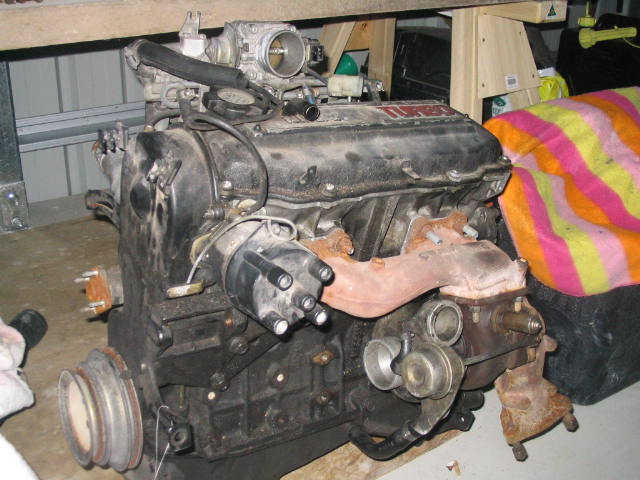 Album click to view
Album click to view
CA18DET DOHC Turbo (Double Overhead Cam)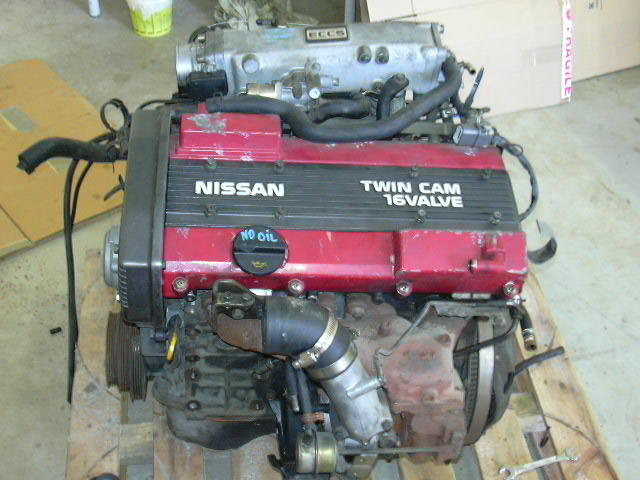 Album click to view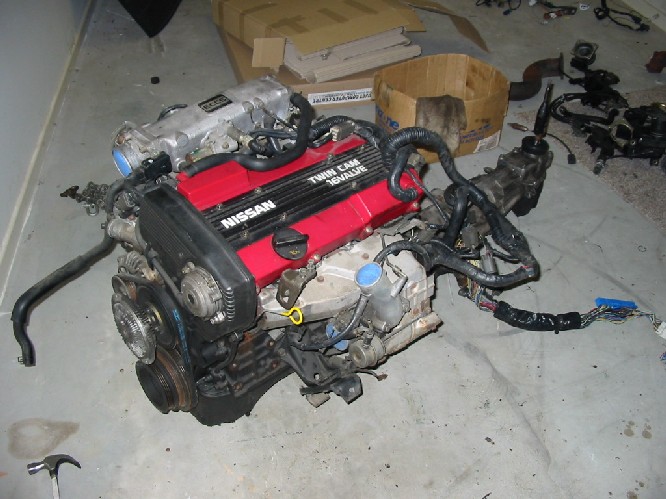 Album click to view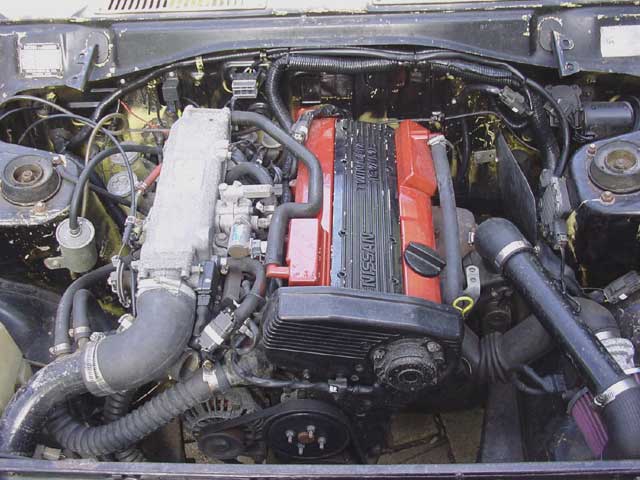 Album click to view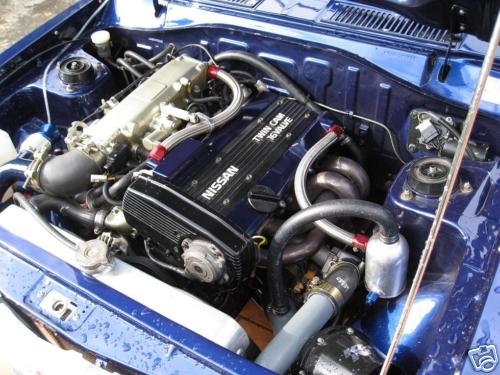 Post click for topic
CA20E SOHC - See main article: CA20

Album click to view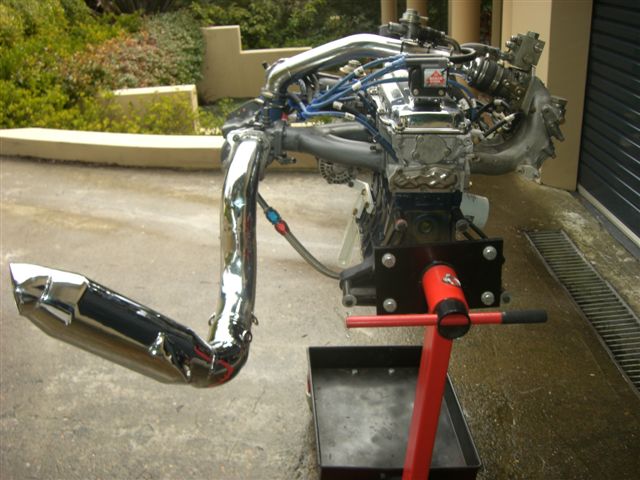 Album click to view
Which is better - SR or CA?
CA18DET = street legal in all States
SR20DET = not street legal in a 1200 in Australia. A bit newer, a bit more power, heaps more parts globally, many more of these engines, so more parts for a long time
SR20 has more CCs -- and there's no replacement for displacement. On the other hand, SR20DET is too big for legal street use in some countries.
POWER
CA18DET 167 hp  stock
SR20DET 205+ hp stock

modded stock block (stock rods, pistons, head)
CA 400 hp
SR 400 hp
Cams, turbo, intake and exhaust are the mods
To go over 400 hp internal upgrades are needed

Naturally aspirated, bone stock
CA18DE 131 hp
SR20DE 140-169 hp

There are more racing parts for SR engines. On the other hand, there are the same type of racing parts for CA engines (just not as many brands of them). There are even stroker kits for CA. It is easier to get parts like winged sumps etc for an SR. That doesn't mean the same parts are not available for the CA, it just means you need to look a bit harder.
SR engine fits in a an unmodified 1200 engine bay. So does CA engine. Tie.
LOOKS - do you prefer the CA look or the SR look? Bulging muscles, or muscular athetic build?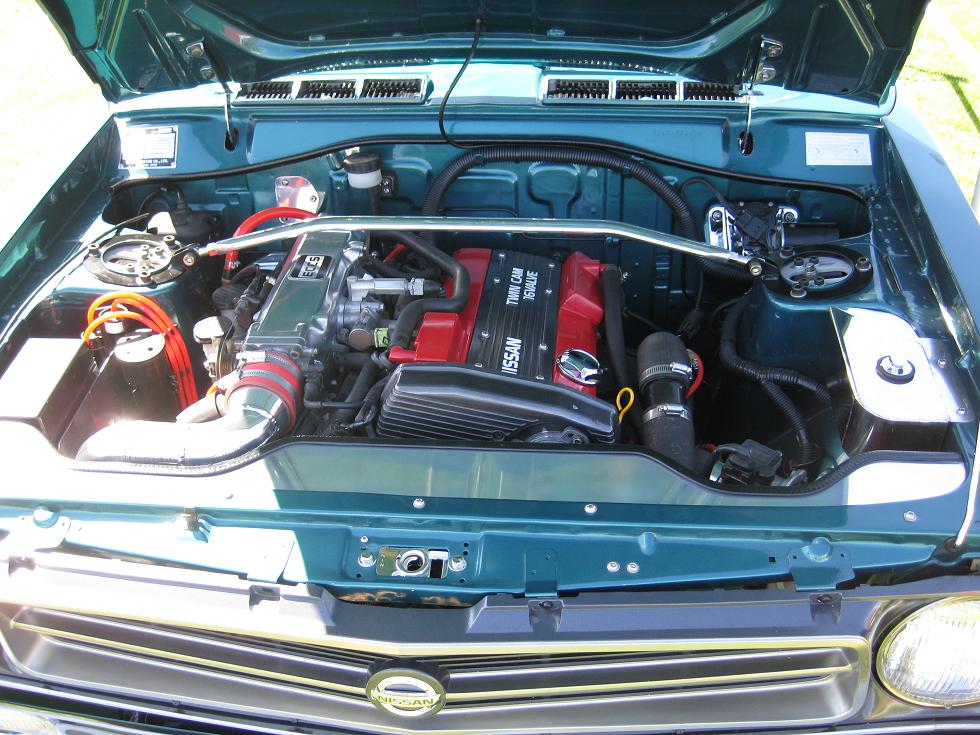 Album click to view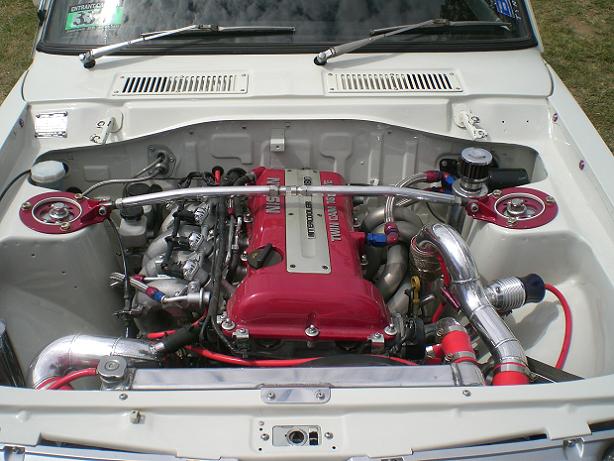 Upload click to view
CA is lighter than SR. On the other hand, both are far heavier than A-series engines. Yes, the SR has an alloy block, but it's still heavier than CA.
SR is more expensive than CA in many countries. In USA, CA18DET is less expensive then SR20DET -- RWD versions of both are imported as used engines (both were sold in USA in FWD form only). In USA the KA24DE from S14 trumps both CA or SR non-turbo engines. Cheaper and more powerful.
More 1200 fans are experienced at CA swaps, so there is a larger body of knowledge and know-how for the CA swap. On the other hand there are plenty of SR swaps too.
SOUND: SR has a different engine note, which some may prefer. Others like the sound of the CA.
SR has timing chain, which requires less maintenance than the CA's timing belt. CA coils on the other hand often go bad.
CA18ET - SOHC turbo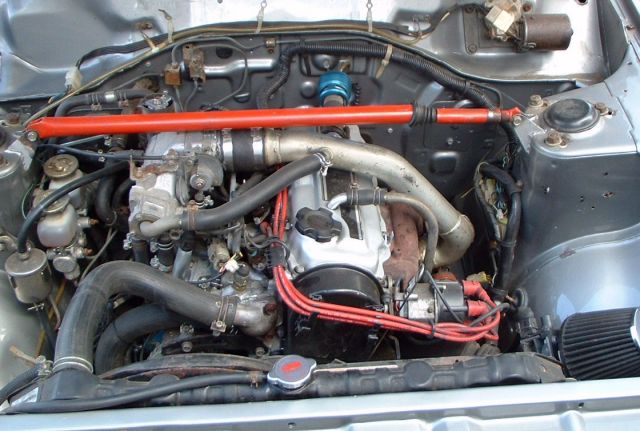 Album click to view
Cost
Good used CA engines cost $400+ USD
S13/S14 Front-cut cost $1500-$2500 USD
Entire package with CA18DET and intercooler, fitted by a professional shop cost $20,000 AUD
See:
* POST CA18 Aftermath cost
* POST CA18's

CA18DE in Datsun 1200 wagon

Album click to view
Parts Needed
* Engineer Certificate
* Labor: 40 hours
* S13 or S14 Silvia front cut (includes engine, 5-spd, and wiring harness)
* Hydraulic clutch conversion parts
* Custom Engine & Gearbox Mounts
* New Timing Belt
* S13 Radiator
* Bigger Diff (ute diff for stock CA18DET)
* Custom tailshaft
* Custom hosing for radiator and intercooler
* Custom Exhaust
* Wiring
* Fuel pump hosing filters, return line, surge tank
* Engine Oil & filter, Gearbox Oil, Coolant

OPTIONAL
* Stumpy gearbox
* Auto tunnel
* S13 Brakes

Step-by-step
Consult with Engineer (for AUS street-legal use)
Purchase S13/S14 front car cut
Test CA engine (compression test) & install new timing belt
Inspect CA clutch
Convert your 1200 to S13 Brakes
Convert your 1200 to Hydraulic clutch
Take 1200 out of service

Convert your 1200 to stronger diff (ute diff for stock CA18DET)
Remove engine & gearbox
Cut hole in tunnel so large CA gearbox will fit
Remove front suspension & crossmember
Install new fuel system
Jack up car, slide CA engine/gearbox assembly under
Raise engine/gearbox assembly into place, fit crossmembers
Reattach front suspension
Install custom hydraulic clutch line to gearbox
Install & plumb intercooler
Install S13 radiator
Add new fluids, oil & oil filter
Measure transmission-to-diff, and order custom tailshaft
Tow the car to exhaust shoppe for custom exhaust fitment
wire up the engine
Get final engineering certificate
2-valve vs 4-valve
The 4-valve CA is a very special engine. The extra valves make it breathe very, very well which mean a lot more HP. All CA Double Overhead Cam (DOHC) engines have 4 valves per cylinder -- it's worth seeking out over the older SOHC versions.
* 2-valve CA18E  113 hp
* 4-valve CA18DE 131 hp

4-valve:
* CA16DE 122 hp
* CA18DE 131 hp
* CA18DET 167 hp turbo

2-valve
* CA16S  80 hp
* CA16I 
* CA18S  90hp (Single carb)
* CA18I  91 hp (single point EFI)
* CA18P  (LPG)
* CA18E  113 hp (EGI/port injection) 113 hp
* CA18ET 135 hp
* CA20S  102 hp
* CA20E  105 hp

CA20 and CA18 SOHC
CA18S/CA18E, CA18ET, and CA20S/CA20E are 2-valves per cylinder (8 valve head), so not as complicated as the DE models. However a CA20E turbo'd with stock rods will suffice for 300 HP if not taken beyond 6500rpm with 12psi. CA20 have around 9:1 compression. The USA CAs have better made-in-Japan casted alloy heads; the made-in-Australia castings are reportedly not as good. Also CA20 twin sparks are so economical for a 2 liter they really are underrated -- the CA20-powered Stanza got 43 mpg with NAPS-X.
CA20 with turbo added


Album click to view

Album click to view

Album click to view

Album click to view
Inexpensive factory Mitsubishi 4G63 conrods are easy to mod and fit for 300-450hp.
11041-D0202 HEAD ASSY-CYLINDER
* GC22.CA20S, C22.CA20
* C32.CA18I
* C33.CA18I
* M10.(CA18S+CA20S)
* R30.CA18S
* R31.CA18S
* R32.CA18I
* S12.CA18S
* T11.CA18

GC22 JAPAN

TRANSISTOR IGNITION UNIT
22020-D0210 MITSUBISHI
* E24.Z20/WE24.Z20
* C22/GC22.CA20
* U12.CA16S
* 910.CA18
* M10.CA18S
* R30.CA18
* R31.CA18S
* S12.CA18
* T11/T12.CA16S
* U11.CA16+CA18S/CA18E
22020-V5400 HITACHI <> 22020-V5401 Hitachi D4N

CAP ASSY-DISTRIBUTOR
22612-D0110 <> 22162-D0113 MITSUBISHI
* GC22.CA20S 8605-
22162-D3302 <> 22162-D3303 HITACHI
* GC22.CA20S 8605-8906

8-Plug Distributor Cap interchange CA16/CA18/CA20 SOHC
Bosch 03183
Standard Motor Products JH186
* 22162-03E00/22162-03E01
* 22162-11C00/22162-11C01
* 22162-21R00
* 22162-D0200/22162-D2200/22162-D2201/22162-D2202
* 22162-11001 
* 22162-21800
* 22162-D3300/22162-D3302/22162-D3303/22162-D3304 
* 22162-D3501/22162-D3502

4-valve CA20
It is possible to put a DE/DET head on a on CA20. See http://club-s12.org/v3/index.php?topic=23985.0
269 HP
85.55 mm cast pistons
stock CA20 rods, shot-peened
drill out the head bolt holes, re-tap for the larger CA18DE bolts
Turbo: Lancer EVO III TD05H-16G
timing belt: extensive mods 

8-port
USA and JDM CA16DE/CA18DE/CA18DET uses 8-port heads:


Upload click to view
There are two kinds of these heads: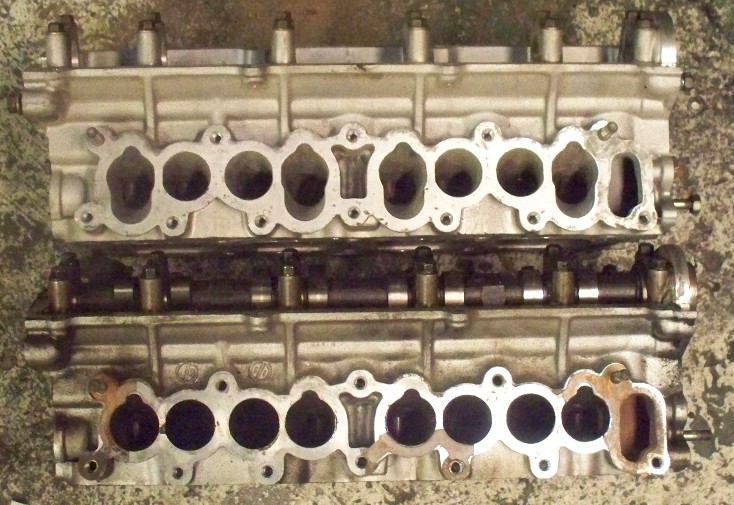 Upload click to view
4-port
Global right-hand drive market (Europe and Australia) use siamesed intake port (4-port) heads:


Album click to view

Album click to view
Inlet Butterflies
The butterflies are important for torque below 4500rpms:
If you are running after market ECU, and not programming the butterfly function in, then you may as well remove them.
If you are running a light flywheel and are only interested in power between 5000-8000rpm, then pulling out the butterflies is a good idea.
Carburetors
CA fitted with Bike Carbs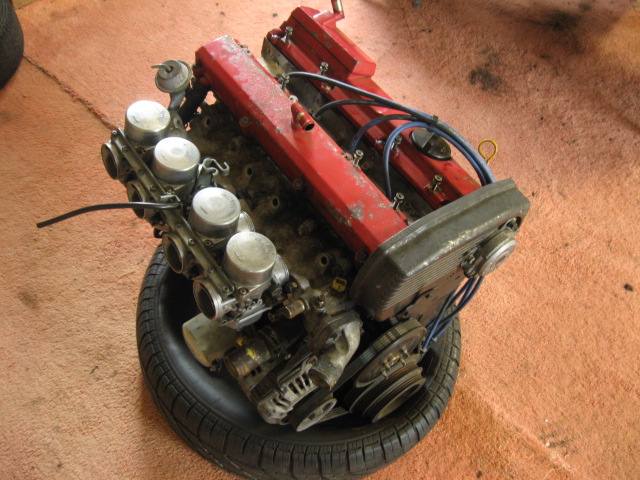 Album click to view
CA16DE retro-fitted with carburetors

Album click to view
Donor Vehicles
Japan
CA16
B12	CA16D
B12L	CA16D
KN13	CA16D
N13	CA16D
N13P	CA16D
910	CA16S
T11	CA16S
T12	CA16S
T12Y	CA16S
U11	CA16S
U12	CA16S

CA18DE
S13	CA18D
T12	CA18D
T12Y	CA18D
U12	CA18D

CA18DET
RWD
S12	SILVIA	8308-8805	CA18DT	8602-8805
S13	SILVIA	8805-9310	CA18DT	8805-9101
RS13	180SX	8903-9812	CA18DT	9803-9101

FWD/AWD 
T12	AUSTER	8510-8911	CA18DT	8510-
T12Y	STANZA	8608-8911	CA18DT	8608-
U11	BLUEBIRD 8310-9005	CA18DT	8508-
U12	BLUEBIRD 8709-9108	CA18DT	-8910

ALL S13/RS13 use Coil On Plug ignition
* CA18DE and CA18DT (turbo)
13287-51E00 ORNAMENT-ROCKER COVER CA18DT RS13
22433-5960 COIL ASSY-IGNITION MITSUBISHI
 <> 22433-59S10/22433-59S11/22433-59S12 HANJIN MCP-210

S12 & U11 CA18DET is distributorless
* uses 2-piece cover ornament
* 4 plug wires
* 4-terminal coil
* 22020-D4200 TRANSISTOR IGNITION UNIT Hitachi

Distributorless w/coil pack (not Coil on Plug)

Album click to view
CA18 SOHC
910	CA18E
R30	CA18E
S12	CA18E
T11	CA18E
U11	CA18E
C33	CA18I
R32	CA18I
T12	CA18I
T12Y	CA18I
U12	CA18I
C32	CA18P
910	CA18S
C31	CA18S
C32	CA18S
M10	CA18S
R30	CA18S
R31	CA18S
S12	CA18S
T11	CA18S
U11	CA18S

CA18 SOHC Turbo
GC22	CA18T
S12	CA18T
T12	CA18T
T12Y	CA18T
U11	CA18T

CA20
C22 8509-9403	CA20S	Vanette
GC22 8605-9303	CA20S	Vanette Largo
M10 Prairie	8208-8809	CA20S
M11 Prairie	8809-9811	CA20S
U11 Bluebird	8310-9005	CA20S

North America
Vehicles
* 1982-1986 T11 Stanza CA20S, CA20E
* 1985-1989 T12 Stanza CA20E
* 1985-1988 M10 Stanza Wagon CA20E
* 1984-1988 S12 Nissan 200SX SE CA20E 104 hp
* 1984-1986 S12 200SX XE CA18ET 116 hp
* 1987-1988 S12 200SX XE CA18ET Canada
* 1986-1987 KN13 Nissan Pulsar NX SE CA16DE 113 hp
* 1988-1989 KN13 Nissan Pulsar NX SE CA18DE 125 hp

American CA18DE - 1988-1989 Pulsar NX SE (N13)

WIKI go to Wikipedia
Engines
* CA16DE - 1986-1987 KN13 Nissan Pulsar NX SE 
* CA18DE - 1988-1989 KN13 Nissan Pulsar NX SE 
* CA18ET - 1984-1988 S12 200SX
* CA20S - 1982-1986 T11 Stanza
* CA20E 
  * 1982-1986 T11 Stanza
  * 1985-1989 T12 Stanza
  * 1985-1988 M10 Stanza Wagon
  * 1984-1988 Nissan 200SX XE

T11 Stanza 43mpg USA (FWD)
* NAPS-X dual-plug engine (TwinSpark/Eight Plug)
* CA20S (carbureted) 2-valve dual-plug
* CA20E EFI 2-valve dual-plug

T11 Stanza USA (FWD & 4WD)
* CA20E EFI 2-valve dual-plug (8 spark plugs)

M10 Stanza USA (FWD)
* CA20E EFI 2-valve dual-plug (8 spark plugs)

S12 USA 200SX SOHC 8-valve, Twin Plug
* FS5W71B transmission 5-speed 1083-0186 (31.5" length)
* FS5W71C transmission 5-speed 0186- (33.9" length)
  * CA20E (Coupe & Hatchback) 
    102 hp @ 5200 rpm, 116 ft.lb. @ 3200 rpm
  * CA18ET (Hatchback 3-dr only) 
    120 hp @ 5200 rpm, 134 ft.lb. @ 3200 rpm

KN13 Nissan Pulsar NX SE - DOHC
* 1986-1987 CA16DE (FWD) 16-valve, single plug
* 1988-1989 CA18DE (FWD) 16-valve, single plug

Intake Gasket
14035-D5710 GASKET-MANIFOLD
14035-D5711 GASKET-MANIFOLD [JDM/USA 8-port CA16DE/CA18DE/CA18DET]
14035-D5720 GASKET-MANIFOLD [Europe 4-port siamesed ports, CA18DE/CA18DET]
Engine Fitting
Choose a Transmission, gearbox crossmembers, speedo drive
Engine Fitting, Flywheel & Engine Plate
Sump & Crossmember
Fuel Line, Pumps and Tank
Wiring, Alternator & Ignitor
MAF Sensor
Preparing the Engine before Installation
Piping/Hose Connections, Heater Hoses & Crankcase Ventilation
Upgrading the CA engine 17.1 Injectors
Turbo Choice
Camshafts & Lifters
B210 Swap Notes
Differential
Clutch & Flywheel

Feature Cars
1200U Gold Coast charger

Album click to view
Bezman sedan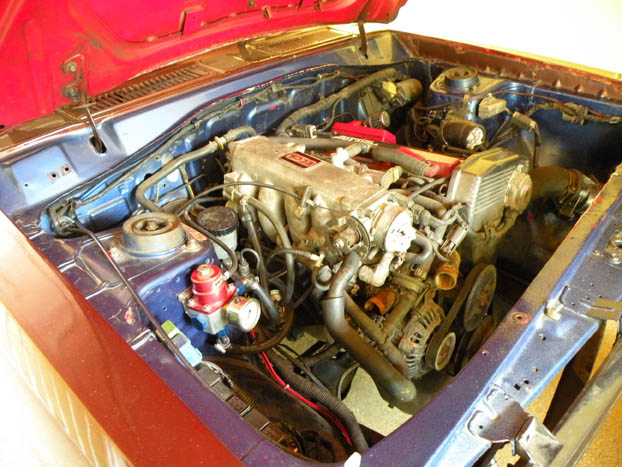 Demojob coupe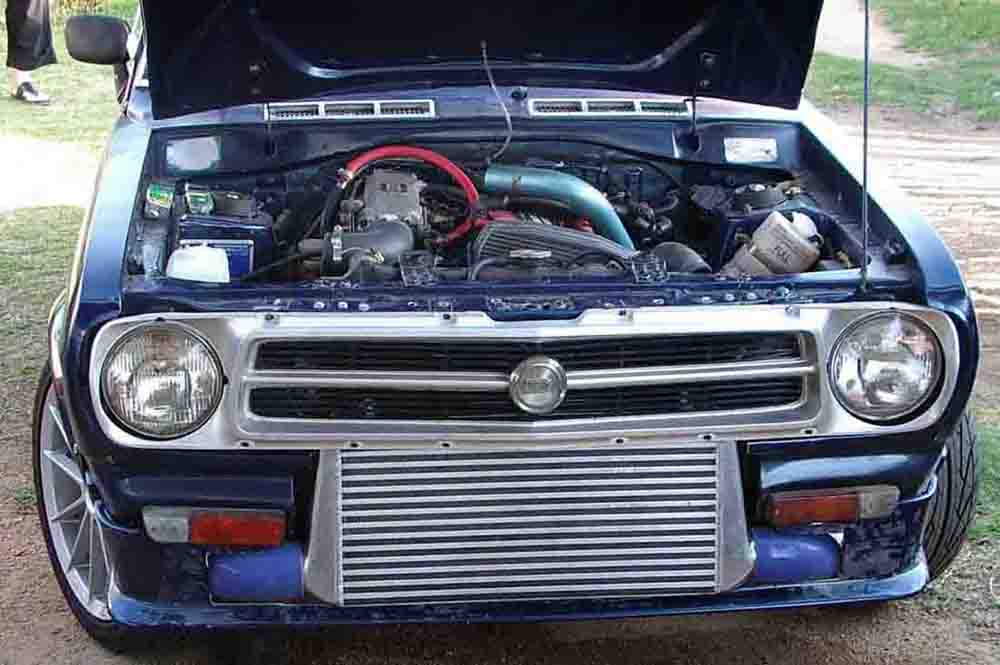 Datwag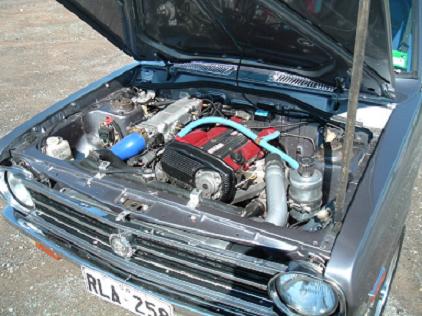 Album click to view
elrich11 ute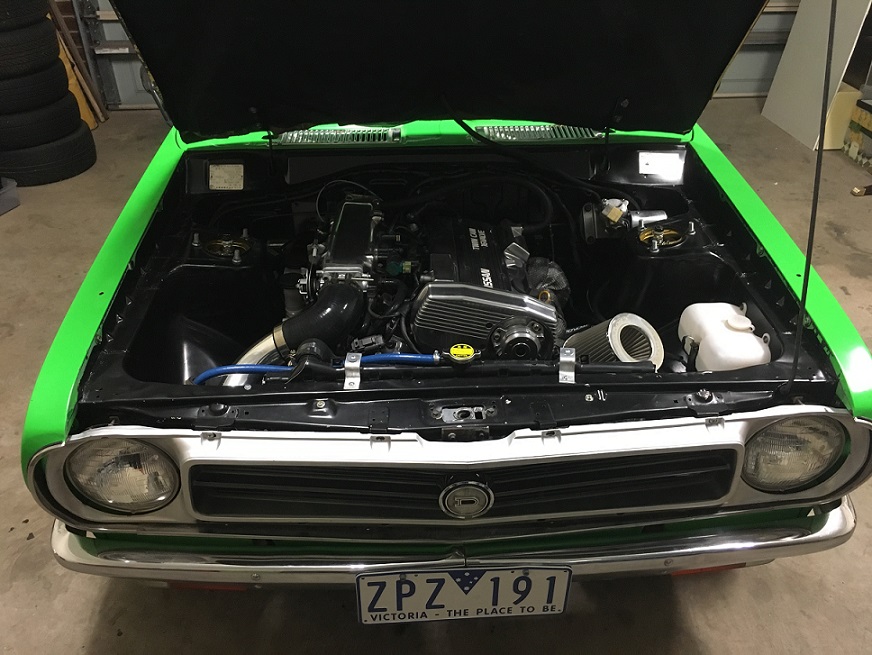 jack's ute

MAD60Y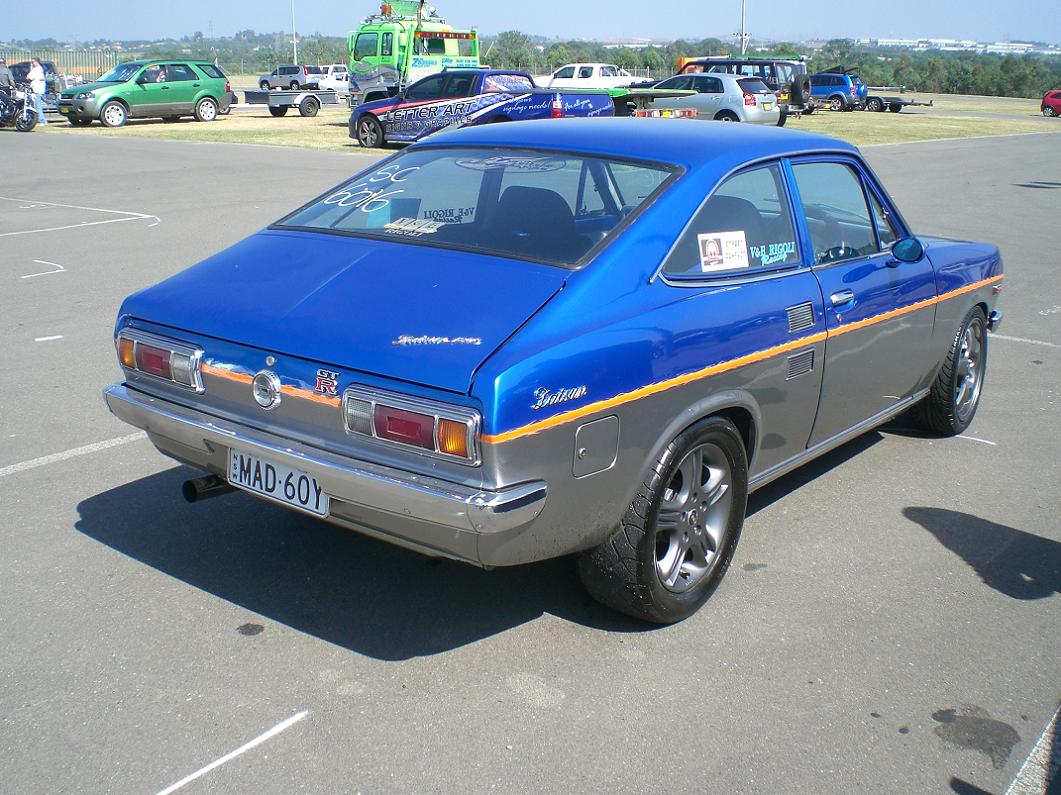 Album click to view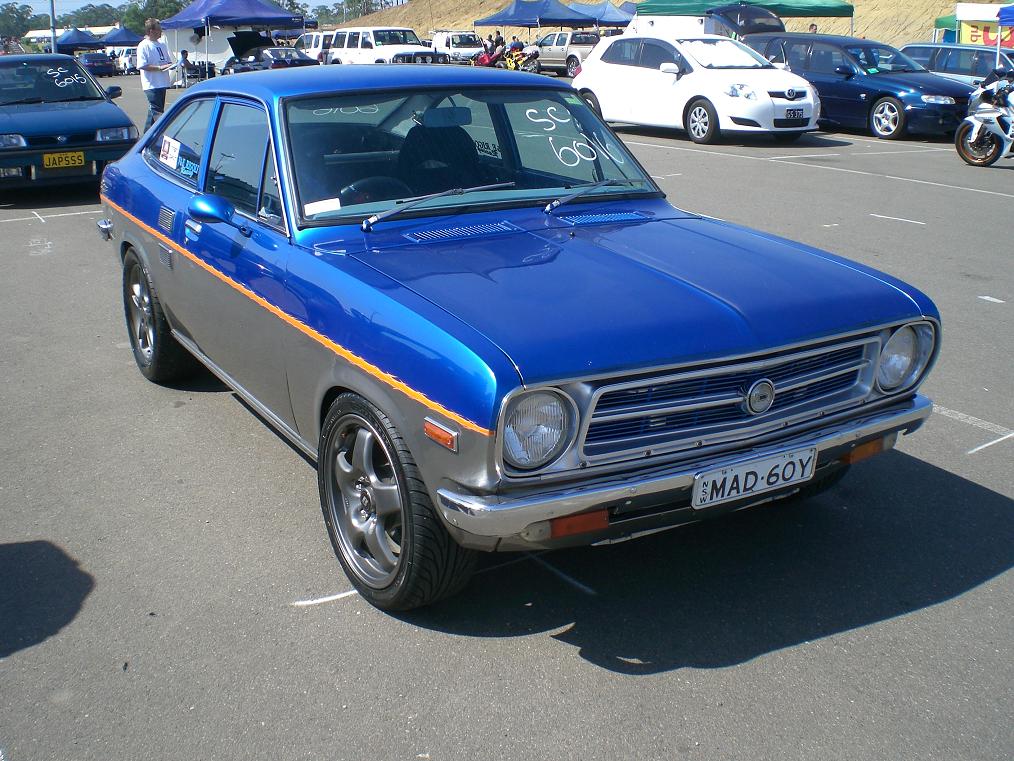 Album click to view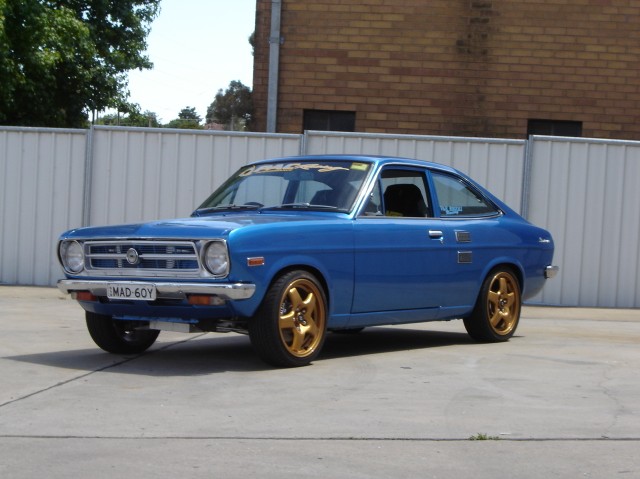 Album click to view
Album click to view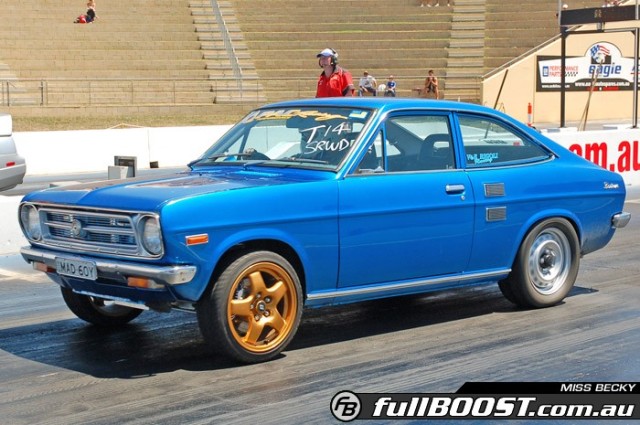 Album click to view
Mrbarista ute

NO1200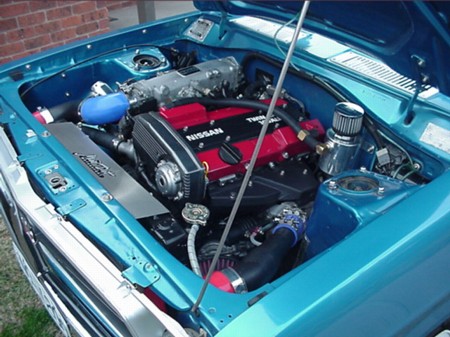 NYS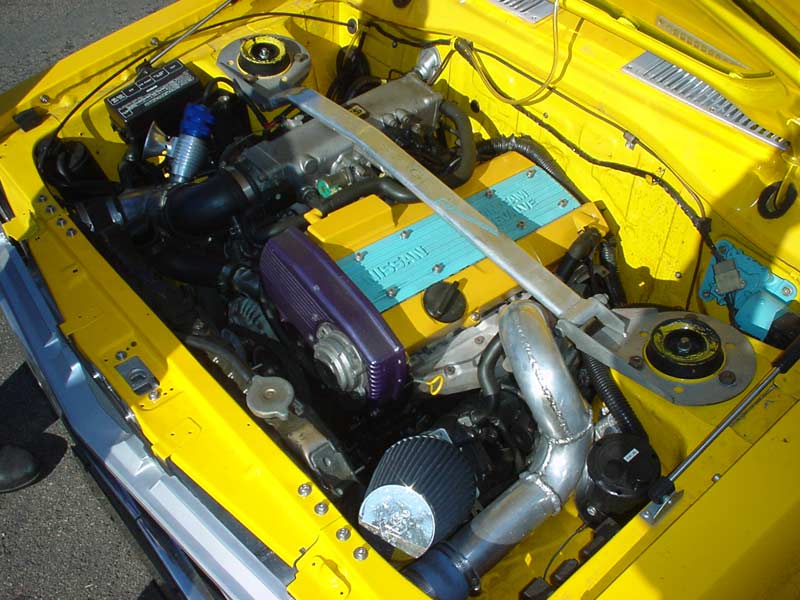 Album click to view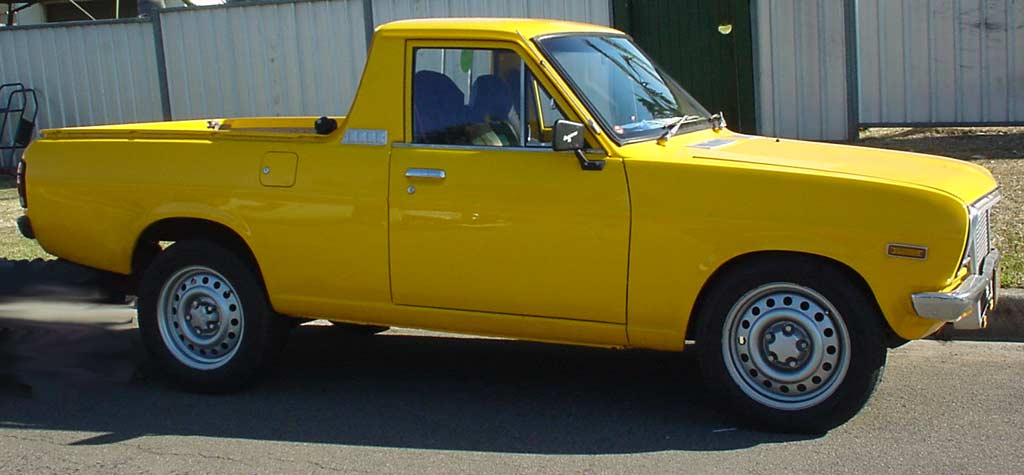 Album click to view
Album click to view
Winzie

Album click to view
Photo Index
See Main Article: CA18 Photo Index 

¤