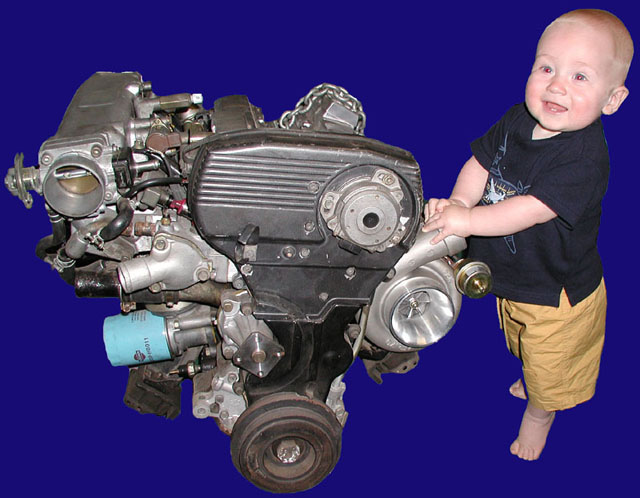 Album click to view
<- Back to CA-Series Engine Swaps
Choose a Transmission
Silvia 5-speed is type FS571C

Album click to view
CA16 uses a smaller clutch & gearbox. E16 & GA16 use a different bell, but same transmission series
CA18 & CA20 use a factory adapter plate & larger transmission
CA18DE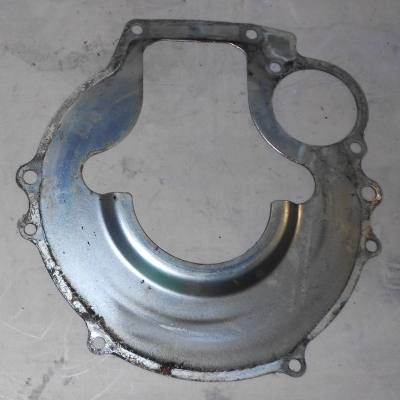 NOTE: RWD & FWD engine blocks are the same for the CA engine family.
You can use the typical CA18 gearbox, but it is longer than a Datsun 1200 gearbox, so the shifter comes up about 4 inches aft of normal.
See Stumpy for a 71-series gearbox that fits in Datsun 1200

See 71#Swap Notes for more details and options

---

POST feral: The CA18DE and DET's use 71B boxes. Very late DET's in S12's use the 71C box same as SR20's. Box type is easily identifiable from the number cast into the casing.

The main difference between 71B and 71C that has implications for front casing swaps is the bearing diameters and shift rail diameters.

In the 71C boxes the front bearings are bigger and the rails are larger as well.
910 5-Speed
Series 3 Bluebird (910) CA20E/CA20 5 Speed - This is a straight fit for a CA18DE, and for stock power applications is a cheap alternative. Especially if you can find a low milage example.
Gearbox crossmembers
See main article: 71-series Transmission#Crossmember

Speedometer
Album click to view
The 71-series gearbox speedometer drive works with the 1200 speedometer cable. If you need a longer cable, the Datsun 810 (200B) cable fits.
If the gearbox has an electronic sender for electronic speedometer, you can unbolt it and bolt in cable drive: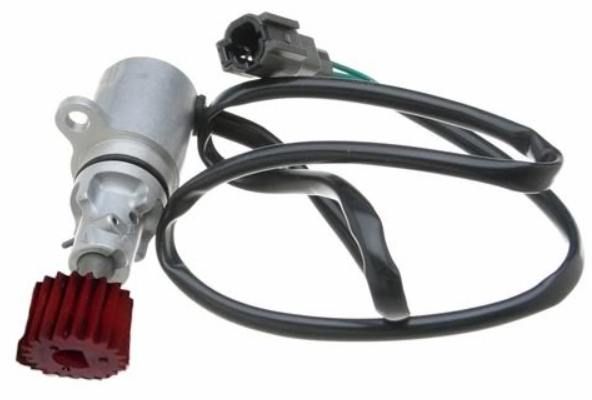 Cable drive (obtain from any 71C gearbox)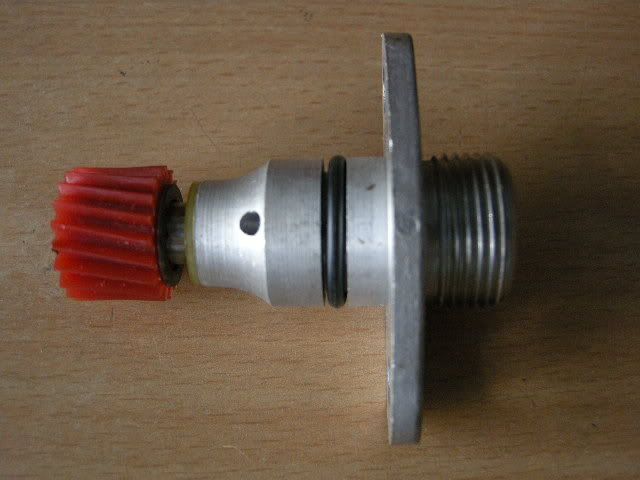 Silvia engines do not need the electronic speedometer signal. If it is installed, it can be used for overrun fuel-cut (increased fuel economy) plus the Silvia gauge cluster can be fitted to the 1200 dash.
See Main Article: Electronic Speedometer

Engine Fitting
Any motor mount that is made for the KA24DE motor can be used on the CA18DET. If using the Nismo mounts your motor may sit slightly higher than stock but it will fit.
20mm back of the head to the firewall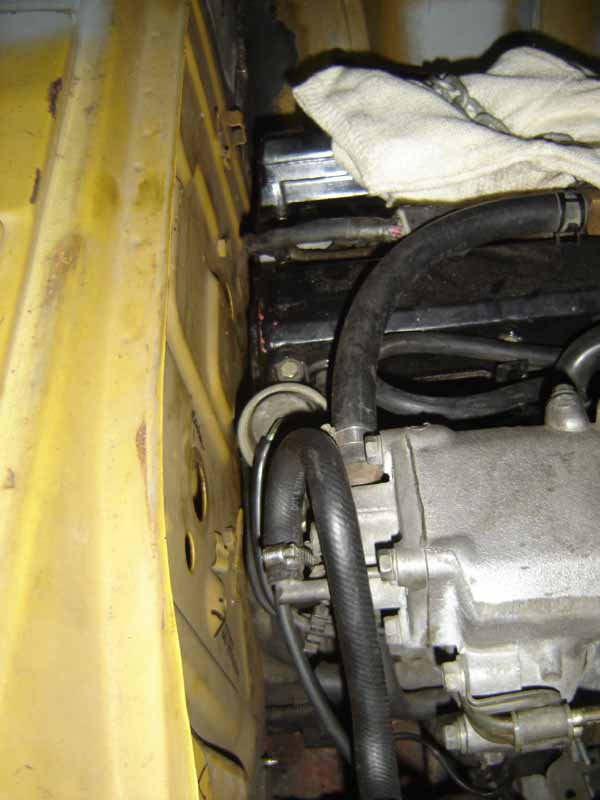 Album click to view
Album click to view
The radiator support does not need to be cut but is sometimes done to make engine hoisting easier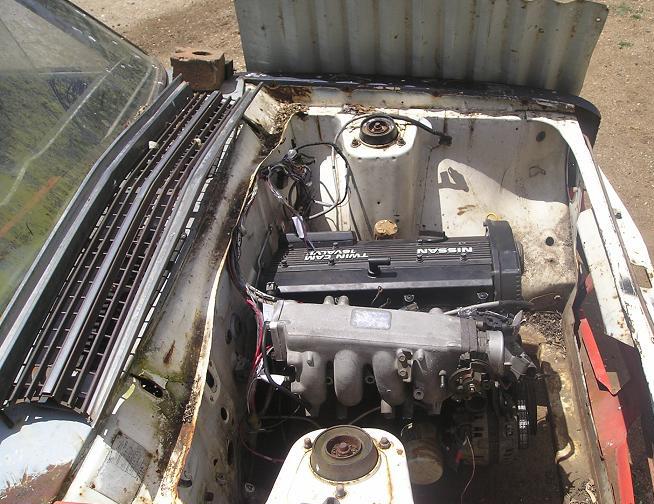 Album click to view
Album click to view
Flywheel
CA18/CA18DET uses a 6-bolt crankshaft. CA20 uses an 8-bolt crankshaft
See #Clutch & Flywheel

Engine Plate
rear engine plate or adapter plate
11251 PLATE-ENGINE,REAR
30411-W4401 MT <> 30411-W4403
* 910 8210-8310
* C31 8210-8412
* C32 8410-8412
* R30 8210-8412
* S12 8308-8412

30411-V5500 MT
* S13/RS13
* C22 8509-9106
* GC22 8605-
* C32 8412-
* C33
* R30 8412-
* R31
* R32
* S12 8412-

Sump
Front-sump oil pans from the Nissan S13 Silvia fit the stock 1200 engine bay crossmember location.
Possibly the Nissan factory winged sump may also fit.

Album click to view
Crossmember
Will 1200 crossmember modified for L-series work with CA18?
1200 crossmember modified for CA:

Post click for topic
Album click to view
Album click to view
Album click to view
Album click to view
Album click to view
Album click to view
Album click to view
Album click to view
Insulator

Album click to view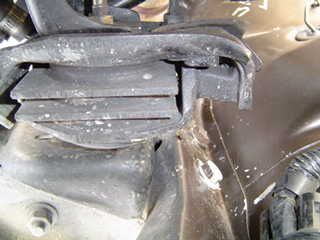 Album click to view
Album click to view
Album click to view
Album click to view
Mad Dat Kit
Maddat CA crossmember for 1200 - Product No - FKCA1200 CA18/1200 Fitting Kit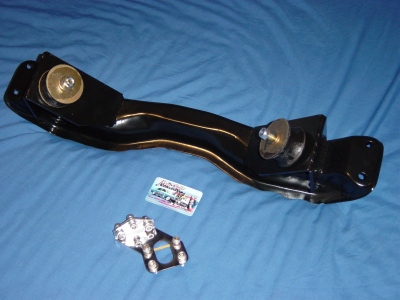 Album click to view
Post click for topic
Engine xmember has new platforms fitted & engine rubber mounts supplied. Gearbox xmember is a universal design that can be used with CA, R30 stumpy or Gazelle gearbox. For utes use the Stumpy R30 box with CA bellhousing fitted. For all fitments the standard gearbox mounts in the trans tunnel need to be removed and minor clearancing around the bellhousing is required. We recommend the fitment of our custom trans tunnel when doing this conversion, it allows much easier removal of the gearbox from under the car.
Album click to view
Post click for topic
Post click for topic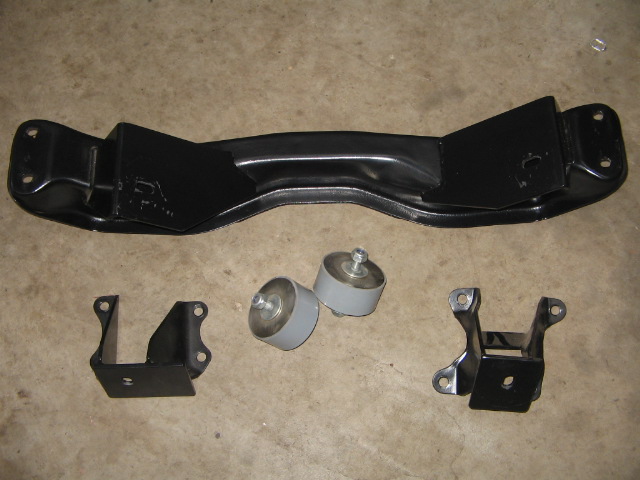 Post click for topic
Turbo
Also See: Turbo#Intercooler

Album click to view
Album click to view
Album click to view
Album click to view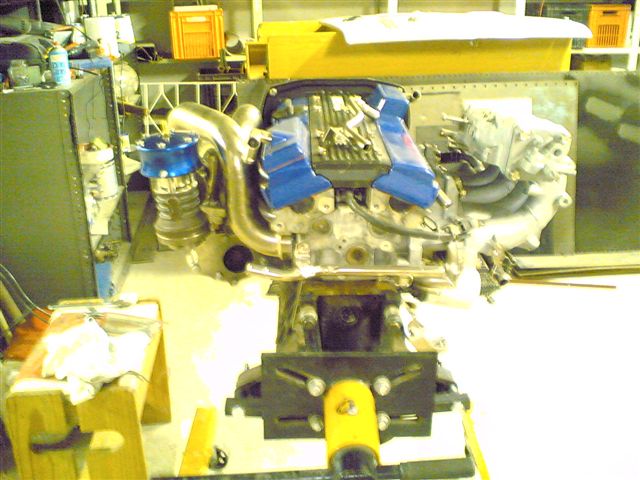 Album click to view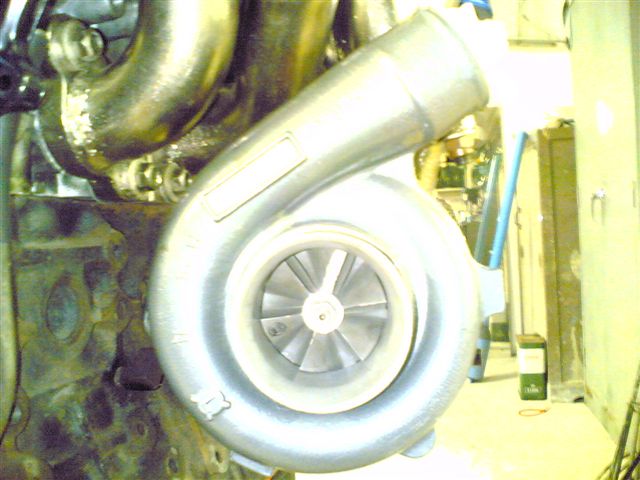 Album click to view
Album click to view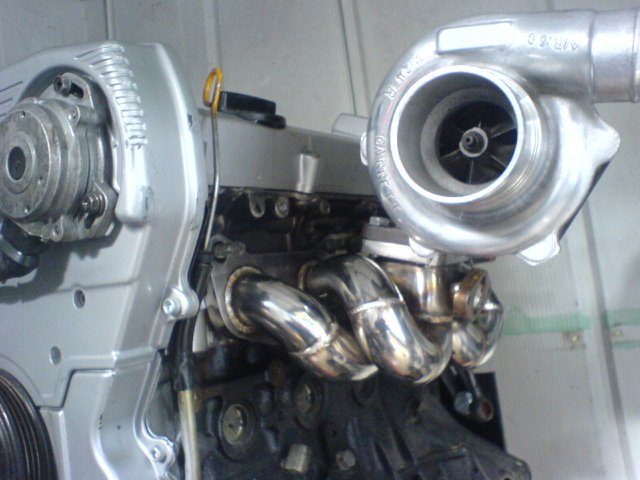 Album click to view
Album click to view
Album click to view
Album click to view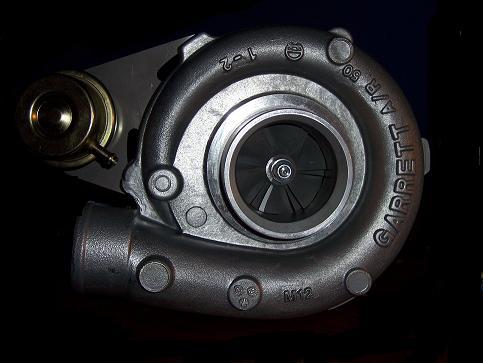 Album click to view
Fuel Line, Pumps and Tank
Album click to view
Use high flow rated Bosch EFI pumps, Walbro pumps (watch out for the Ebay fakes).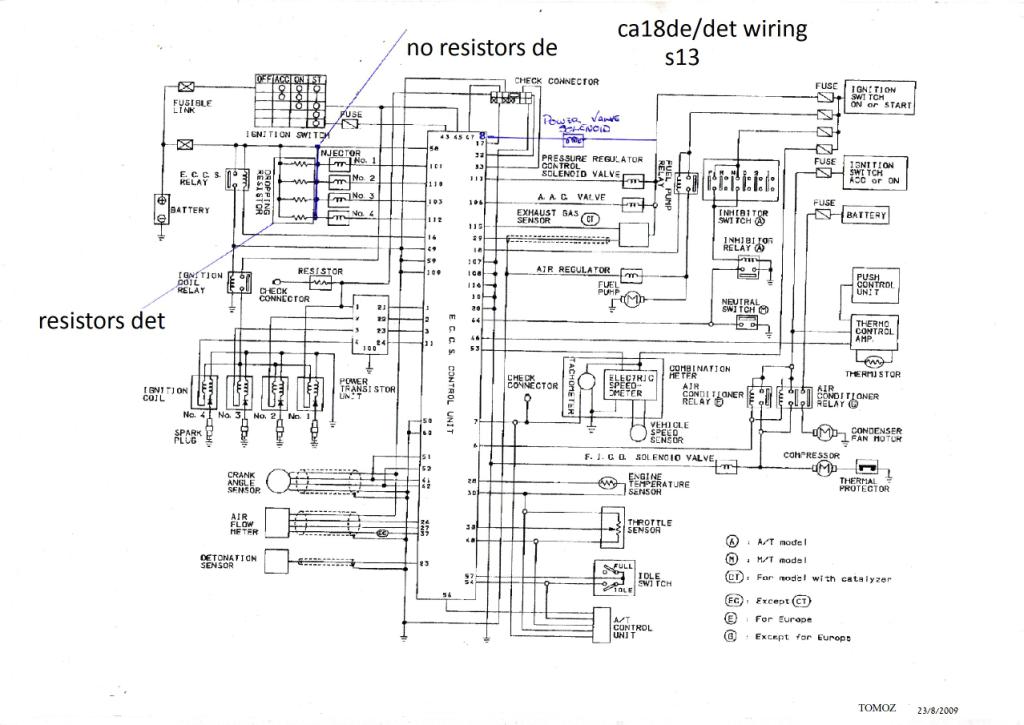 Post click for topic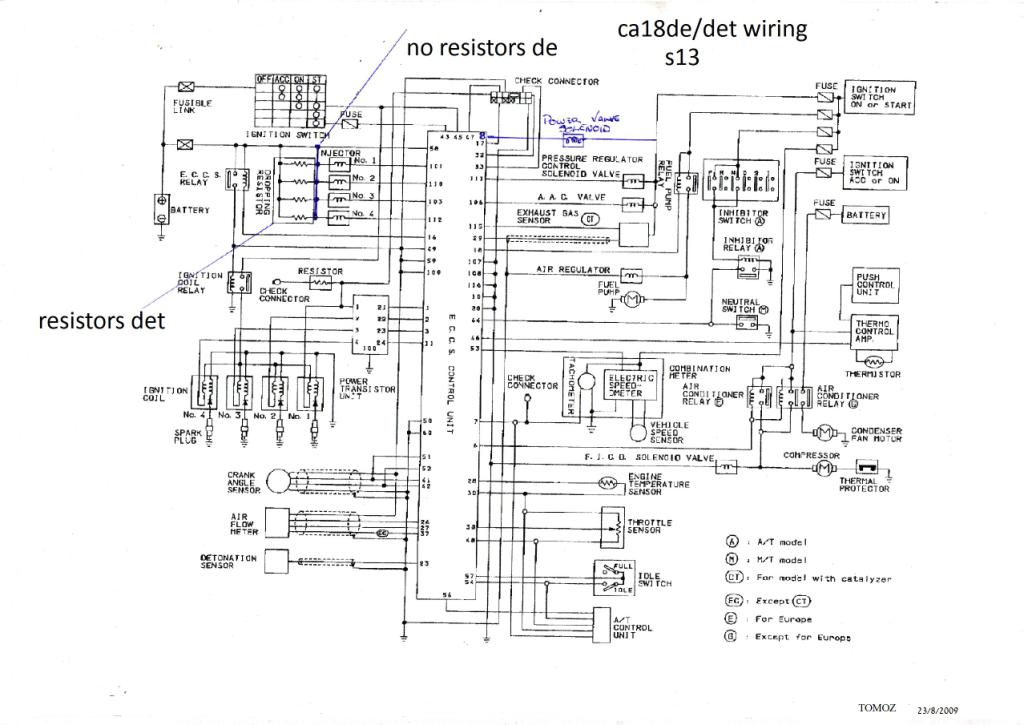 Post click for topic
Post click for topic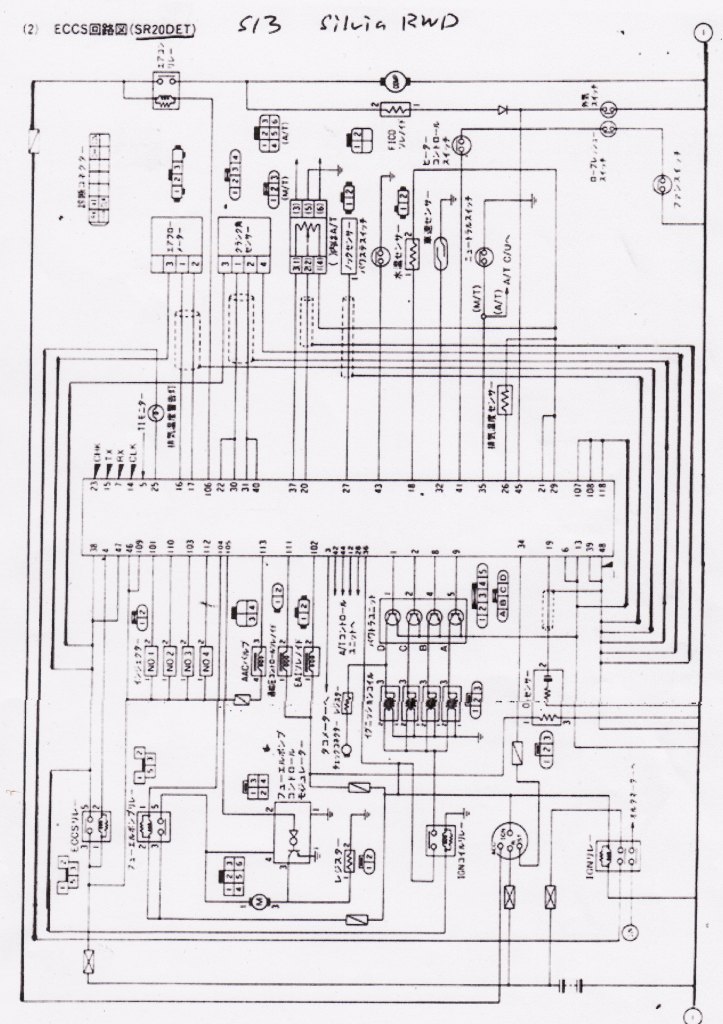 Post click for topic
Vacuum Diagram

Post click for topic
Wiring
See main article: EFI Wiring

Also see: POST ca18de/det wiring info & discussion

There's only a half dozen wires out of the S13 harness that need to be connected to the 1200 harness.
quote: The ignition wires are pulled out of the 1200 loom. The alternator loom is modified to suit the CA18's alternator. The CA18DE/T looms require start signal, ignition, 12V constant. That's it...

I like to wire up CA18's by starting with connectors and sensors that you are going to use. Don't wire what you aren't going to use!! eg. Aircon, Test Connectors, Wires going to the Dash, Automatic Transmission Computer, Climate Control etc. It's all hundreds of meters of useless wire. Label all of the things below with masking tape, and then pull all of the wrapping tape off the loom.

Crank Angle Sensor
Oxygen (02) Sensor
AFM [MAF]
Injectors
Coil Packs
Temperature
FICD
AAC
Knock Sensor
Boost Control
Power Valve
Alternator
Throttle Position Sensor


Rip out all of the connectors that are either taped up or go nowhere. For installation in a 1200. You'll need to cut about a metre out of engine bay to computer wires, measure twice and cut once.

I like to use all of the 1200 loom to supply the power to the CA loom. The CA Loom sorts itself out.
Alternator
See Main Article: EFI Wiring#Alternator

Ignitor
See main article: COP#Ignitor Module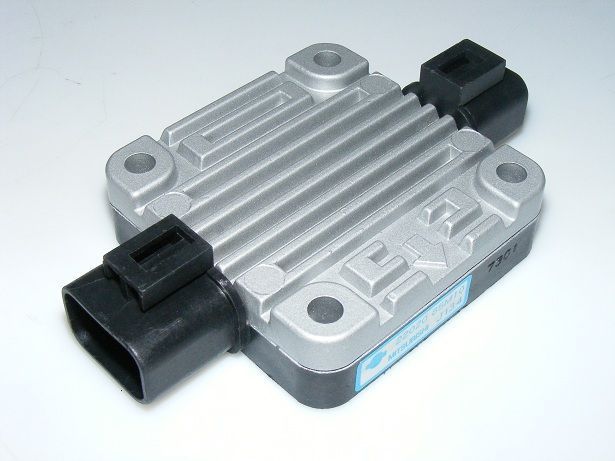 MAF Sensor
Mass Air Flow (MAF) sensor on an S13 connects to the air cleaner.
Swap into 1200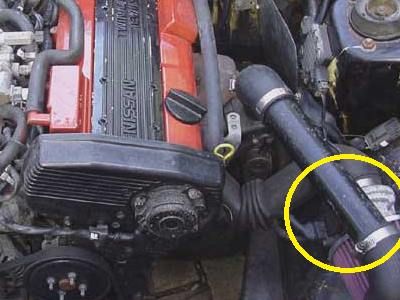 MAF sensor
22680-58A10 JP.S13.CA18DET 4-pin
22680-61A01 ZA.CA18DET 200SX
22680-D6000 UK.CA18DET 200SX 3-pin

No MAF is needed if using an ECU that is capable of speed-density calculations (e.g. MegaSquirt). It can use either the MAF sensor, or it can do calculations based on MAP and TPS inputs and correct for temperature to calculate the air mass.
Preparing the Engine before Installation
For a second hand CA18det, these are some pre-install activities:
Get engine block water/oil galleries cleaned out professionally.
Get radiator professionally cleaned and pressure tested.
Remove MAFM and clean the hotwire on the Mass Air Flow Meter. Use carby cleaner and cotton bud.
Make sure MAFM is not clogged with oil from sitting upside down in a container.
Remove and clean out the idle control unit on side of plenum. Use Carby Cleaner.
Remove and clean the cold idle valve underneath throttlebody. Use Carby Cleaner
Remove and clean the CAM covers, soak them in Kero for 30-60mins to clean out the oil strainers.
Remove/Clean and reseal the cam cover rubber seals.
Check head bolt torque settings.
Remove and clean the Throttle body. Use Carby cleaner. Make sure that the shaft bearings aren't worn.
Clean out intake side crank breathers. They can be full of crystalline carbon crap, causing high rev oil retention in head.
Timing belt tensioner bearings. Can be ordered from Nissan (expensive) or can press the bearings out of holders and order bearings from Bearing supplier using the numbers on bearing oil seal. Then repress the bearings into the Nissan holders.
Front Camshaft lip seals ($15 for both), Half moon seals at back of cam covers ($20 for both).
Breather hoses on intake side can go hard and split, causing oil leaks. If they are hard, try to replace them with silicon hose, or landcruiser heater hose (but be prepared to replace them every 2 years).
Check water hoses used to heat plenum on front and back of plenum. Remove them if in above zero deg C climate.
Be sure to install the plenum rear plate gasket with the locating hole oriented to the top of the plenum. It will start leaking within a couple of days if the hole is on the bottom.
Check compression on all 4 cylinders (fuel/ignition disabled), should be within 10psi, and all over 170psi.
If one cylinder has less compression, remove plug, add a tablespoon of oil, and recheck, if it goes up, it's rings. Otherwise headgasket or scored bore.
Try to use factory waterpump, some aftermarket ones aren't real good. Mine had it's pulley/fan holes drilled off centre.
Always use Nissan thermostat. Cheap ones (Ryco) from K-mart aren't good enough.
Buy NGK platinums from Nissan at $18-20 each. They are fine up to 20 PSI boost, unless you have a bad tune which melts them...
Piping/Hose Connections
CA18/CA18DET
See:
* POST What goes where?
* POST The CA18DE & DET Q&A Thread

Heater Hoses
In the Silvia, the CA18DE hoses across the back of the head are the heater hoses (goes to the firewall and into the heater core). In a 1200 the hoses may be changed from this routing.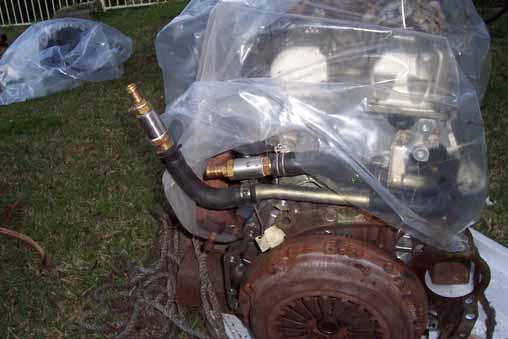 Album click to view
One heater hose loops back and connect to the rear side of block
The other connects to the heater pipe fastened along the side of the engine

Post click for topic
Heater outlet at rear of block (#1 in photo). The nipple may be double-outlet or single nipple. If a heater is not desired, cap the nipple (or remove and install a plug).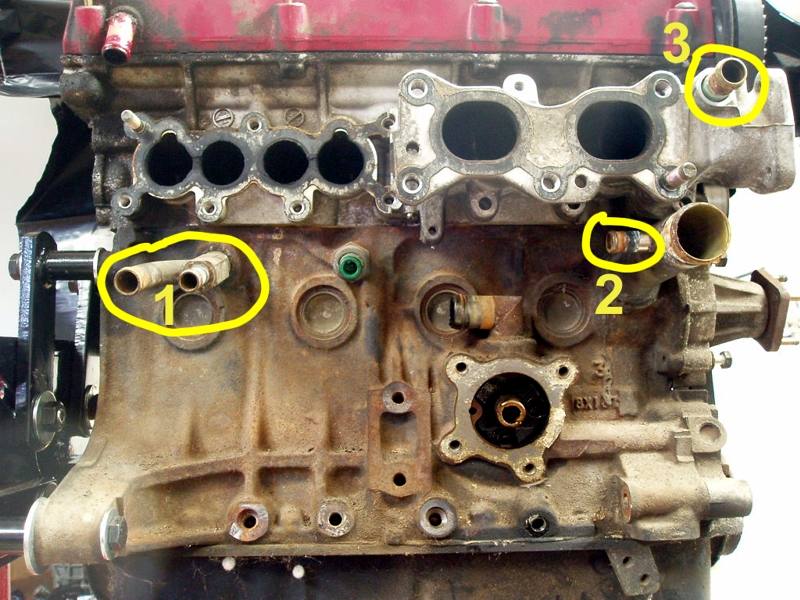 Post click for topic
Crankcase Ventilation
CA18 engines use a PCV system to control engine fumes. This may be replaced by an Oil Catch Can for racing purposes.
PCV Valve (screws into manifold plenum) and top breather hoses

Post click for topic
CA18DE block breather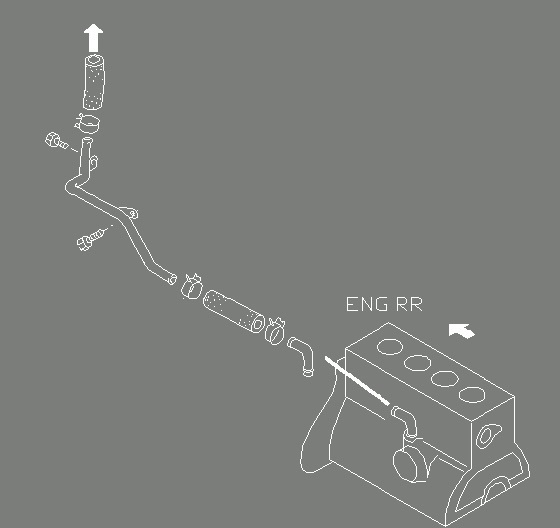 Post click for topic
The CA18DE block breather nipple is just above the oil filter. The short length of hose to the pipe is missing in the photo

Post click for topic
The block breather connects to the left side cam cover

Post click for topic
Upgrading the CA engine
Lighter block girdle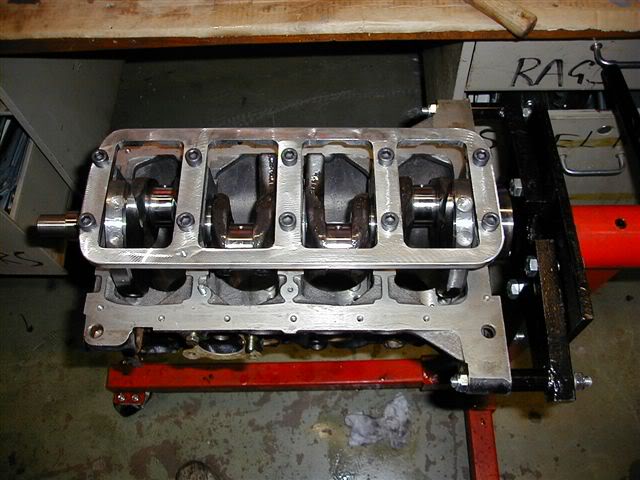 Album click to view
Injectors
Injector changes almost certain require a tune change, which needs either an aftermarket ECU, or a chip to be modified/burned and inserted into a modified factory ECU.
General recommendations for high powered CA18s require 440cc to 700c injectors to be used.
Stock injectors are yellow top OR green top (330cc vs 370 cc ???)
See Injectors

Add a second bank of injectors for drag racing

Album click to view
Turbo Choice
Sensible Street -> T28G, GT28 (s15 jdm), GT2810 -> GT2835. Drag Racing -> GT2840, Various large T3, HKS, Trust or GReddy offerrings.
Camshafts
Tomei offer: Hydraulic -> 256 deg to 270 deg duration at a nominal lift of 8.8mm Solid -> 264deg to 270 deg duration with 9.25 or 10.25 lift. Requires solid lifters and shims.
HKS: All discontinued, and no longer available new.
CAMSHAFT ASSY, INTAKE 13001/13020
13020-D4202 CA18DET
* U11,U12.(A+SSSAL.MT+K)
* S12
* T12, T12Y.CA18DT
13020-55W00 CA18D, CA18DT
* U12.SSSR
* T12Y.CA18D
13020-35F00 CA18DE, CA18DET
* S13, RS13
13020-1E000 CA18DET
* RS13
* U13

CAMSHAFT ASSY, EXHAUST 13020/13020M
13020-55W11 CAMSHAFT ASSY, EXHAUST CA18DE
* S13
* U12.(CA18D+CA18DET.SSSR)
* T12Y.CA18D
13020-D4211 CAMSHAFT ASSY, EXHAUST CA18DET
* S12, S13, RS13
* U11, U12.CA18DT.(SSSAL.MT+K.MT+AT)
* T12, T12Y.CA18DT

Lifters
CA18DE uses hydraulic bucket lifters 
SR20DE uses valve rockers & rocker Pivots with shims over the valve stems

Hydraulic Camshafts use the stock hydraulic lifters.

13231-79S00 LIFTER-VALVE <> 13231-58S12 <> 13231-59S00
* CA18DE,CA18DET
* Z32.(VG30DE+VG30DETT)
* KN13.(CA16DE+CA18DE)


Solid Lifters are used with Solid Lifter Camshafts, and allow for higher lift cams to be used.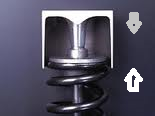 Requires: 
* solid profile camshafts
* adjustable pullies
* solid lifters
* heavy duty springs 
* shims, ground to fit
* head modified to clear the high-lift lobes clear 

Commonly used Solid lifters (bucket-over-shim):
* Toyota 1ZZ
* Aftermarket for Nissan VG30DE/VG30DETT, RB, VG, VQ)
  Z32 Nissan 300ZX 0289-0896
  13231-79S00
* Tomei lifter kit $400 usd

B210 Swap Notes
The B210 is about 40mm wider than a B110, so crossmembers from Datsun 510/610/710 and A10/B310 fit -- more or less.
See slider@ratsun's build thread at Ratsun.net
You can use an S13 engine crossmember. It bolts right to the B210 chassis with minor slotting of the holes. Use the S13 front suspension too crossmember, arms, struts and brakes with 120Y springs. S13 swaybar does not fit with the width.
Crossmember had to be hammered in at the red circles in the picture to clear, and rearbolt-holes had to be moved 3mm each side.
NOTE: Track width is increased very much
120Y castor arms used. Just drill one or two new holes in the control arms. Basicly bolt-on.
Differential
For information on choosing a rear axle, see Rear Axle Swaps. The Datsun 1200 ute assembly is recommended for stock-power CA18DET. More torque than that calls for stronger diffs.
Clutch & Flywheel
NOTE:

CA16 uses a smaller clutch than CA18
CA18/CA18DET uses a 6-bolt crankshaft. CA20 uses an 8-bolt crankshaft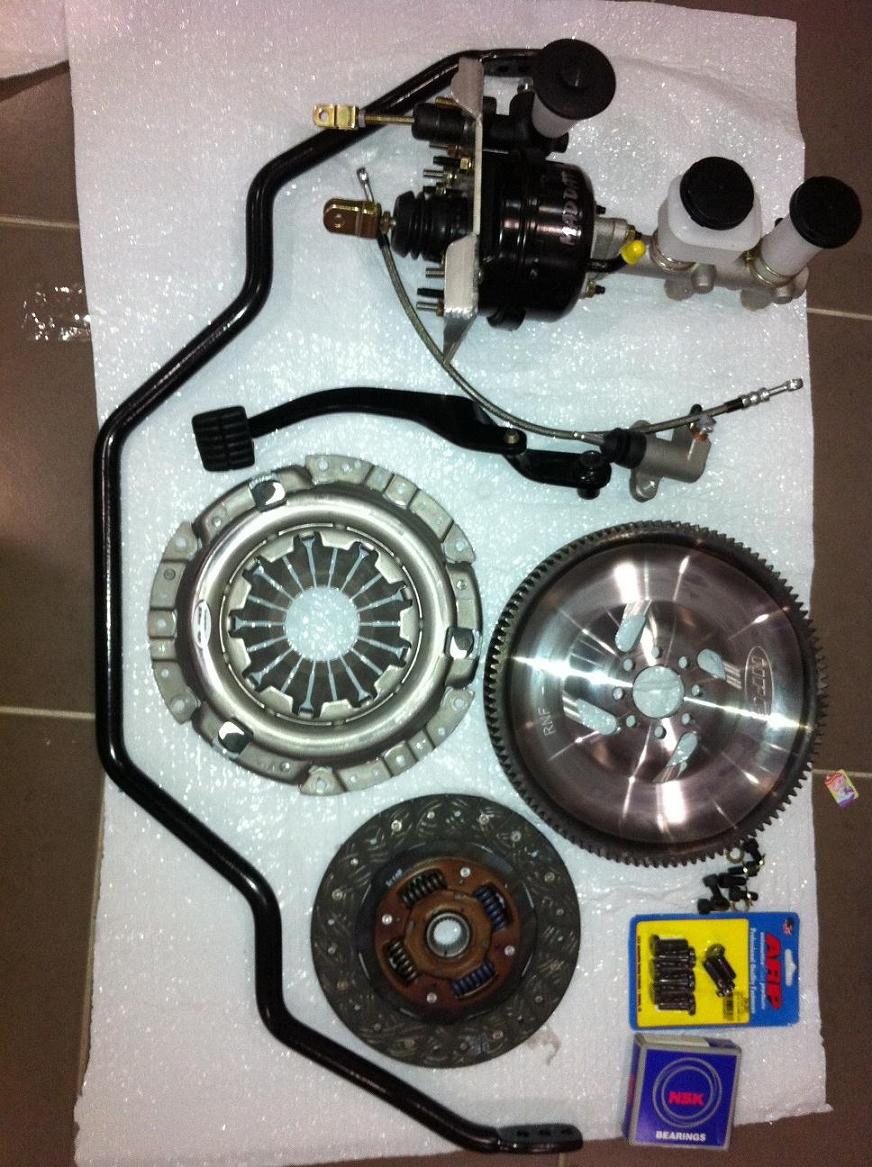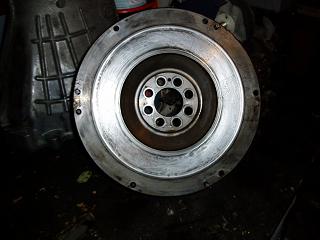 ¤