Instruments and Controls is a section in the Datsun 1200 Owners manual.
Overview
* Seat Belt Warning System (North America models)
* Speedometer
* Tachometer (OPTIONAL sedan/coupe)

Water Temperature Gauge
"H" is past the large middle range (way over to right-side -- the H area).
Also see:
* Thermostat
* Temperature Gauge

Fuel Gauge
The fuel gauge is part of the Cluster Gauge

Also see: Fuel Sender

Indicator/Warning Lights
Also see: Wiring

Ignition Warning Light
Oil Pressure Warning Light
Headlight Beam Indicator Light
Brake System Warning Light
Turn Signal Indicator Lights
Switches
Also see: Wiring

Ignition Switch
Also see: 
* Keys
* Locks
* Ignition Switch

No mention is made of what the OFF position is for. Presumably its use is the same as the "GARAGE" position.
Notice that the standard 3-position type does not have an "ACC" position.

Album click to view
5-position switch vs 4-position switch:

Album click to view
Note addition of ACC position, which power Radio & Rear Defroster
Portugal market:

Interruptor de ignićāo [Ignition switch]
Desligado [OFF]
Ligado    [ON]
Arranque  [START]

Light Switches
Also see: Lighting Switch

Light Switch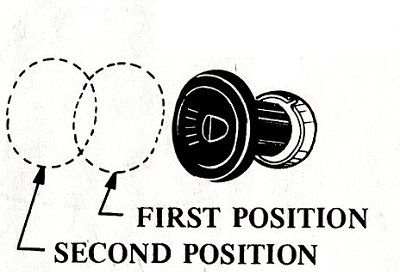 The key takeaway here is that:
Knob in the 1st Position, NO HEADLIGHTS for US models
Knob in the 1st Position, LOW BEAMS work for other countries, including Japan-market

(Australia only)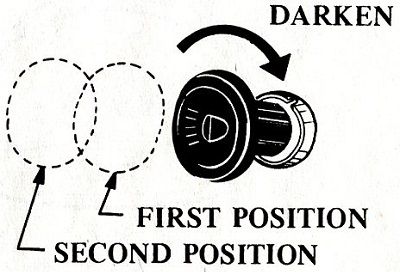 Turn Signal Switch and High Beam Switch Lever
Hazard Warning Switch
See main article: Hazards

Wiper and Washer Switch
Also see:
* Wipers
* Washer

Horn
Also see: Horn

Parking Brake Lever
Also See: Hand Brake

Heat Glass Switch
Heated rear (defrostable) window was Optional equipment.
¤