Datsun model series B210 was the third-generation Sunny. They were sold during Model years 1974-1978 and marketed in various countries as the Datsun B-210 or Datsun Sunny. In some countries it was designated Datsun 120Y or Datsun 140Y, depending on the engine fitted. The B210 was designed to be more luxurious than the spartan B110, so it has a 40mm longer Wheelbase with some models considerably heavier than the original Datsun 1200.
Overview
It is common to confuse the "Datsun B-210" (B210) with the "Datsun 210" (B310), but they are different generations altogether, sold during different years. For more details and how the Sunny family developed, see History of Datsun 1200.
full
Brochure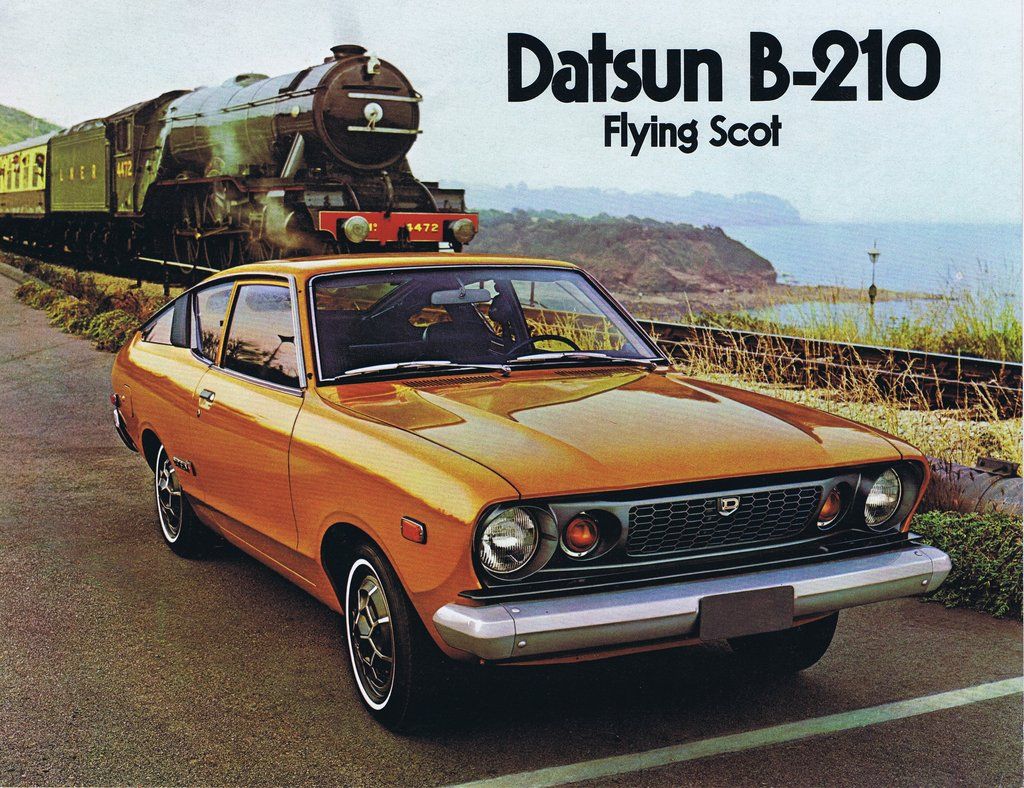 Brochure
Brochure
Brochure
Variations
Model Prefix
* B210 - base engine (A12)
* HB210 - High grade engine (A14) USA with heavy-duty suspension (13" wheels)
* HB211 - High grade engine (A14) JDM with light-duty suspension (12" wheels)
* PB210 - Excellent 1400, separate model line for 1974-1975 with L-series engine
* GB211 - Excellent 1600 (L16) from 1976 February

Prefix & Suffix Codes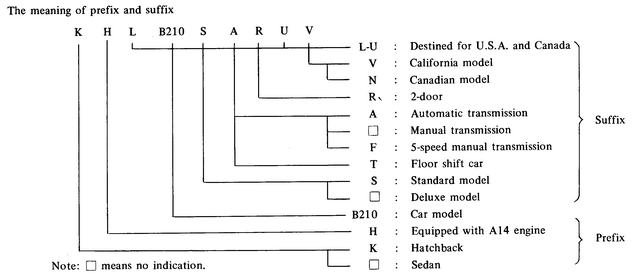 album
ID Plates
Chassis Identification under-hood plates
B210 Australia-assembled ADR plate


B210 USA-market 1400


B210 Japan-market "Sunny 1200"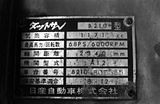 B210 South Africa "140Y"

B211 Japan-market "Sunny 1400" (A14)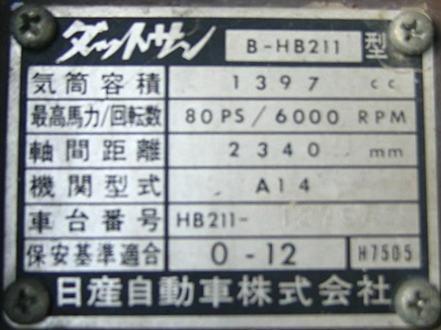 album
H72 = 1975 B210 with A14 engine (Applied Model Codes)

78HP A14 (H73) 1977 5-speed coupe with electronic ignition (non-California)

full
1974 Canada with A13 engine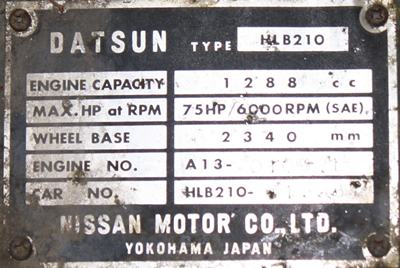 album


Models
Truck: the 120Y Truck is actually a 1200 Truck, not a B210-based model

See B120 bakkie

VB210 Panel Wagon (some countries) -- not offered in Japan
Series
B210 could be divided into two series.
EARLY (1974-1975 models)
* small suspension & brakes
* non-chrome (black or gray) bumpers (USA)

LATE (1976-1978 models)
* larger suspension & brakes
* blackout tail panel
* chrome bumpers (USA)
* New Grille with a clearly rectangular center section

Early Sedan Grille: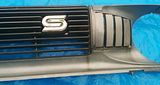 Early Coupe Grille (also used by USA Sedans):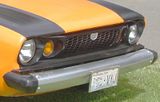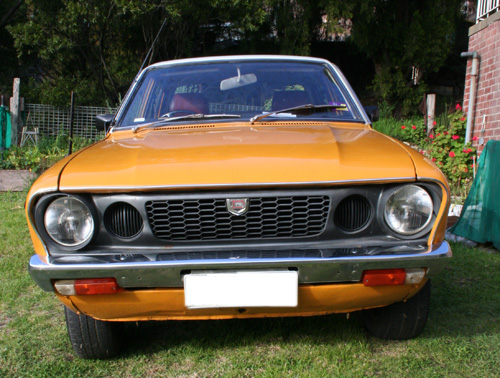 Late Sedan grille (also used by USA coupes)


Trim
* Standard - least expensive model
* Semi-Deluxe - for Vans
* Deluxe - upgraded model
* Super-Deluxe - for Vans
* GL (Grand Luxe) - luxury model
* GX (Grand Luxe special), available as 4-dr or Coupe
  * JDM: Highest trim level
    * Some GX models had the A12T or A14T twin-carb engine
    * Other GX models had the A12S or A14S single-carb engine
  * USA: GX models had a standard A14S (single-carb engine)

120Y GX Malaysia

Common rectangular-gauge dash (GL Sedan pictured):


High-line round-gauge dash (JDM Coupes DX/GL/GX and GX Sedan):


USA
Early 5-speed coupes were DX models. For 1978 both a DX and a GX coupe was sold both badged "B210GX" in USA.
GX was the highest trim level, included more gauges and carpet.
STD Standard rubber mat 2drs 1975.5 up
* includes Honeybee
DX Deluxe most USA B210s
GL Grand Luxe - not sold in USA
GX some coupes from Dec 1976

Design
The B210 was the third-generation Sunny, replacing the B110. The theme for the B210 re-design included:
improvement "to be more likeable and satisfactory to a greater number of people".
Exterior design: style of "Streamline and a Cut" with "Young and Dynamic" image -- instead of the "rational" styling of the B110. "Sharp and Soft" atmosphere, "Long-nosed proportion" (long wheelbase?), and "Streamed and Dynamic" style.
Interior design: "Oval Scoop Cockpit"

Increased driver roominess. Front compartment larger, rear compartment smaller

Quieter operation (reduced NVH)
---

The side panel is finished by plum faces and sharp folds all over, and the stream of the fold and roof drip like an ebbing wave keeps sharpness in the free and easy touch.

---
reference: Service Bulletin Vol. 188
"Introduction of New Datsun B210 Series"
, Nissan Motor Co., Ltd., Tokyo, Japan, 1973.
Others have simply called it "coke-bottle" styling -- dynamic with a pinched waist.
One oddity about the B210 is that the bonnet latch release was moved from inside the car to outside. In this feature it was inferior to the B110. By 1976 it was moved back inside.
Bonnet
HOOD PANEL ASSY
65100-H5000 1973-1975 [power bulge]
65100-H7200 1976-1978 [slightly scalloped around headlights?]
65100-H5800 Excellent [center crease, scalloped around headlights]

early

album
late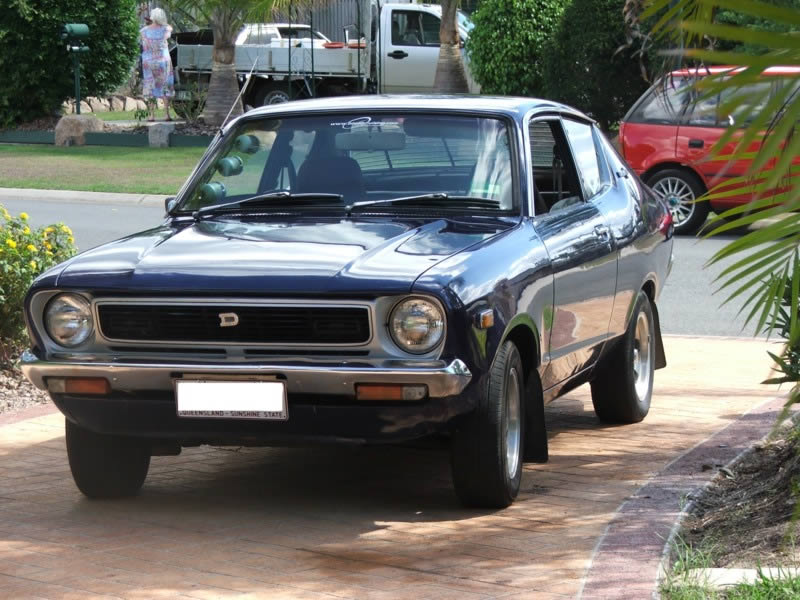 album
Excellent (early and late)

album
Bumpers
See B210 Bumpers
Grille
See B210 Grille
Badges
See main article: B210 Badges

Front Lights
Also see: Front_Combination_Lamp#B210

Worldwide B210 had front combination lights just below the B210 Bumpers, with cutouts in the bumper for clearance.




North America B210 had front combination lights in the grille.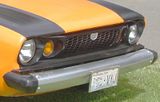 Japan: All red with two bulbs
* type 1073 bulb 26717-89900 (23W) for turn signal 
* 26715-89920 (8/3.2W)

Australia: Amber and clear
26126-H6100 LH [Ever Wing PL-4646E]
26121-H6100 RH [Ever Wing PL-4645E]
 

Europe: Amber and clear

North America: All amber with single bulb
* Single type 1034 bulb (26717-89920, 12V-23/8W)

Fog Lamps
Worldwide also offered Fog Lamps options (not available in North America where the combo lamps were in the grille)


Side Lights
H50 vertical style
H58 parallelogram style (PB210 & GB211)
A55 Export horizontal style (amber lens, H62/H72 assy)
A55 North America rear reflector (red lens) (H69 coupe/H72 sedan)

H50 Japan market Datsun B210 Flasher lamp

H58 Sunny Excellent style

Export B210 Side Lamp uses the 240Z pointed-rectangular lenses & trim. Same as late 510 in USA. North America models did not flash, only used as running lamps/reflector.
Australia

full
North America rear side reflector

full
Tail Lights
B210 SEDAN



26551-H6200 USA (perhaps a different reflective standard?)
26551-H5000 JDM (looks the same as USA)
Sedan with rear-mounted number plate

B210 L-16 powered SEDAN



Interior
The B210 DX Steering Wheel was re-used in the 1978-up Datsun 1200 Pickup

Dash
See main article: B210 Gauges

Most B210 models used a "modern" square-gauge dash (GL Sedan pictured):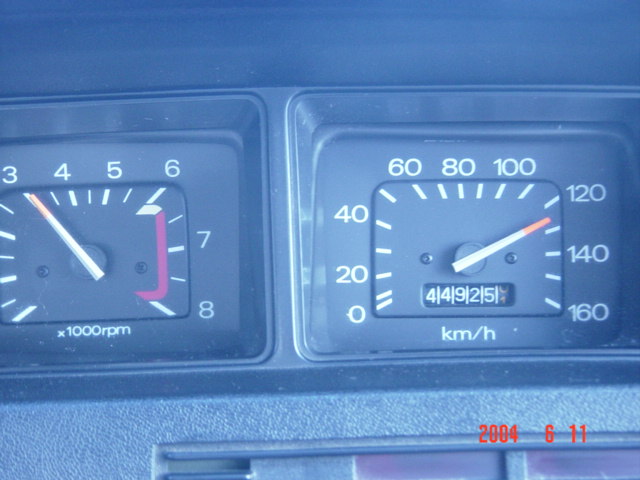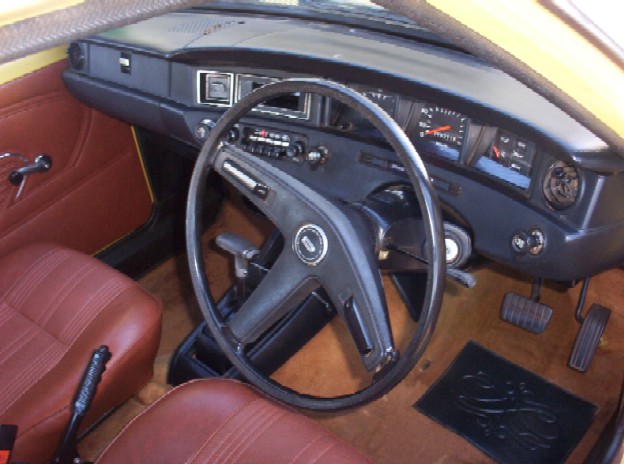 High-line round-gauge dash (JDM Coupes. GX Sedan also):

Markets
Australia
Some B210 sedans were Australian-assembled


JDM
In the Japan market, B210 was marketed as Sunny.
B210 - the original design
* from 1973 to late 1975 

B211 - the redesign (minor facelift)
* Sedan, Coupe from December 1975
* Van continues as B210, but upgraded in October 1975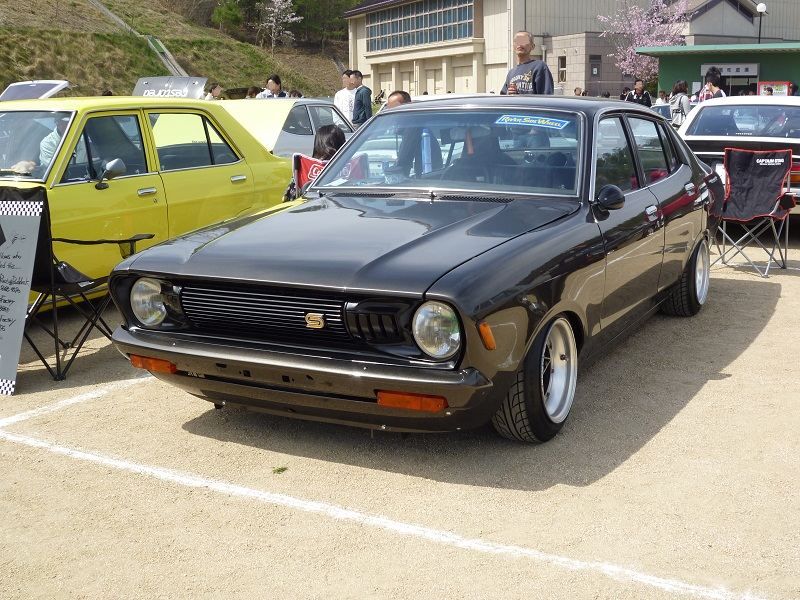 full
New Zealand
North America
In North America, the B210 was marketed as the "B-210" (with a hyphen). NOTE: It was not the 210, that is a newer Datsun.
See main article: B210 Year Changes

Also See:
* Emission Controls
* A-series Engine Changes

South Africa
B210 was sold 1977-1980 in South Africa with market names 120Y, 140Y and 160Y.
See main article: South Africa

South America
B210
4-door sedan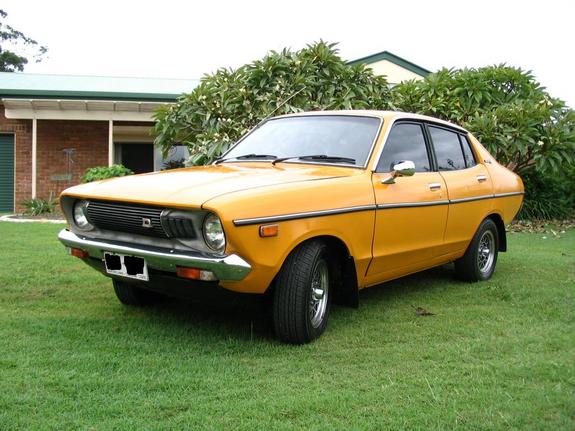 album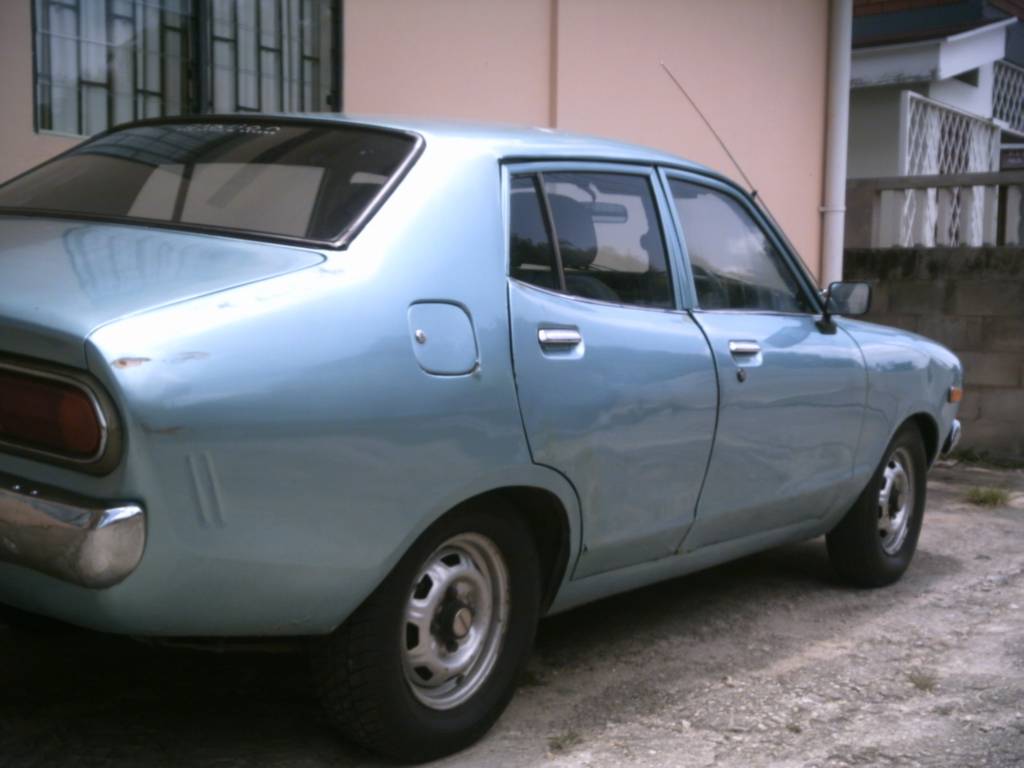 album

album
album
Powertrain
Engine
Most B210s outside of North American were fitted with the redesigned A12 engine, hence the 120 in "120Y". North American models were fitted *only* with the high-line engines, namely the A13 for 1974, and the A14 for 1975-1978.
USA GX models use the single-carb engine (A14S). Some JDM GX models used the A12S or A14S single carb engine, and some used twin-carb engines (A12T or A14T).
Transmission
A12 and A13 models were fitted with the 56-Series Transmission, a four speed. A14 models, having extra torque, required a heavier-duty transmission so the the 60-Series Transmission 4-speed was fitted.
A12T Five-speed models (GFK, 1973-1974) used the 56-series 5-speed.
A14 Five-speed models (GFK, 1976-1978) used the large 63-Series Transmission.
Differential
1974-1975 models with A12 and A13 models used the Hitachi H145 differential.
A14 models used the H150 differential, which was rated to cope with the extra torque.
1976-1978 models all used the H150, including A12 models.
Brakes and Suspension
All North American B210s used the large disk brakes from the PB210 series, along with heavy-duty steering linkage from the Datsun 610.
Early A12 models used front drum brakes and lightweight steering linkage. 76-78 A12 models used a lightweight disc brake with heavy duty steering linkage.
Spring rates are nearly identical to Datsun 1200, even though the B210 was 20-25% heavier. This resulted in a noticeably smoother ride.
Special Versions
120Y
The 120Y was not another name for B210, but indicated only the A12-powered version of the B210. In many countries it was the only B210 offered. In some countries the 120Y was offered alongside the 140Y (A14-powered) and 160Y (L16-powered).
North America
North American (Canada/USA) B210s have 610 based front suspension and steering, including wheels and tires. It also has 610 engine crossmember modified for A-series mounts and a 610 style mid-sump oil pan on its A13/A14 engine. These changes are similar to the PB210.
By contrast the 120Y (A12-powered B210) does not have any 610 parts.
L-series Powered
PB210 (L14 engine) and GB210 (L16 engine) were marketed in Japan as "Sunny Excellent" and South Africa as 140Z/160Z.
See main article: PB210

B210 SSS
Datsun-Nissan New Zealand sold a special model, the SSS.
Honey Bee
The Datsun B-210 Honey Bee was a special low-cost model offered in the United States. It was the low-spec Standard model with no carpeting, but could be had with a special stripe and Bee decal. Its goal was to sell to a young, first time buyer who could not afford a regular B210. Honey Bee was only offered as a 2-dr sedan.
See main article: B210 Honey Bee

Colors
See B210 Colors
Fuel Economy Champions
B210 was consistently at or near the top of the fuel ecomony leaders.
 See main article: B210 Fuel Economy

Donor Parts
Many 510 and 610 steering, suspension and brake parts fit B210
* For a list of parts that fit the B210, see B210 Parts
* For a list of B110 parts that be taken from B210, see B210 Parts Donor.

Sales Literature
Also see:
* B210 Magazine Articles
* B210 Advertisements
* B210 Brochures
* PB210

Photo Galleries
ddgonzal's photobucket: B210

Drawings