The SR20 can bolt-in to a Datsun 1200 without cutting the firewall, though it's easier with an original automatic-equpped car (which has a bigger central tunnel). The 1989 SR series is considered to be the replacement for the 1981 CA Engine based primarily on NVH improvements. It is heavier and bulkier than the CA series, but the SR20 puts out more HP than the CA18 or CA20 engines. In most Australia states, 2-liter is the largest normal engine swap into 1200, so the SR20 naturally aspirated is the ultimate capacity swap. In North America where there are no laws limiting capacity swaps, the KA24 is a more popular swap due to the larger CCs, higher horsepower and higher availability.
Overview
SR16VE is a hot one (NEO VVL), but small displacement means it is better for parts to make a hot SR20
16VE N1 Autech was 200 HP stock with with 8600 RPM redline
SR18Di was made for a while (1990-1993), but has less HP than the lighter GA16DE engine -- see GA Engine Swap
SR18DE made 125HP, but is much heavier and bulkier than CA18DE 131 HP
SR20Di only 122 HP (single-point Fuel Injection aka TBI)
SR20De is low emissions version
SR20DE from 140 to 169 HP
SR20VE has NEO VVL variable camshaft timing and lift. Unfortunately it was only available in FWD vehicles
SR20VET has the most HP (280HP) and was available only in the X-trail GT
SR20DET from 205 to 250 HP
Swap Overview
This is one way to swap an SR20DE into a 1200 -- and is easier than most ways.
Stock SR20DE from Silvia S13 (RWD), get complete with wiring and 5-speed
Find the 5 wires needed to run the engine and connect them to the 1200 wiring system
Stumpy 5-speed, swap front case with SR 5-speed front case
Stock 1200 auto driveshaft (unmodified)
Create Gearbox Mount suitable for Stumpy
Cut the stock 1200 crossmember uprights, weld flat plates at an engle to it. Drill a hole for the Silvia engine mounts
Fit a large B310 radiator or other similar shaped radiator
Modify/find radiator hoses and water outlet to suit
Fit exhaust (welding, tube bending, etc)
Fit 5/16" medium pressure EFI fuel hoses and EFI fuel pump
No need for tank baffling or swirl pot (surge tank) -- if you keep the tank above 1/4 filled
Use skinny tires with stock 1200 diff, or fit a 1200 Ute diff (H165) for more spirited driving. Swap in an H190 rear axle assembly for hard driving.
If your government requires it, check with an Engineer before starting this project. Local regulations may require other changes to the engine as well as to the chassis.
RWD vs. FWD block
RWD SRs:
Nissan Silvia S13, S14, S15 1990-2002
NIssan 180SX
Crossmember
SR can use the same mounts as L-series or Z-series or KA-series. So treat the crossmember like any L-series swap.
See main article: L/Z/KA/SR Crossmember
Transmissions
Colors
Red Top: S13/180SX/Bluebird/Pulsar 1989–1994, Garrett T25G turbo 
Black Top: S13/180SX 1994–1998, Garrett T25G turbo
Black Top: S14 1994–1998,  VTC, Garrett T28
Black Top: S15 1999–2002,  VTC, Garrett T28, Coil-pack, 6-speed
Silver Top: Avenir 1995–2001
Silver Top: R'nessa 1997-2001 

Forum
Discussion: AFRacer's journal of SR20DET Swap into Left-hand-drive 1200
Sources
Japan Market RWD
Vanette is similar to the FWD SRs in that the distributor is on the back on the cylinder head, and the Throttle Body is pointing back. Because the engine is mounted under the floor, there is no firewall to foul on.
C23   	SR20DE  9106-9906 Vanette Serena 
* underslung plenum back-head 
* rocker cover vent straight-back
* rear exhaust
C24   	SR20DE  9907- Serena
* top plenum straight-back
* rocker cover vent on back sides
* center exhaust

S13   	SR20D   9101-9310 Silvia underslung up rearex
RS13  	SR20DE  9608-9812 180SX
S14   	SR20DE  9310-9812 Silvia overslung forward rearex
S15   	SR20DE  9901- Silvia overslung forward rearex
S13   	SR20DT  9101-9310 Silvia COP COVER (13287-51E00)
RS13  	SR20DET 9101-9812 180SX COP COVER (13287-51E00/13287-51E01)
S14   	SR20DET 9310-9812 Silvia overslung forward rearex
S15   	SR20DET 9901- Silvia COP COVER (13287-91F00 sloping)

RWD SR - japan import engines
Nissan Silvia S13, S14, S15 1990-2002
NIssan 180SX (RS13)

Japan Market North-South
North-south (horizontally-mounted) engines typically have:
* rocker cover breather pointing straight back
* distributor on the back of the head 
* throttle body facing back
* center exhaust outlet

M11   	SR20DE  9508-9811 Prairie
M12   	SR20DE  9811-0105 Prairie Liberty 
N30   	SR20DE  9710-0107 R'nessa
P10   	SR20DE  9002-9508 Primera 4-dr sedan
P10E  	SR20DE  9107-9611 Primera 5-dr hatchback
P11   	SR20DE  9509-0101 Primera 
P11E  	SR20DE  9611- Primera UK
R11   	SR20DE  9501-0008 Presea
U13   	SR20DE  9109-9511 Bluebird 
U14   	SR20DE  9601- Bluebird
V10   	SR20DE  9812- ラィーノ back+side vents
W10   	SR20DE  9005-9808 Avenir
W11   	SR20DE  9808- Avenir
WP11  	SR20DE  9709-0011 Primera Camino wagon
M12   	SR20DET 9910-0105 Prairie Liberty high-mount turbo
N14   	SR20DET 9008-9501 Pulsar
N30   	SR20DET 9710- R'nessa
U13   	SR20DET 9109-9511 Bluebird
W10   	SR20DET 9005-9808 Avenir
W11   	SR20DET 9809- Avenir
P11   	SR20VE  9509-0101 Primera 
P12   	SR20VE  0101- Primera
U14   	SR20VE  9601 Bluebird
WP11  	SR20VE  9709-0011 Primera Camino wagon
R10   	SR20D   9006-9412 Presea tubular dual-outlet exhaust
T30   	SR20VET 0010- X-Trail Top-plenum COP
U12   	SR20DT  8910-9108 Bluebird distributor
U12   	SR20D   8910-9108 Bluebird
WU12  	SR20D   9102-9109 Bluebird オーズィー
RB14  	SR20DE  9801-0008 Rasheen distributor, top box plenum

box-plenum: SR20DE
M12
N15 SR18DE
N30
P11
R11
RB14
U14
W11/WP11

tubular dual-outlet exhaust
SR20DE
U12/WU12
W10
P10/P10E
R10
SR18DE
B14 9509-
N15 9601-

North America
All FWD - distributor on back of head, no VVT
B13   	J/SR20DE Sentra
B13   	U/SR20DE Sentra
B14X  	SR20DE  
B14U  	SR20DE  
B15U  	SR20DE

USA - FWD SR 
1991-1994 B13 Nissan Sentra SE-R 140hp
1991-2002 Infiniti G20 (Nissan P10/P11) 140hp. 145hp from 2000-2002
1995-1998 B14X Nissan Sentra SE & SE-R (both 140hp)
1995-1998 B14U Nissan 200SX SE-R 140hp
1999-2001 B15U Nissan Sentra SE 145hp (roller rocker)

Identification
S13 - no VVT
S14/S15 - VVT (cam bulge), DET has twin slope cam cover
FWD - no VVT, distributor on back of head
RWD - distributor on left side of head at front
S14/S15 DET - no distributor (COP ignition)

FWD - Nissan Sentra

S13 1994–1998 Red Top SR20DE - plug wires and no cam bulge (no VVT)


S13 1994–1998 Red Top SR20DET COP, no VVT
S13 1994–1998 Black Top

S14/S15 1994–2002 Black Top
S14 SR20DE - cam bulge

S14 SR20DET - cam bulge w/twin sloping cam cover
COP ignition - no plug wires

S15 SR20DE - plug wires & distributor
Same as S14
S15 SR20DET - COP (no distributor) twin slope-cover
Same as S14
Intake Manifold
S13 - underslung plenum

S14/S15 - plenum on top

SR20VET
high-mount turbo
sloping rocker cover
COP 
* COP Cover NEO VVL (unique)
* dual-lobe intake camshaft (VVL)
* Side-mount plenum (unique)
front sump
large ports deeply notched
GT2560 (T28BB) turbo

click

Ignition
S14 SR20DE VVT - distributor on left side of head on front 
S14 SR20DET - COP, no plug wires

Alternator
JPN all MITSUBISHI
S13 
 23100-35F10 A2T14694 + RS13 CA18DT
 23100-52F10 <> 23100-52F11
 23100-65F10 <> 23100-65F15 + RS13 SR20DE/DT
S14
 23100-65F10 <> 23100-65F15
 23100-65F16
 23100-65F17
S15
 23100-85F10

Richard Swap
Some guys at Ozdat swapped an SR20DE into a 1200, costs were $1400 for the engine swap part, $2000 total including the car.
http://www.youtube.com/watch?v=3m7U4qwIGaM

Colours
Red Top, Blue Top, Black Top, Black Cherry Top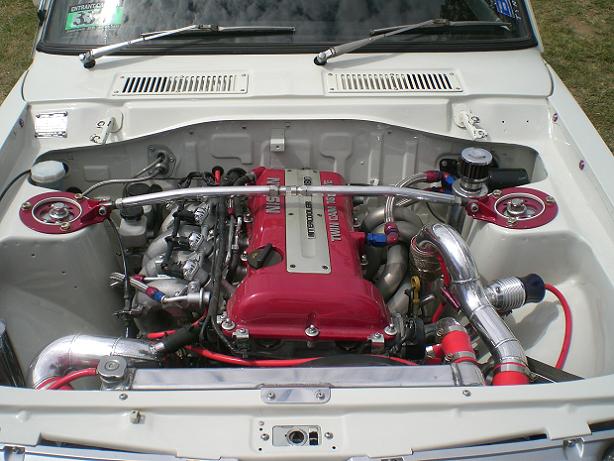 click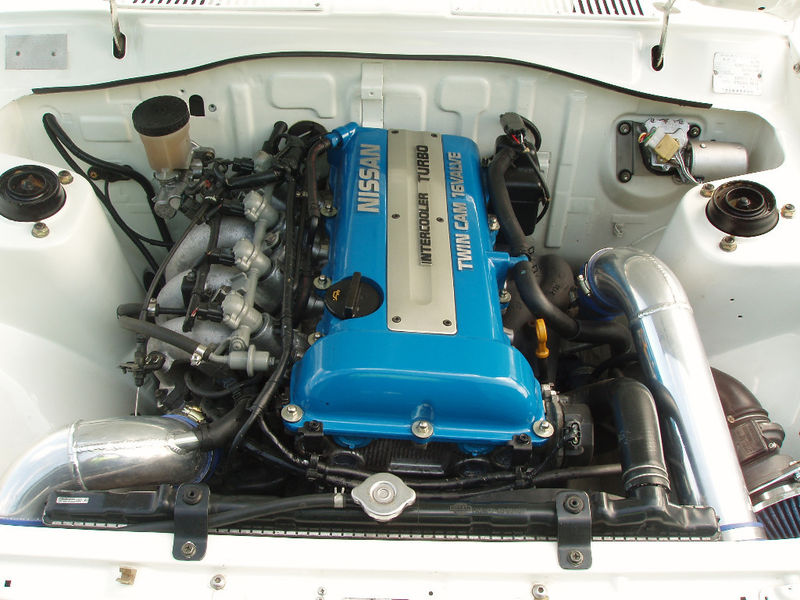 Photo Index
Also see: SR Engine Photo Uploads
Click each photo for large photo and discussions.