At first glance, all A-series cylinder heads look alike. But by careful notice of specific features you can identify the model.
Overview
For the cylinder head, the best way to tell which head you have is to check the casting number in the valve train area (remove the rocker cover to look for this number).
If the head you are looking at does not have a casting 
number, see the next section: Distinguishing Features.

Once you have the casting number, see Nissan Part Number Prefixes for a table of the different model to part numbers. For example, H23 means the part was originally designed for B110 GX models.
A10 may have "180", "H01", "257", "H03" or no markings at all
A12 GX may have "H23" or "230"
76 Sunny trucks (A12) may have M30, G25, G61
1974 A13 may have "H62" or "620"
A14 could have several different ones, such as G32, H72 (or 728), H74, H75, H77, H78, H85, H92 or H98 depending upon year, country, and emission control design.

M24 or 246 is A14T (Hitachi Twin Carb engine)
H85 is A12 or A13 (newer engines)

The casting number will be the first 3 digits of the last half of the part number, as all cylinder head part numbers begin with the same 5 digits (11041). For example:
11041-H2300 or 11041-H2301 HEAD ASSY-CYLINDER A12 GX

11041 is the base part number for all cylinder heads
"H23" means the part was first used on the B110 GX vehicle.
"728" is short for H728x, indicating a B210 "H72" part
references:
Head Thickness
Virgin cylinder head thickness is ~74 mm
Buying Used
When inspecting a used head:
1. Check surface flatness yourself. Most A12 do not need head skimming (head milling). Use a straightedge and a .004 inch feeler gauge. It is allowed to be up to .004 from flat but I've never even seen that much even after overheating and blown gaskets. Normal is .002 inch (.1 mm) per the Datsun factory service manual.
2. carry a water bottle. Place the head upside down and fill the combustion chamber with water. If it holds for 5 minutes, the valves are sealing good.
3. check for play on a valve stem. Use a small valve compressor (I paid $10 for one at a flea market) and see if the valve is tight side-to-side. If it's not, go on to the next head. If it is tight, check a few more (or all of them). Visually inspect for gauges in the head face and manifold faces. Clean-looking heads are best. Pass on slightly rusty heads. Wiggle the valves to see if the guides are OK (this is the part most often wearing out on A12). There should be almost no discernable wiggle with the valve slightly off the seat. If there is, it requires new guides ($$$).
Self-serve wrecking yards have a warranty if you want to do the checking at home.
Checked for hardness + pressure tested is normally $20-30.
Early or Late?
To determine if the head is for an early (pre-1974) or late (1974-up) engine, check for existence of an oil passage here:

Only early engine have the passage in the head here. Of course, one can have the passage drilled on a newer head, but it is a good sign.
To double-check it is an original early head, look at the outside:


Early head: oil passage boss

Late head: no oil passage boss
Distinguishing Features
Any A-type cylinder head will bolt onto any A-type engine. However compression and intake ports are big consideration, as are the manifold bolt patterns. For best results, match port types (e.g. round-port manifold on round-port head). The most critical difference is the rocker shaft oil passage. It is in a different place between early and late engines.
Oil passage in the head
An extra oil passage in the head is needed for some engines. For early engines, make sure your head gasket has the hole! You can punch or drill a corresponding hole in the gasket if needed.

Top: 1974, no passage. Bottom: 1973, has passage.
The old 1967-1973 head has the oil passage:


Boss on outside identifies the head
Compare to newer head: no passage:

The newer engine has the passage in the block instead. The solution for Old engine block, Newer head: drill the passage in the head.
Interchanging
Pre-1974 heads fit on all engines.
1974-up block works with any head.
But for newer head on older block, an oil passage must be drilled:
Method 1:
---

I took off the head, marked it with the old head gasket, and drilled it on a 45 angle. junior

---
Method 2:
---

I have seen a crude system where a 1200 head gasket was placed on the head to determine the position of the oil feed hole in the block. This was centerpunched & a very shallow hole was drilled. [about 1 to 1.5mm] then an angle grinder was used to grind a small trench across the gasket face to provide an oil passage froom this shallow hole to the nearest head bolt hole.

Crude as hell, but it worked. A very steady hand would be a prerequisite.

Personally, I would suggest a milling machine if this method is used.

question about oil blockage

---
Combustion Chamber
All Datsun A-series production heads use a wedge-shaped combustion chamber. However most USA model are open-chambered for lower NOx emissions. The 'heart-shaped' combustion chambers have superior power due to their closed-chamber design with large quench area.
A,B: Heart-shaped high-compression chamber is good for high-octane gasoline

a.k.a: closed chamber, peanut-shaped, butterfly-shaped or kidney-shaped

C: 360 degree open chamber for reduced emissions
D: Bathtub chamber (from 1982 Sunny Truck G61 head)
Any combustion chamber design can fit on any A-series engine.
Comparo - Closed Chamber vs. Open Chamber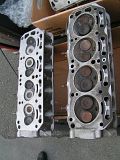 Comparo
Chamber Size
Also see: Compression Ratio

A12 closed chamber: 27-29cc
A12T: (M08 head) 32 +/- .5 per 1981 Nissan Racing book

for 11:1 with GX flattop pistons, GX headgasket,
mill head 0.9mm (0.035 inch) for 25.6 cc

A12 GX: 29.1 cc (as per FIA papers)
H75: 31cc
H89: 29-31cc
H92: 31cc (A14E head) 29.1 +/- .5 per 1981 Nissan Racing book
H95: 35cc (A15 dish: 6cc)
Intake Ports
Small oval (28 mm x 30 mm). The 1974 A13 has this design.

GX Oval vs. A14 Oval Comparo


Top: GX ports go much higher than A14/A15 ovals.
Port Sizes
| | | | | |
| --- | --- | --- | --- | --- |
| Ports | Size (mm) | Exhaust | Raised | Note |
| round | 28 | 27x26 | no | 1971 A12 |
| round | 28 | ? | lowered | 1977 GFU |
| Oval - Small | 28x30 | ? | no | 1973 A13 |
| Oval - Medium | 28x32 | 28x26 | no | A14E, A15E |
| Oval - Regular | 28x34 | 28x26 | no | Many A14s |
| Oval - Large (GX) | 30x35 - 36 | 27x29 or 28x26 | Yes | A12GX (1971-1973) |
GX extra-large oval ports (36 mm tall)

Port Comparison
Wet, Dry Intake Manifolds
Coolant passages are below the intake ports (present or not). If present, they can be large holes or small holes.
See main article: Water Ports
Intake/Exhaust manifold bolt pattern
The 1971-1973 A12 differs from the A13/A14/A15 and some A12s after 1973. A12 Wagons and Trucks continue to use the old pattern for some time

Top: New bolt pattern


Bottom: Original bolt pattern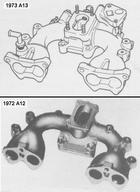 The bolt pattern on the cylinder heads also differ. early A10/A12 heads are only drilled for the older pattern. Newer A12 (1980s/1990s) are drilled for newer pattern. Some newer heads are drilled for both.

Bolt pattern
Valve Springs
The following A-series heads had dual valve springs. There is a small-diameter spring inside the main spring.
Heads retro-fitted with dual springs
So dual springs are a good indication of a special head, but not conclusive. You will need to check the intake port sizes and other features to make a final determination.
Valves
| | | | | | |
| --- | --- | --- | --- | --- | --- |
| Valves | Intake PN (13201) | In. Size | Exhaust PN (13202) | Ex. Size | Length |
| A10, early A12, late A12 Van | 13201-H1000 | 35mm | 13202-18000 | 29mm | 103.8 |
| A12GX/A12T | 13201-H2300 | 35mm | 13202-H2300 | 29mm | 103.8 |
| Late A12, A13, A12AS | 13201-H2300 | 35mm | 13202-H7400 | 29mm | 103.8 |
| A13(1974),A14 & A15 | 13201-H6200 | 37mm | 13202-H6200, H8900 | 30mm | 103.8 |
| A12A, A14, A15 1981-82 USA | 13201-H9500 | 35mm | 13202-H9500 | 30mm | 100.0 |
| A12A, A14, A15 1981-82 canada | 13201-H6200 | 37mm | 13202-H6200 | 30mm | 103.8 |
Nissan Competition
VALVES (A-SERIES)
4 of each required
13201-H2300 35MM/1.38" INTAKE VALVE A12, A12GX
13201-H6200 37MM/1.46" INTAKE VALVE A14, A15
99996-H1100 COMPETITION 37MM/1.46" INTAKE VALVE
13202-H2300 29MM/1.14" EXHAUST VALVE A12, A12GX
13202-H6200 30MM/1.18" EXHAUST VALVE A14, A15
99996-H1110 COMPETITION 30MM/ 1.18" EXHAUST VALVE
Competition Valves are "Polished and 
tuliped for improved flow characteristics".

Reference: 1984 Nissan Competition Catalog
A12GX Head Identification
One way to identify a GX, when the head is still installed: Look for the oil passage boss (indicating an early head), and for seven studs on the top of the inlet/exhaust manifold gasket. This combination is a good indicator of an GX (or A12T) head. Regular early heads have only five studs along the top of the gasket.
Port Shape
Early head with oval ports is either an A12GX head, or its twin, the early A12T head from the Nissan Cherry (E10). These are the high-revving heads for the factory Hitachi Twin Carb engines.
Exhaust Ports
All heads have nearly square exhaust ports.

Sizes:
Intake Ports
Round port 28mm: A12
Round port 28mm lowered: A14 GFU
Small Oval port 28x30mm: A13, A12A
Medium Oval port 28x34mm: A14
Large Oval port 30x34.5mm: A12GX Engine
Head Front Face

A14T

H72 head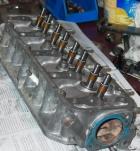 Adapter
Spark-side Bosses
Look at the accessory/bracket mounting holes.
No bosses

One boss (undrilled, 1973?):

One boss (drilled, 1973?):

Three boss (late 1970s):

Manifold-side Bosses

X++
Alternator Mounting
Left Side: early A-series engine (front distributor)

Right Side: late A-series engine (mid-distributor)
B210, some B310: up high.

Upper bracket bolts to Upper bolt hole on head

Some B310: up low.

Upper bracket bolts to lower bolt hole on head
Rear Face


11041-M0800 early A12T
This head has a factory plug in the heater hose outlet.
One big welch plug

1994 A12S
A12GX Identification
A true A12GX cylinder head has all these features:
Dual valve springs
No casting numbers
Large Oval port 30x34.5mm

Ports are raised, and extend above upper intake bolts

27x29 mm exhaust ports
closed combustion chamber - heart shaped

Large size combustion chamber of 29.1 cm3

large water holes (one under each intake port). Each hole is about the diameter of a pencil (newer heads have small holes)
Seven upper intake face bolts, nine bolt holes (vs only 5 for other pre-74 heads)
As with all pre-74 heads, Oil passage on head face (spark plug side)

Boss on side, between plugs 2 & 3

SAME valve sizes as standard A12: 29mm exhaust, 35mm intake
NO bosses on side between plugs 1&2 and 3&4 (that indicates a newer head)