For general brake improvements, see Brake Upgrades.
Better Brakes
Here are some considerations of a braking upgrade:
Bigger caliper and brake pads will slow down car more quickly
Larger-diameter disc brake rotor will improve braking power and sensitivity
Vented rotors will improve repeated stops (less brake fade because the rotors can shed heat faster)
Coilover swaps permit wider tires
Notes:
Slotted/drilled rotors are unnecessary and can often weaken the rotors, but may be useful in some racing applications (check with your brake vendor for their suggestions)
Large tires will improve brake contact patch thus are a huge part of increased braking performance
A dual master cylinder is safer than a single one. See Brake Upgrades.
Front and rear caliper/cylinder ratios should match the application of the car weight bias, brake and tire sizes (See Brake Bias). Otherwise, a brake proportioning valve will be needed to prevent premature lockup
Bigger tires. Yes, this has a big effect on brakes, because more rubber on the road lets you stop faster before the car skids. 1200 accept 185-width on front, 205-width on back (if the wheels have appropriate backspacing)
Slotted Rotors
RDA can supply standard 1200 rotors with slots if you ask for them. Mine cost me $290 for the pair.
Some say slotting and drilling have no performance benefit but can increase the likelihood of cracking. But they look schmick.
1200 Disc Swap
If your 1200 has front drum brakes, take note that disc brakes are:
easier to work on
More resistant to fading -- safer after repeated stops (they dissipate heat far better)
Swapping 1200 drums for discs is easy.
See main article: 1200 Disc Brake Swap

front brake upgrade 1200 ute i used a sunny strut leg unbolted the disc off the hub and bolted a cc lancer vented disc to that and then a used a 4pot caliper off a 80mod volvo which bolts strait onto the sunny strut leg
1200/120Y struts
B310 (sunny) hubs, outer edge turned down to 140mm
Better Brakes for HB210
See Aerospace Brake Kit for A14-powered B210 struts on Ratsun.net
http://community.ratsun.net/topic/40004-datsun-front-aerospace-brake-kit-installation
These fit the 2" North America B210 strut/hub assembly (same as PB210 Japan).
280ZX Brake Upgrade
Upgrade your 1200's brake to large 258 mm (10.15") brakes -- and keep the lightweight 1200 struts! No machining required.
See main article: 280ZX Brake Upgrade

BMW E30 Brakes
See main article: E30 Brakes

S13 Brakes
13 (1989-1993 Silvia, 180SX, 200SX) brakes can be modified for use on Datsun 1200 struts. With an adapter plate (Kev Rowley special) you can use Silvia calipers and rotors on a 1200/120Y disc brake strut. .
See main article: S13 Brakes

Better Brakes for Z/ZX Struts
After you have installed Z or ZX struts, you may be interested in fitting bigger brakes to them.
See main article: Better Brakes for Z/ZX Struts

MK63 Racing Brakes
See Nissan competition MK63 Brakes

Hilux 4-piston Calipers
Toyoda Hi-lux and Landcruisers come with 4-piston calipers. Can be fitted over a variety of rotors.
See main article: Hilux Calipers

Nissan 4-piston Calipers
Also see MK63 Brakes

Non-ribbed: Cast iron
Ribbed: Light Alloy

R32 GT-R 16" wheel Sumitomo make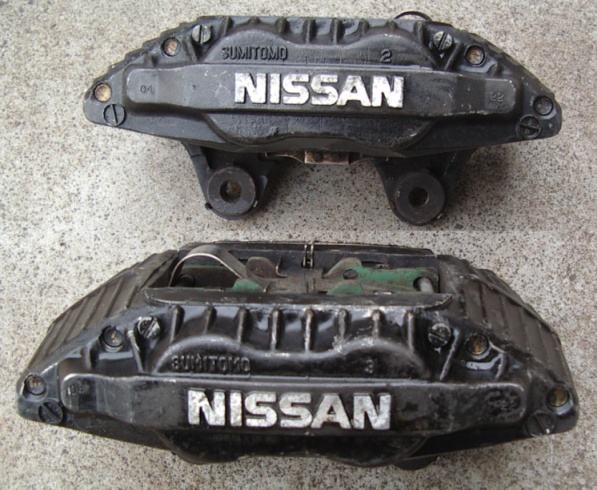 R32 GT-R WITH 17" WHEEL
photo
photo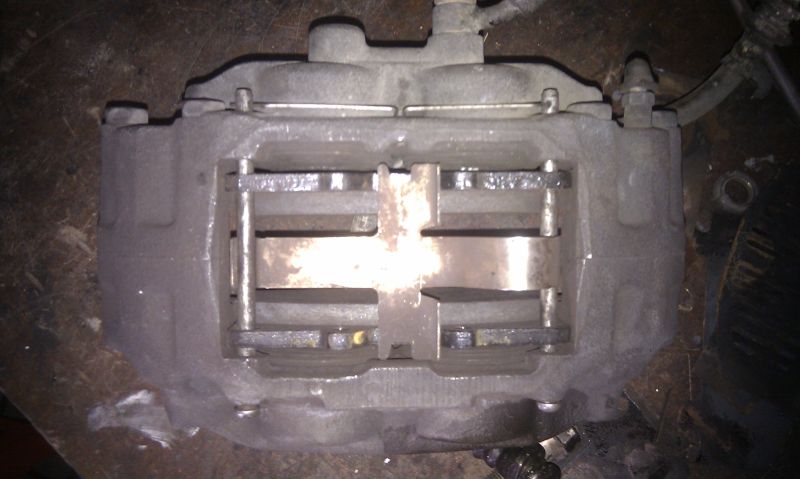 R32
4-lug rotor
280 mm 40206-55F01 9108- RB25 including GTS 2.5
257 mm 40206-71E06 8905- RB20 including GTS, GTE
251 mm 40206-40F01 8905- CA18I GXi 40206-40F02

5-lug rotor
280 mm 40206-40P02 9108- HI.RB20DET 40206-04U01,40206-04U03
       * also USA Z32
280 mm 40206-88E01 8905- HI.2WD.RB20DT.GTST <> 40206-88E04
       * also J30 (USA+JAPAN)
280x32 40206-05U00 8908- RB26DETT & GTR 40206-05U01,40206-05U06,40206-05U07,40206-05U10,40206-05U11,40206-05U12,40206-05U13
       40206-12U00 9302 GT-R.17.MT.FT 40206-12U01
       * also AWC34.RB326DETT

CALIPER
Single-piston
* 41001-40F01 CA18I
* 41001-73L01 RB20DT.GTS-T, RB25DE
* 41001-44F01 RB20E, RB20D
4-piston ribbed
* 41001-04U00 RB20DT.TYPE-M,RB20DT.HI.4WD 41001-04U01
* 41001-05U00 GT-R & RB26DETT 41001-05U01
* 41001-45P00 RB20DT.HI.4WD 41001-40P00 40mm bore
  also Z32 USA
4-piston non-ribbed (iron)
* 41001-12U00 GTR.17 41001-24U00

R34 CALIPER
Single-piston
* 41001-AA000 RB20DE
Twin-piston sliding
* 41001-AA100 OPTION RB20DE F/DWHL6
* 41001-0V100 IRS.4WD.RB25DE
Four-piston ribbed
* 41001-AA510 
  OPTION IRS.2WD.RB25DE F/DWHLE
  RB25DET
Four-piston non-ribbed
* 41001-AA300 RB26DETT

Z32 USA (all 4-piston)
280 x 26mm rotor
* 41001-30P00 CALIPER alloy 1990
* 41001-04P00 CALIPER alloy 
280 x 30mm rotor
* 41001-37P00 CALIPER alloy 1990-1992
* 41001-37P01 CALIPER iron 1993-1996 40mm bore x4

R33 4 piston calipers


200B/Stanza/240K strut R33 disc R32 caliper

R32 disk and calipers on 1200 strut

Nissan Alloy Twin-Piston Caliper
Lightweight twin spot calipers from R32/R34 Skyline rear caliper for either 1000 or 1200 race front brake conversion. The rotors it uses are perhaps the lightest 297mm rotor around as its only 16mm thick or 3mm thicker than solid Sigma GE rotors.
Rotor/disc DBA part no: 908
Diameter: 297mm 
Height: 63mm
Thickness: 18mm (16 min)
Centre hole: 68 (2mm machined for 70mm hubs)
The 5 stud rotor can easily be re-drilled for 4 stud

R34 rear caliper

R32 GTS rear caliper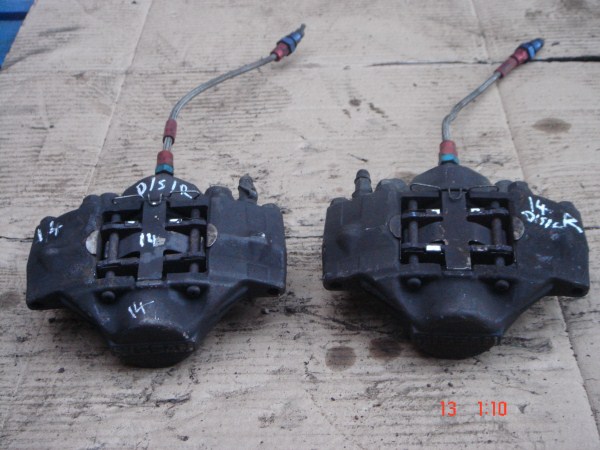 44011-43P00
* Z32 USA
* R32 RB20DET
* R33 RB25DE,RB25DET

R32 REAR CALIPER
(CA18 uses rear drum brakes, as does early RB20)
Single piston
* 44011-44F00 RB20E, RB20DE
Twin piston
* 44011-43P00 GT-R, RB20DET 44011-05U00
  also Z32 USA
* 44011-73L00 RB20DET GTS-T, RB25DE
Twin piston large
* 44011-12U00 GT-R.17 44011-24U00

R33 two spot rear calipers on 200B/240K strut & rotor

Magna Rotor
A10 Stanza/B310 Sunny strut with Mitsubishi Magna/Verada rotors. Magna was an Australia-assembled product 1985-1991.
You can use GM Holden Commodore VL Turbo caliper with 275mm rotors

Or use corona hubs, 250 rotoros and 60-series cruiser calipers, fit under 13" wheels with a 1mm grind


250mm rotors and 4pots under 13" rim
sunny struts, swapped left to right with Mistubishi Verada vented rotors and commodore calipers. I've also heard of rx7 4-spot calipers being used. All this fits under 13" rims.
sunny struts ,magna discs, girlock calipers...
Caliper is HZ holden PBR alloy (e.g early Holden Kingswood) with Verada disks. You will need 15" rims or bigger to fit over this change.


Datsun 610 (180B) vs Verada disc



Verada disc is 276mm x 24mm and is vented
size comparison


Verada rotors on Datsun 240K hubs/struts with Holden Commodore caliper.


A10 Stanza struts/hubs, Mitsubishi Verada rotors and RX7 calipers fit under 15" wheels


Brake Swap Notes
Twin piston sumitomo calipers for sale, go straight onto stanza struts with the use of larger 200b or 240k discs...early 200b discs are 253mm, about 10-15mm bigger than stanza ones, but are offset to suit the twinspots everything is a straight bolt in 9592.jpg PIGDOG boofheads with slotted 240k discs 9585.jpg
'universal' type coilovers for a Civic donated the springs
200b and stanza are solid discs.
feral's vented package using modified 240K twin-spot calipers. http://www.datrats.com.au/BRAKES.html
CA18DET Wagon is go i took an r31 strut, and cut the spring perch off (the diameter of the spring is far too big to fit up the 1200 strut tower) and while i was at it chopped out about 2 inches from the actual length of the strut to accommodate some koni yellow shocks which i picked up cheap and had rebuilt (which is also cheap to have done). so the front end stiffness is adjustable with a little knob. because i had them rebuilt, i asked for the soft setting to have a hard rebound for goodweight transfer when i go to the drags. the springs are just some pedders lowered made for a stanza which i modified. it is just running the standard r31 vented disk and caliper. both of which are huge for a 1200.
you can also equalise the track by fitting a BW KE30 corolla diff, which is 30mm wider than the 1200 diff. then you have a car with 30mm wider track - back AND front - for better handling again! get the handbrake handle and cable too if you do this.
Subaru vented disc on 1200 hubs fit under 13" wheels

GM Commodore VT (PBR) caliper bolts directly to Datsun 610(180B), B310 Sunny and 240K struts.

Holden Commodore VT disc and caliper on a Z strut


XF Falcon 11" rotors (5-stud pattern) with Commodore PBR single piston calipers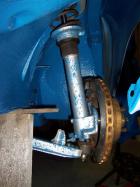 Caliper bracket for VL Turbo caliper & disc on Bluebird strut

Modified 240k struts to suit Commodore discs and calipers

Sunny strut with XD falcon discs and VK Commodore calipers

300mm VT disc, with an AU Series 3 twin piston caliper

Stanza strut with modified Commodore rotors and calipers

276x26mm mazda 929 disc with VR calais caliper


Stanza strut with large Vanette vented rotor and Skyline caliper

1200 spindle welded to 510 strut tube with Wilwood Dynapro single caliper and Wilwood 10.25" two-piece disc

Honda caliper over Toyoda disc with center mouth by Mitsubishi/Nissan

200B rotors with Corona calipers on Stanza/200B strut

Stanza Hub, 296mm disc from DR910 (?), RX7 S4 calipers

Rear Disc Brakes
The stock rear brakes are fairly good, a large (for such a light car) 8" x 1.75 brake shoe. Make sure the brakes and clean and adjusted correctly. Using a performance pad will improve it.
But for coolness sake... read the article Rear Disc Brakes.
Datsun 1000
Gary Hamilton managed to squeeze RX7 4-spots on his 1000 sport sedan which uses 13" wheels, but don't ask me how! Gary Hamiltons 1000 Coupe